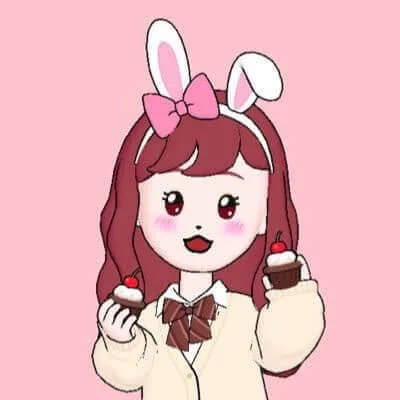 Usa
I'm Usa-chan, the "wheelchair x beauty" funny x model! In DisabilityLog, as a SNS influencer, I hope to provide lots of useful information for people with disabilities. I will also enjoy providing information about beauty, travel, sightseeing, music, photography, and other hobbies.
The International Home Care & Rehabilitation Exhibition (HCR) is held at Tokyo Big Sight, where wheelchair users visit to find a wheelchair vendor that suits their needs and to use as a reference when purchasing a wheelchair.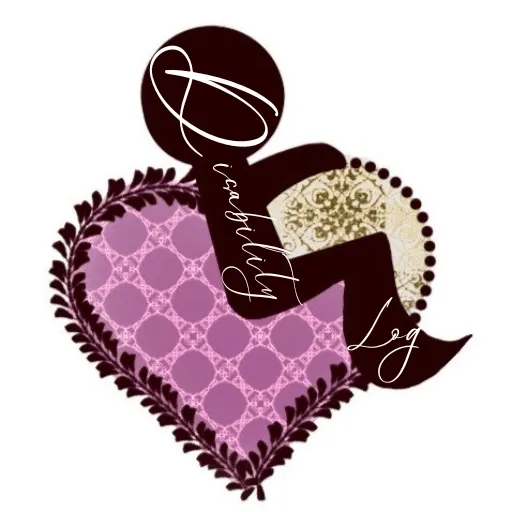 DisabilityLog
This time, we would like to introduce "YAMAHA's electric wheelchair" of "exhibitors" and "products" that you have wanted to know about.
Before we begin, let's review what kind of event it is.
What kind of event is HCR?
The International Home Care & Rehabilitation Exhibition (HCR: Healthcare & Welfare Resource Corridor) is an exhibition of medical equipment, welfare equipment, and nursing care products. Held annually at Tokyo Big Sight, it attracts exhibitors and visitors from Japan and abroad.
At this exhibition, the latest medical and welfare equipment, nursing care products, medical information systems, and medical IT are displayed, and various seminars, forums, and symposiums are also held. In addition, many medical professionals, welfare professionals, nursing care professionals, researchers, and students visit the exhibition to exchange information and network.
The products on display are diverse and include, for example, artificial joints and organs for medical use, medical robots, medical diagnostic imaging equipment, welfare equipment, nursing care robots, nursing care furniture, welfare vehicles, health care equipment, electronic medical records, and medical support systems.
Benefits of attending the event
HCR contributes to the development of the industry and the improvement of medical, welfare, and nursing care by collecting and exhibiting information on the latest technologies and products in the medical, welfare, and nursing care fields.
Depending on what kind of things you can see, you can learn a lot by attending this HCR event, where you can see and experience the actual products, and learn about the price reference and assistance programs for people with disabilities when purchasing.
What we've seen
We received a lot of pamphlets from various exhibitors.
Wheelchairs, welfare vehicles, toilets, home remodeling, subtitlers, benches, etc…
So I have carefully selected and compiled a list of what I recommend.
Here are some photos, brochures, etc. of what I was able to see at this HCR event.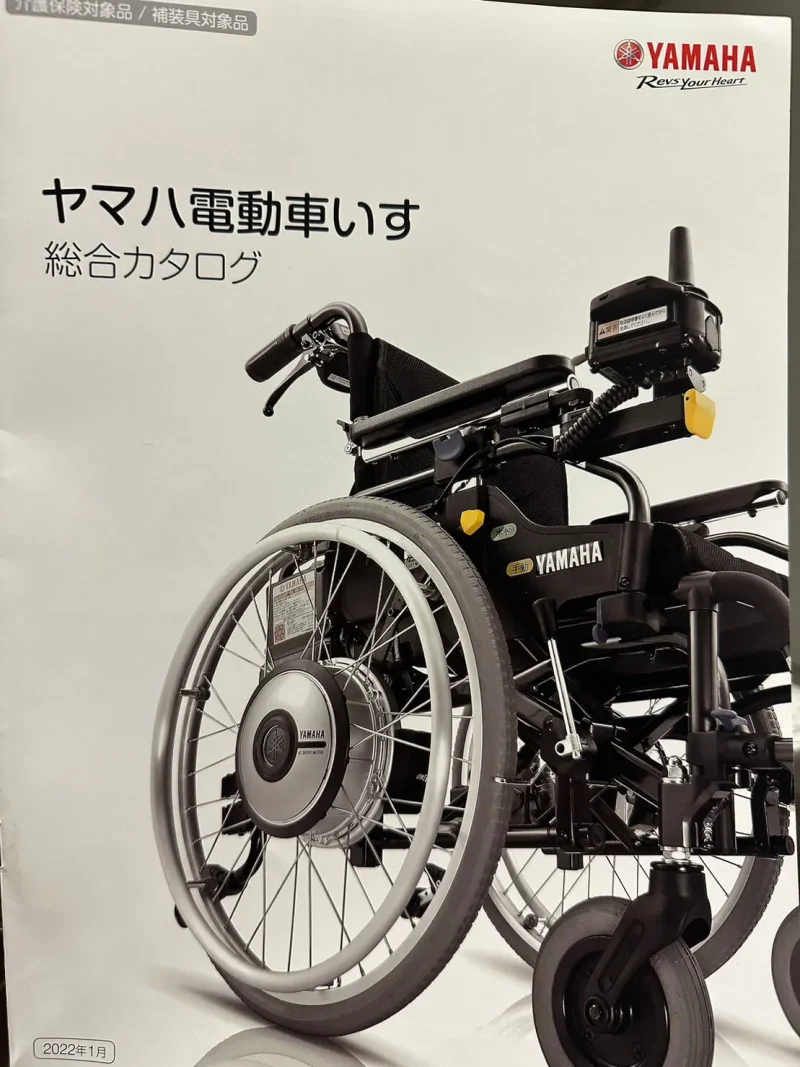 YAMAHA
Yamaha electric wheelchairs that you can "go" and "do" by yourself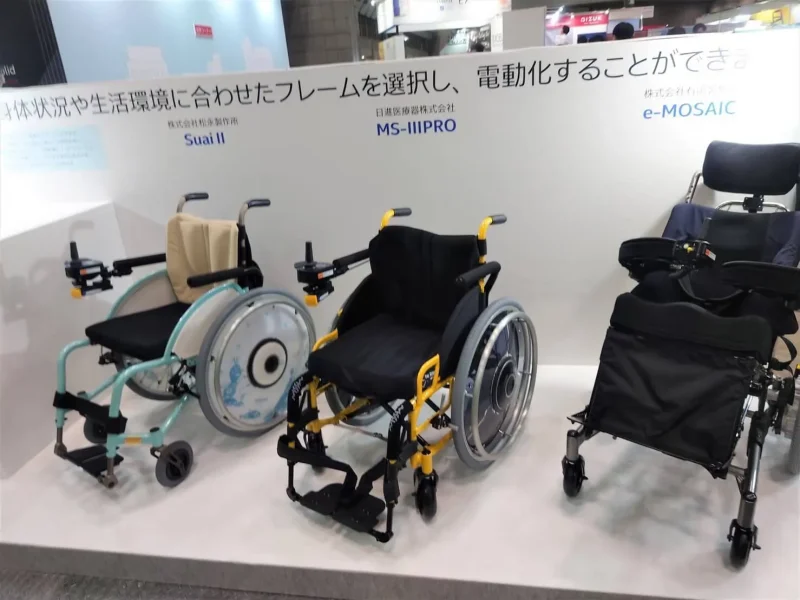 What kind of products are Yamaha electric wheelchairs?
Yamaha utilizes its proprietary technologies to offer electric wheelchairs that suit a wide variety of lifestyles. Below are some of the main features of Yamaha's electric wheelchairs.
JWX-1 PLUS+ - 電動車椅子 | ヤマハ発動機株式会社
あなたの車椅子を電動化するユニットです。
Please take advantage of the various systems and choose the wheelchair that is right for you.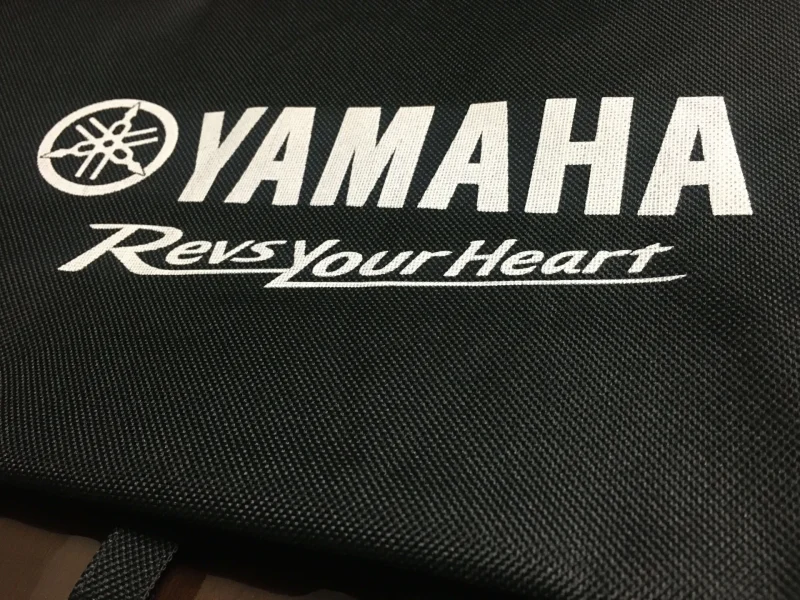 The bag I received with the brochure at the event has been very helpful in carrying spare batteries for my wheelchair. Thank you so much.
Moreover, they repaired my wheelchair free of charge.
They replaced the joystick type lever (power and speed change) part (black and yellow) and
They also replaced the black part inside the motor part of the tire for free.
Joystick type motorized unit
<Target> ・This is a retrofit to add an "electric" function to a manual wheelchair.
If you want to convert a manual wheelchair from another company into an electric wheelchair, this would be the way to do it.
(Example)
Matsunaga Seisakusho (Gifu) A-MAX JWX1PLUS,
Nissin Medical Devices Corporation (Aichi) MS-IIIPRO
OX Engineering Corporation (Chiba) GW-E
JWX-1 PLUS+
The JWX-1 PLUS+ converts an existing manual wheelchair into an electric wheelchair by simply replacing the drive wheels. Adding the comfort of electric power to the ease of manual operation greatly expands the range of activities.
Assist mileage / 1 charge
Ni-MH battery 15km
Lithium-ion battery 30km
Joystick type complete vehicle
<Targeted users> ・Persons using nursing-care insurance rental service. Those who do not need a custom-made wheelchair body.
JWX-2
By using a dedicated smartphone application, data can be recorded during the ride and the wheelchair can be operated remotely.
JWX-2 - 電動車椅子 | ヤマハ発動機株式会社
あなたの車椅子を電動アシスト化するユニットです。
Items covered by long-term care insurance and prosthetic devices
Assist mileage per charge
Ni-MH battery 20km
Lithium-ion battery 40km
Perhaps because the electric part is originally attached to the electric wheelchair, this one has a longer traveling distance.
・JW-R2: Lightweight and compact, this wheelchair is suitable for indoor use because it can turn in tight spaces. In addition, the charger for charging the battery can be plugged directly into an electrical outlet, making charging easy.
These are some of the electric wheelchairs offered by Yamaha. Yamaha has developed a wide variety of electric wheelchairs to meet diverse needs.
What is a simple electric wheelchair?
A simple electric wheelchair is a type of wheelchair with electric assist functions added. Compared to a standard electric wheelchair, it is smaller, lighter, and has simplified functions and is therefore offered at a lower price.
Who can use it?
Simple electric wheelchairs are used by a variety of people, including the elderly, the physically challenged, or caregivers.
Advantages of Electric Wheelchairs
They are mainly suited for indoor and flat surfaces, and have the advantage of being less burdensome and less tiring than manual wheelchairs.
Electric wheelchairs do not require a license
No license or registration is required to operate an electric wheelchair. Electric wheelchairs are considered pedestrians only when in traffic, and can be driven without a license, even with a motorized engine. While it is possible to travel and shop comfortably for long periods of time without getting tired, it is important to follow traffic rules and manners as a pedestrian and to drive safely.
Disadvantages of Electric Wheelchairs
Disadvantages of Electric WheelchairsThe disadvantage of an electric wheelchair is that it is difficult for a single caregiver to carry the wheelchair because of the weight of the unit.
Rare accidents occur due to the front wheels getting stuck in a railroad ditch, or stopping at a railroad crossing due to a dead battery, etc.
Another disadvantage is that batteries have a limited life span and need to be replaced periodically with new batteries.
However, use may be limited in environments where driving is difficult, such as large obstacles or steep inclines.
Features of joystick type electric wheelchair
Joystick-type electric wheelchairs allow the user to control the movement of the wheels by operating the joystick, which serves as a steering wheel. Below are some of the features of joystick-type electric wheelchairs.
Intuitive operability
By operating the joystick, the direction and speed of the wheelchair can be freely controlled. Compared to the conventional handle type, this type of wheelchair is more intuitive to operate.
Easy to operate
For those who are familiar with wheelchair operation, it is easier to operate the wheelchair. Also, by changing the position of the operating hand, the burden on the body can be reduced.
Functionality
Joystick-type electric wheelchairs offer a variety of functions. For example, the small turning radius makes it easy to move around in tight spaces, it can move at high speed, and it has a safety feature that automatically detects obstacles and stops.
Less Fatiguing
A handle-type electric wheelchair is operated by gripping the handlebars, which puts a strain on the hands and shoulders. The joystick type can be operated with light force, so it is less tiring.
As described above, joystick-type electric wheelchairs have the advantages of intuitive and easy operation, functionality, and less fatigue. However, since they may require some familiarity when operating, it is advisable to operate them under the guidance of a specialist at first.
What's on your mind
What features are available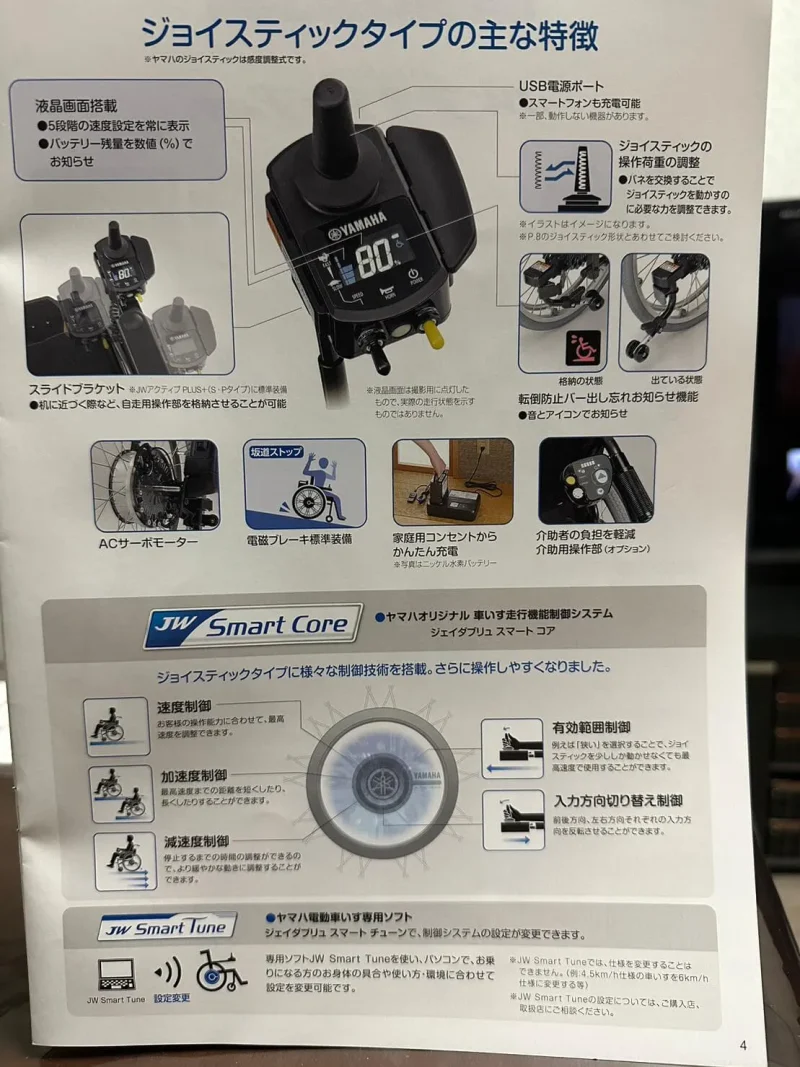 Equipped with LCD screen
●Always displays 5 speed settings
●Battery level in %.
●USB power port
(Can also charge smartphones)
※Some functions may not work.
●Slide blanket
(The control unit for self-propelled operation can be retracted when approaching a desk, etc.)
●Tip-over prevention bar release reminder function
What are wheelchair spoke covers?
Wheelchair spoke covers are covers that cover the spokes of the wheels. Many wheelchairs have wheels with exposed spokes, which can cause injuries when they hit hands or fingers. In addition, the spokes can become dirty, making it difficult to keep them clean.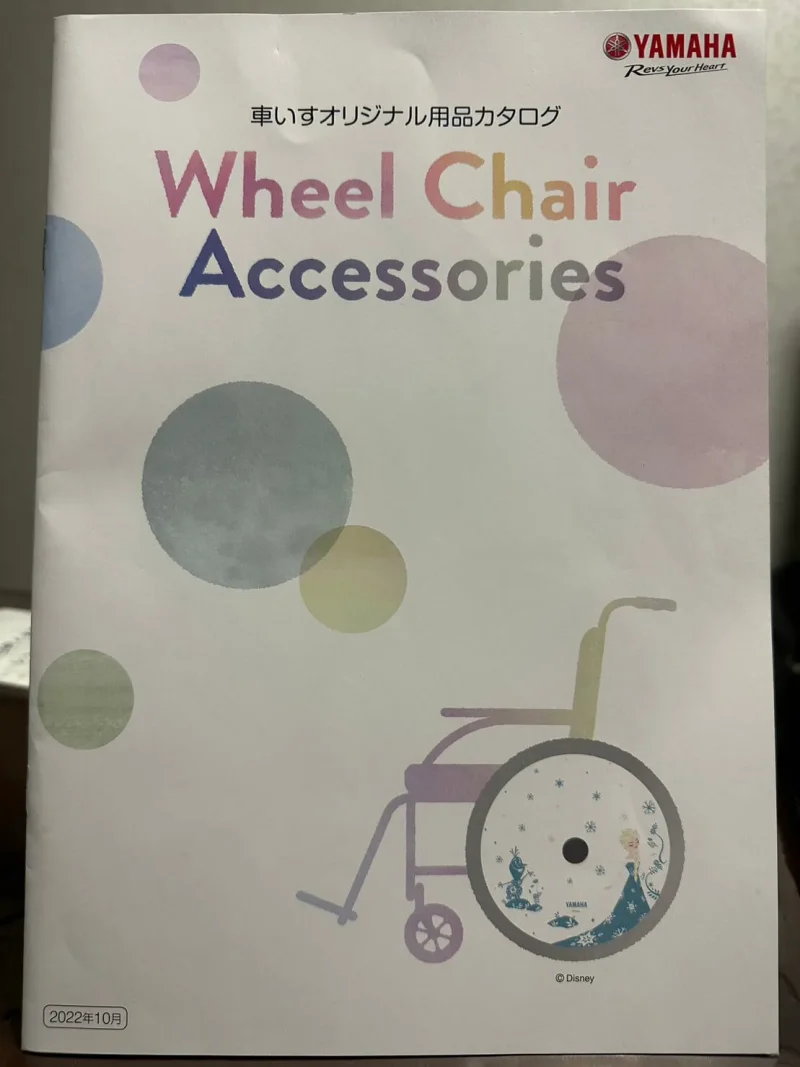 The example here is "Anna Snow".
This is where spoke covers are used to cover the spokes, preventing injury and keeping them clean. Spoke covers are available in a variety of designs and materials, and are increasingly required to be not only functional but also aesthetically pleasing. In addition, some spoke covers are made with reflective materials, which can improve safety because they can alert others to the presence of the wheelchair when light shines on it at night.
Spoke covers are available at mail order sites and nursing care supply stores.
What are the requirements for the provision of an electric wheelchair?
※In principle, those who are eligible for the electric wheelchair are those who have disabilities in the upper or lower limbs that make the use of a manual wheelchair impossible or extremely difficult, have disabilities in three or four limbs, and each of the upper and lower limbs has a level 3 or higher disability, or level 2 or higher overall.
How much is the co-payment for a wheelchair?
In principle, 10% of the prosthetic device fee is the co-payment. (However, there is a monthly maximum amount. You will not have to pay more than the maximum amount.) *The prosthetic device fee is the amount of expenses calculated according to the standards set by the Minister of Health, Labor and Welfare.
Some people do not have to pay out-of-pocket.
Prices are for reference only.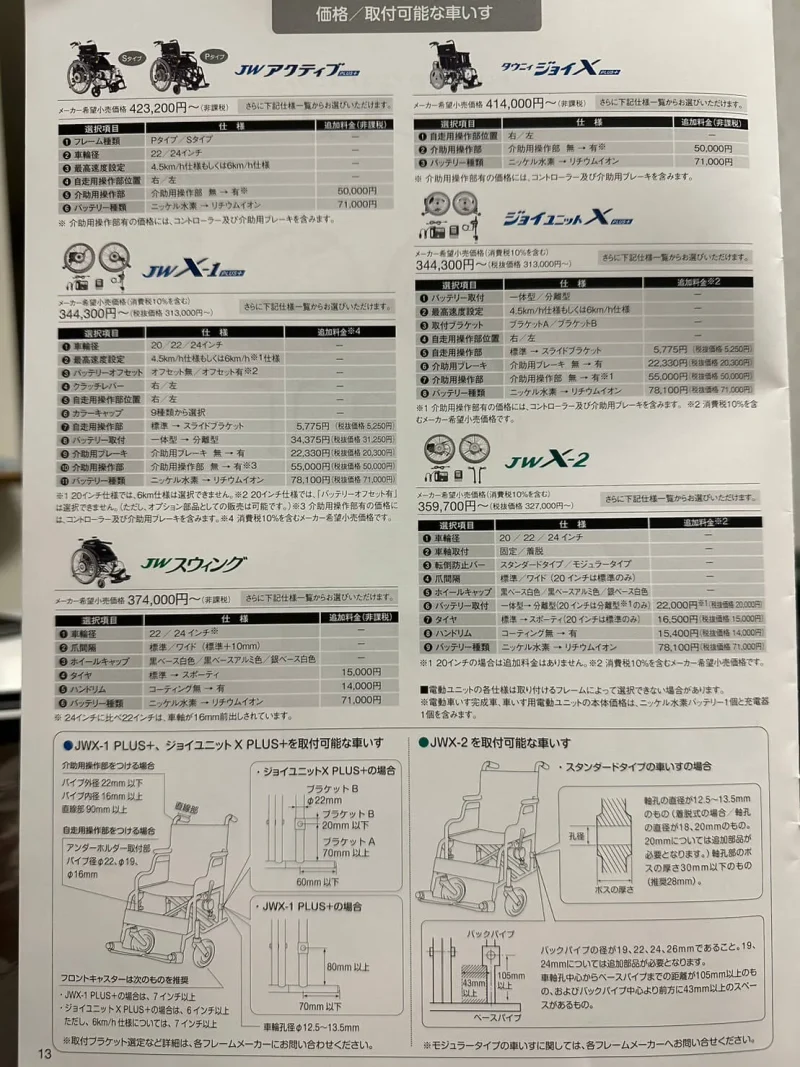 Conclusion.
By seeing and experiencing the actual product and knowing the price at the time of purchase, I can save myself some trouble when I actually have to purchase the product.
I was able to grasp the range of the electric wheelchair, battery life, joystick type functions, etc.
Above all, I am familiar with products, patterns, and applications that suit me.
Past International Home Care & Rehabilitation Exhibition (H-C-R) articles
How did you learn about the International Home Care & Rehabilitation Exhibition (H-C-R)?
What does it mean to attend an event? (H-C-R)
How to get to the International Home Care & Rehabilitation Exhibition (from Kokusai Tenjijo Station)
How to get to the International Home Care & Rehabilitation Exhibition (from Tokyo Big Sight Station)
Tokyo Big Sight Recommended Restaurants