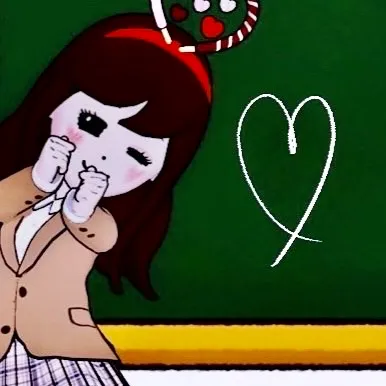 Koro
I'm Koro, a curious blogger in a wheelchair, and I'm the Director of Design and Systems at DisabilityLog. I love cute things, Disney, and fashion. I'm also interested in digital art and NFT!
It's been a while, everyone~!
I've been in a bit of a slump and it's been about a month since I last posted here…
I am very grateful for the support of all the members that has allowed me to keep this blog going.
We will soon have a new member of DisabilityLog, a wonderful person who studies DEI&B (Diversity, Equity, Inclusion, and Belonging), so please look forward to it!
Anyway, that aside.
Actually, just a month ago, I overheard my mom talking about how she wanted a fragrance for her house, so I abruptly bought her a L'OCCITANE room fragrance on my way home from work that day! I tend to buy anything I want right away (lol).
I had actually been wanting to get one for a while, so it was perfect timing.
Just by decorating it, it will look all the more stylish, won't it?
So this time, for those of you who want to heal with aroma, I'd like to share with you what fragrances I bought and my recommendations!
Room Fragrance
Speaking of room fragrance, here it is.
L'OCCITANE Provence Aroma Diffuser Refill Relaxing 100ml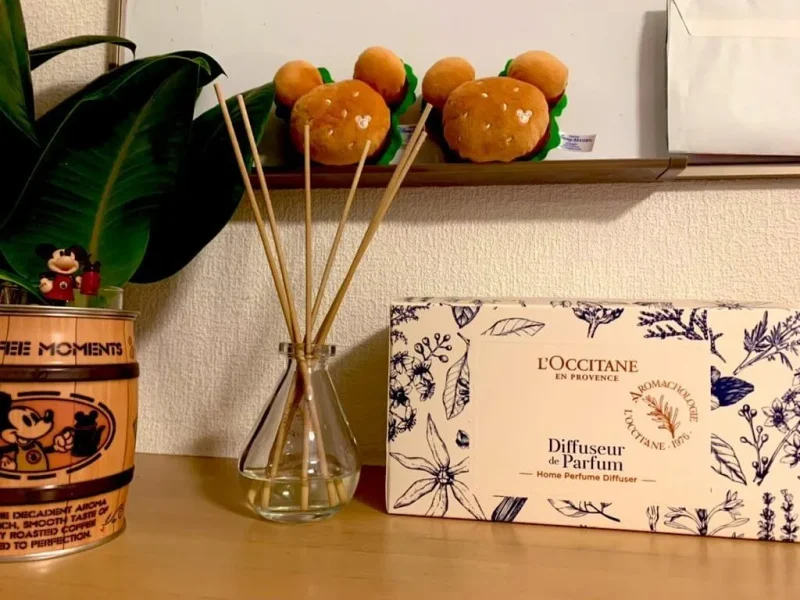 I went to a L'Occitane store and actually smelled it.
The aroma with this blue sticker on it is the most popular as it is a versatile item that can be used all year round.
リンク
I loved this smell right off the bat! I could go on and on and on.
It is indeed a classic product.
It's just a pleasant time to have it in your home.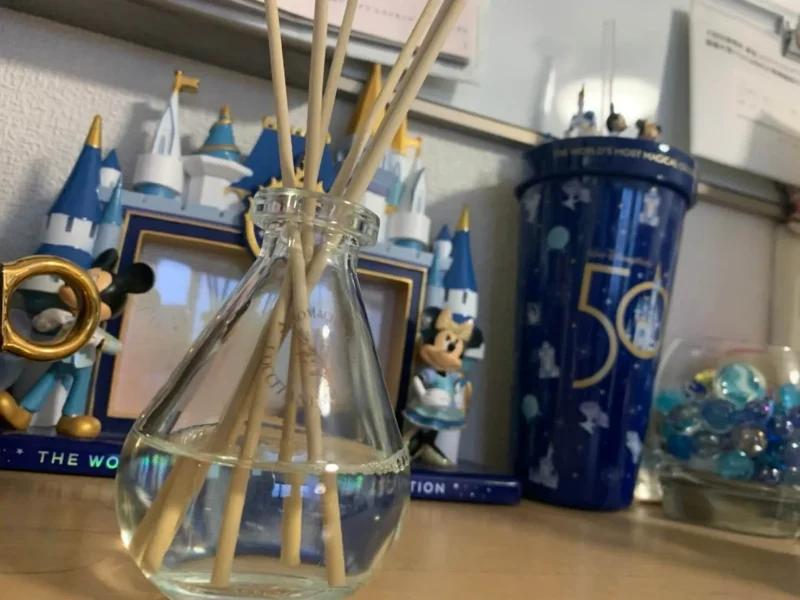 Seems to change with the seasons, spring, summer, fall, and winter, but maybe you could change it up to match the season!
In case you're wondering, depending on the size of your room, one bottle of L'OCCITANE room fragrance lasts about a month! (That's fast!)
I'm not sure what room fragrance I'll try next… I'd like to try them all, since the others were so good.
リンク
リンク
A good choice for a birthday present!
I am sure you will be very pleased!
リンク
Containers and Sticks
You need the fragrance as well as the container and the sticks.
I didn't have any, so I bought a set from L'OCCITANE.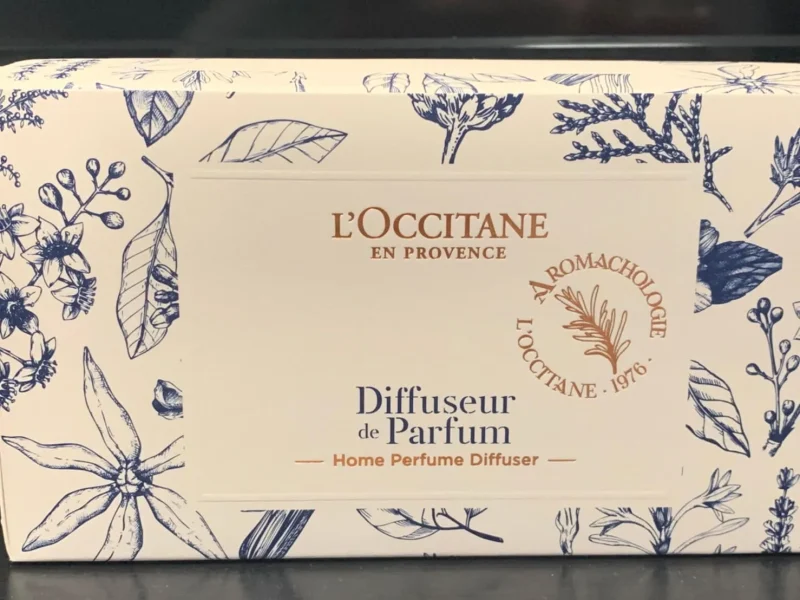 The box is already too stylish. Isn't it too good for a gift?
And that's not all.
The sides of the box and even the inside are filled with cute floral patterns.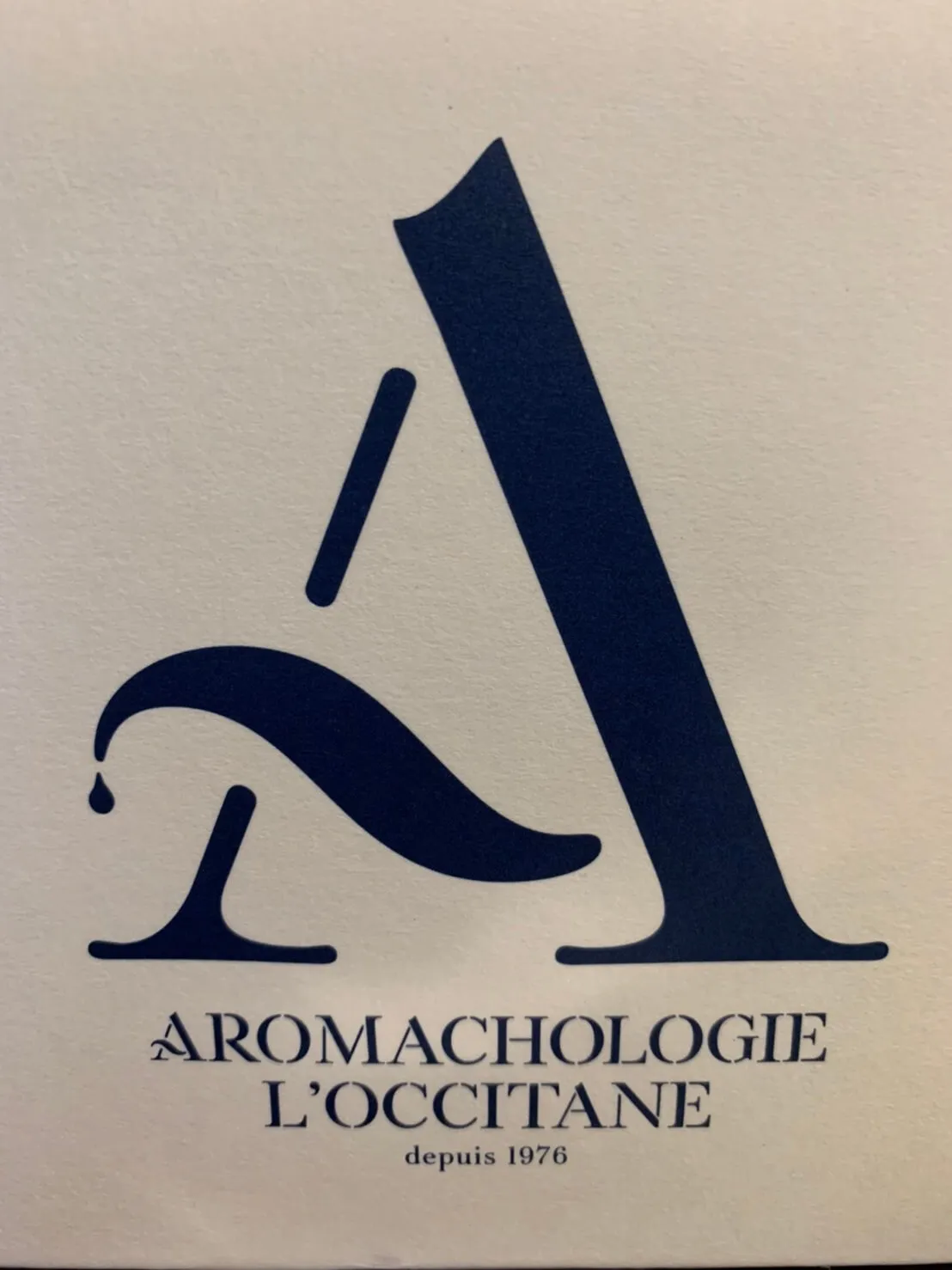 With Braille, how kind! So considerate of the visually impaired!
The name of the product is, quite simply
L'OCCITANE Provence Aroma Diffuser Set
リンク
What a simple and stylish thing to do.
Here's the essential contents of the container and stick.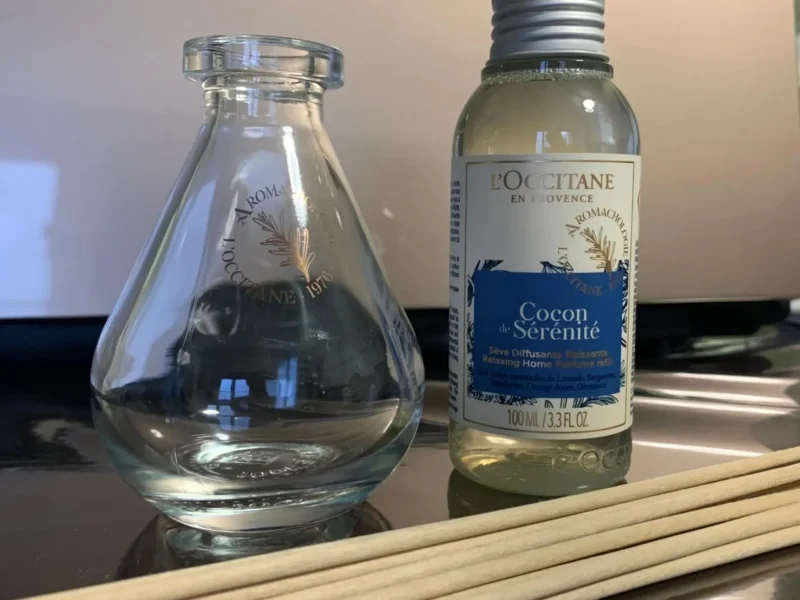 It would look great on a TV stand, in the living room, bedroom, bathroom, washroom, or anywhere else.
Depending on the location, you could place several different aromas and use them differently.
To use it, simply choose your favorite perfume, put half of it in the bottle, and point the stick.
Then, the aroma will evaporate and disappear in about two weeks, at which time you can add the other half.
At that point, turn the stick upside down and put it in, to save the stick and make the aroma last longer!
When all the aroma is gone, it is time to replace it with a new scent.
In case you are wondering, we inserted 6 of the sticks, half of the 12 that came in the set.
The other 6 sticks are being kept in the box so that the smells don't get mixed up!
So that they can be used next time with a different smell.

The sticks are consumable and used up, so buying in bulk might be a good deal!
リンク
リンク
リンク
There are all sorts of white ones, black ones, different shapes, different lengths and durability ones on the market!
Scent of Kinmokusai
A perfume of golden osmanthus was just released this fall!
Limited Edition] Osmanthus – L'OCCITANE Official Online Store
Kinmokusei is a trendy scent these days and one of my favorite scents.
It is one of L'OCCITANE's best-selling hits.
Osmanthus Kinmokusai Eau de Toilette 75mL
It smells so good, no wonder it is so popular.
It is even the #1 bestseller on Amazon.
リンク
I really wanted to have a fragrance of golden osmanthus if there was one, but they have not released it. Hoping for next year!!!
Recommended L'OCCITANE Fragrances
I will list again the recommended fragrances I purchased.
Why don't you all enjoy the healing time at home?