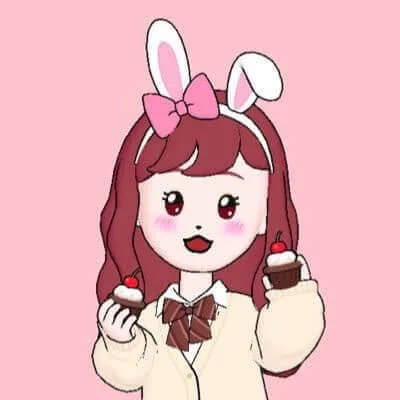 Usa
I'm Usa-chan, the "wheelchair x beauty" funny x model! In DisabilityLog, as a SNS influencer, I hope to provide lots of useful information for people with disabilities. I will also enjoy providing information about beauty, travel, sightseeing, music, photography, and other hobbies.
Do you guys have any experience with getting drinks from the CokeOn app?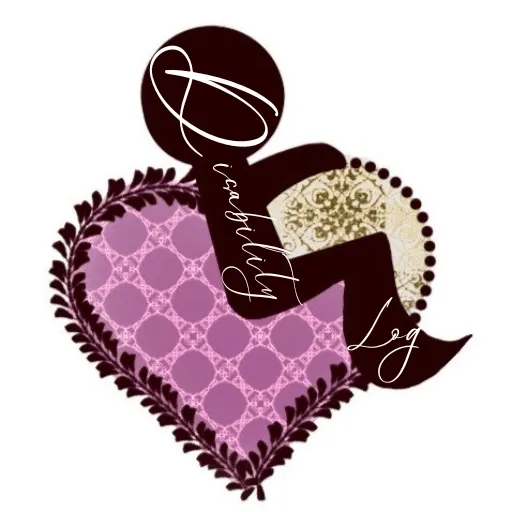 DisabilityLog
I know some of you want to know how to get the best deals, so I'll introduce you~!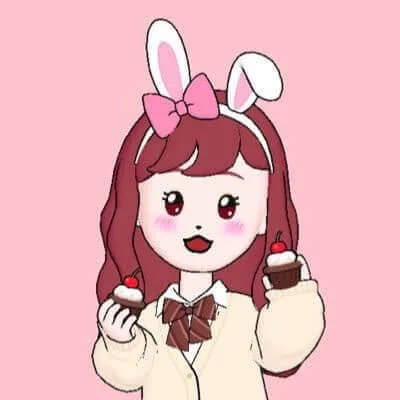 Usa
By all means, I'll be happy to help. I pretty much redeem my "free" drinks from the CokeOn app via vending machines and convenience stores!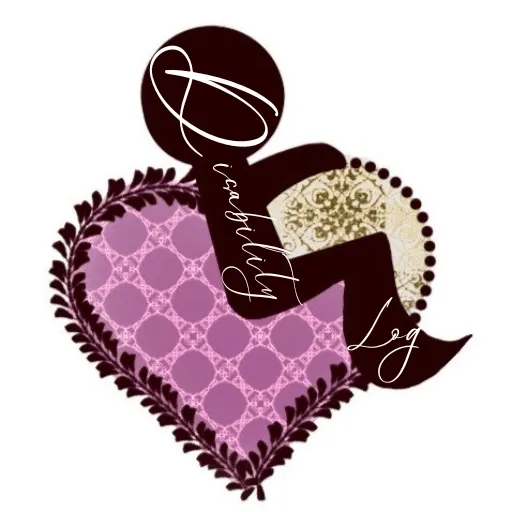 DisabilityLog
Mhm, I redeem "free" drinks quite often!
What's that? I'd like to know too much!
What is Coke ON?
Coke ON, the official Coca-Cola app, boasts 40 million downloads.
Many of you probably know about it.
In this issue, we will introduce how to get drinks with "Drink Tickets".
When you buy a drink from a vending machine
With Coke ON, you connect to a smartphone vending machine (Coke ON-enabled vending machine) and get one stamp for every drink you purchase, and when you accumulate 15 stamps, you get one free drink ticket.
If you think buying a drink from a vending machine is a waste of money
You can get a free drink from the vending machine.
Exceptions and cases where you can get a good deal on stamps are
There is also a special double-stamp campaign for purchases made at vending machines where the CokeOn app can be used for exceptions, such as products or at vending machines on specified dates, such as early mornings on weekdays.
Other than purchasing drinks from a vending machine
Also, except how to buy drinks from a vending machine,
In one week, you need to walk 35,000 steps.
Please check our website as well.
↓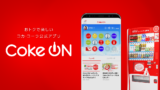 Coke ON(コーク オン)- おトクで楽しいコカ・コーラ公式アプリ
おトクで楽しいコカ・コーラ公式アプリ「Coke ON」(コーク オン)。スマホ自販機(Coke ON対応自販機)を使ってスタンプをためよう!15個たまれば、お好きな製品と交換できるドリンクチケットがGETできる!コカ・コーラで実施中のキャンペーンや最新情報も配信中!
How to use drink tickets
Launch the Coke ON app and connect to a smartphone vending machine
Tap "Use Drink Ticket" and select the drink ticket you wish to use.
Select your favorite product from the displayed products and swipe the ticket (or tap "Use") to exchange it for a drink.
I used a coke-on to exchange drinks in a vending machine
Just start the Coke ON app and place your phone close to the "Amount Display" to
The connection can be made automatically.
So I connected my phone to the vending machine.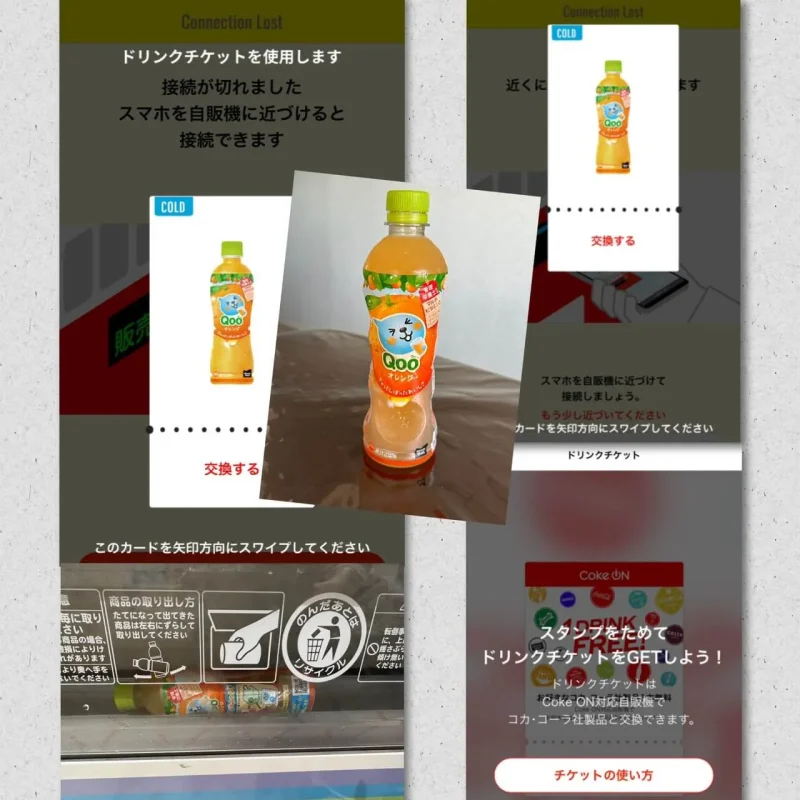 If you get very close to the vending machine so as not to lose connection, you will see a screen for your drink, as shown in the upper right corner, and "Exchange" will appear, so swipe up.
The product will then come out of the vending machine.
Get Drink Tickets at CorkOn
Learn more about how to get "Drink Tickets" at CokeOn.
Campaign to win by lottery
Actually, there was a campaign to win "Drink Tickets" at Coke On by drawing lots.
Great, I would be very happy if I won.
How can I apply?
To enter that campaign, you must purchase a Qoo drink and earn points by reading them from the campaign "QR code" attached to the plastic bottle.
You can earn one point per day!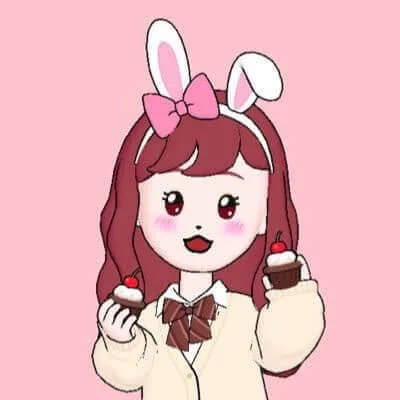 Usa
That's why – the campaign "QR code" attached to PET bottles is a treasure (lol)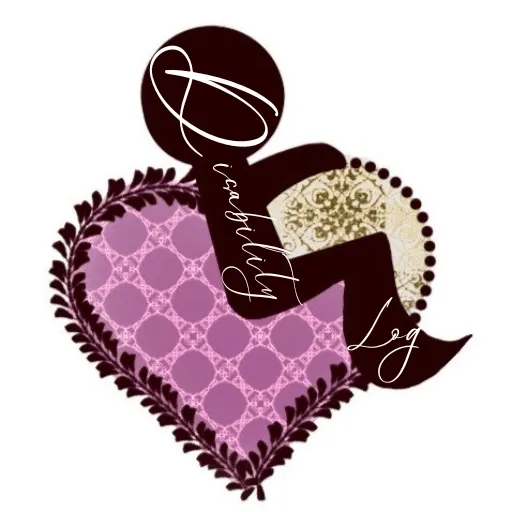 DisabilityLog
Warota! That's right. It's important!
I did not win any prizes other than "drink tickets" in that campaign, but I did get a "W Chance" to win a Coke On drink ticket for "social network sharing".
Introducing the winning screen
With that prize, I won a drink from Qoo.
You can check the ticket you won for the drink ticket from "Tickets" in the lower right corner.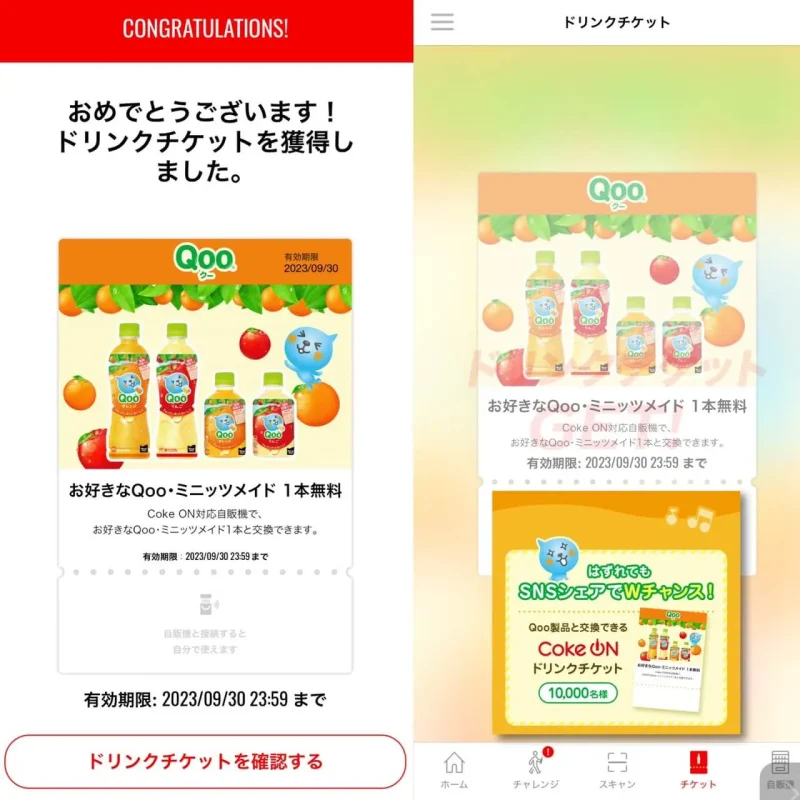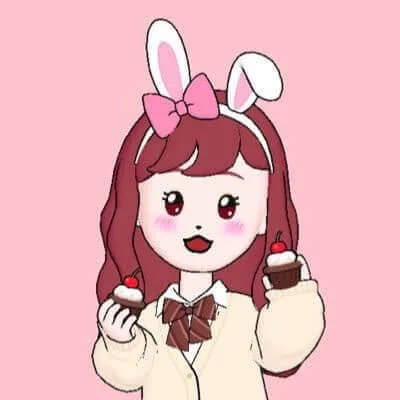 Usa
I won a drink ticket and was soooo happy!
I was wondering how many people won!
I was so happy to win a "drink ticket" that I didn't expect to get one myself.
How to Save on Coke-On!
The best way to save money on CokeOn is to use "drink tickets" yourself! to get a free drink.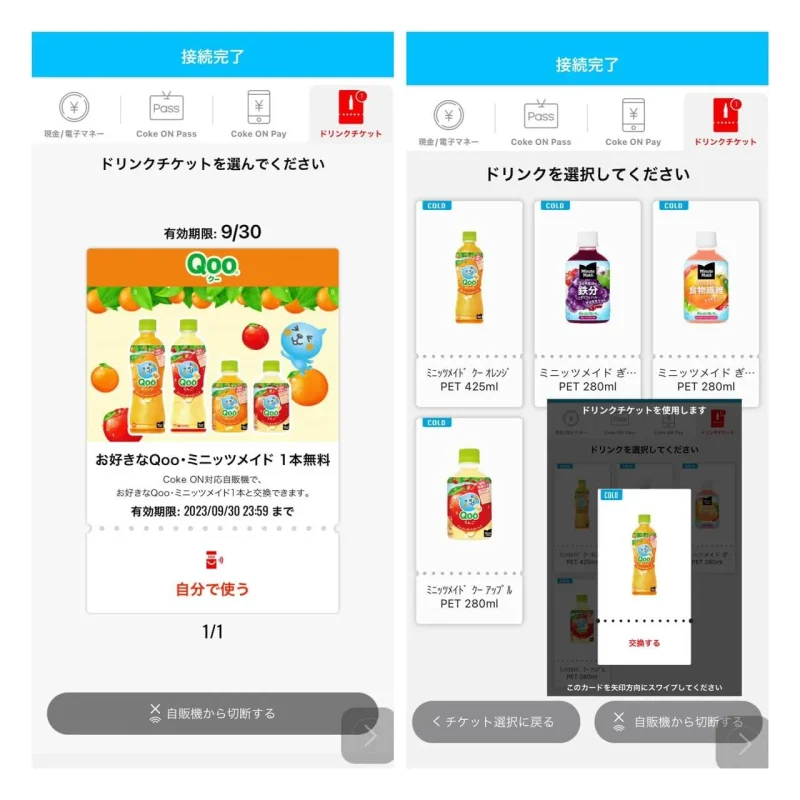 This time, since you get one free bottle of your favorite Qoo Minute Maid, you can redeem one of the "Qoo Orange, Grape, Orange, or Qoo Apple" in the table on the right.
I would still have to go with the "Coo Orange" which has the largest quantity and the highest price!
I would be tempted to redeem the most expensive product if I could get it for free!
What a surprise, this campaign ends this month, but if you follow the official CokeOn and Coo accounts on Twitter (X) and post with the hashtag, 100 people will be entered in a drawing to win free drink tickets each month.
This month ends today, so please try it.
You can also get drink tickets and earn stamps through various other routes, which I will introduce next time.
I hope the information presented in this article will be of help to you.
Introduction of Coke Ones in the Past
Please refer to some of the past articles that introduced some of the coke ons.
↓
●A slightly different kind of vending machine
●Stylish and cute plastic bottle opener.