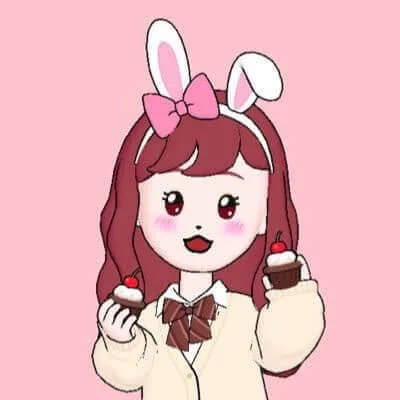 Usa
I'm Usa-chan, the "wheelchair x beauty" funny x model! In DisabilityLog, as a SNS influencer, I hope to provide lots of useful information for people with disabilities. I will also enjoy providing information about beauty, travel, sightseeing, music, photography, and other hobbies.
Here are a few examples of vending machines that are a little different.
If something looks interesting, you may want to try it at least once.
They are convenient when you are thirsty and want a drink or a quick snack.
Here, vending machines are abbreviated as "vending machines" because we will introduce more than one.
Vending machines that can be redeemed for litter that can be saved by walking.
Drink vending machine
●Coke on (drink)●
Recently, due in part to the influence of Corona, more and more vending machines have become contactless compatible. With the vending machine introduced here, all you have to do is start the "Coke On" app from your smartphone and approach the spot where it says "Coke On Pay," and the app on your smartphone will work together, allowing you to transition between screens within your smartphone and select products. This is a very nice feature for wheelchair users who have given up because they can't reach the very top.
I earned 15 stamps on the app and got a Coot's mandarin drink.
I hadn't had a mandarin-flavored drink in a long time and it was very tasty. Coooooool and refreshing!!!
This was the only vending machine in town that had Coo's Mikan flavor that I could find. It was a bit rare to find it in other vending machines, so it was a bit precious.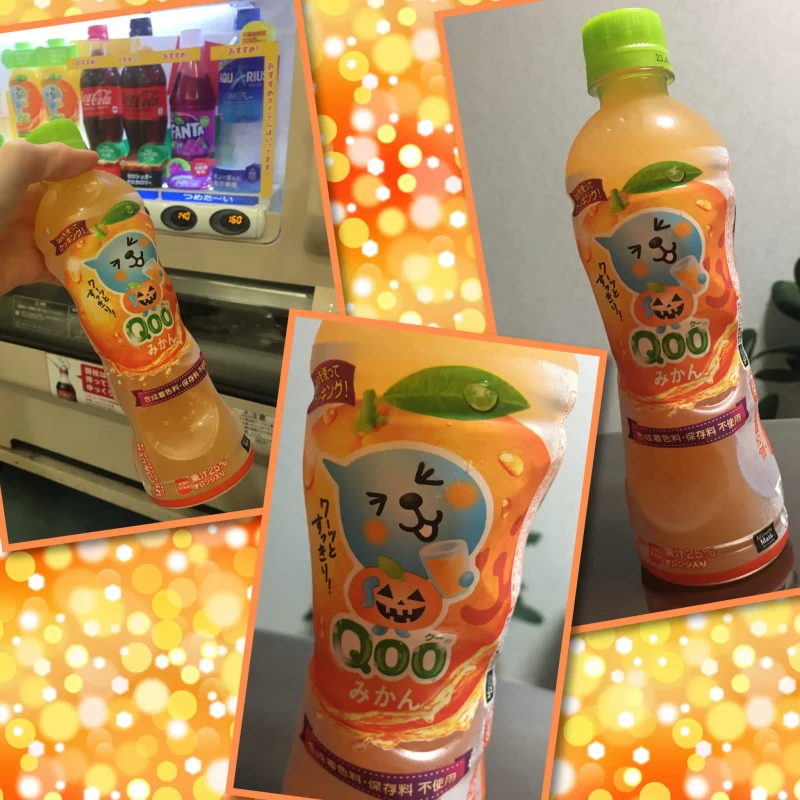 Incidentally, the products available differed from vending machine to vending machine.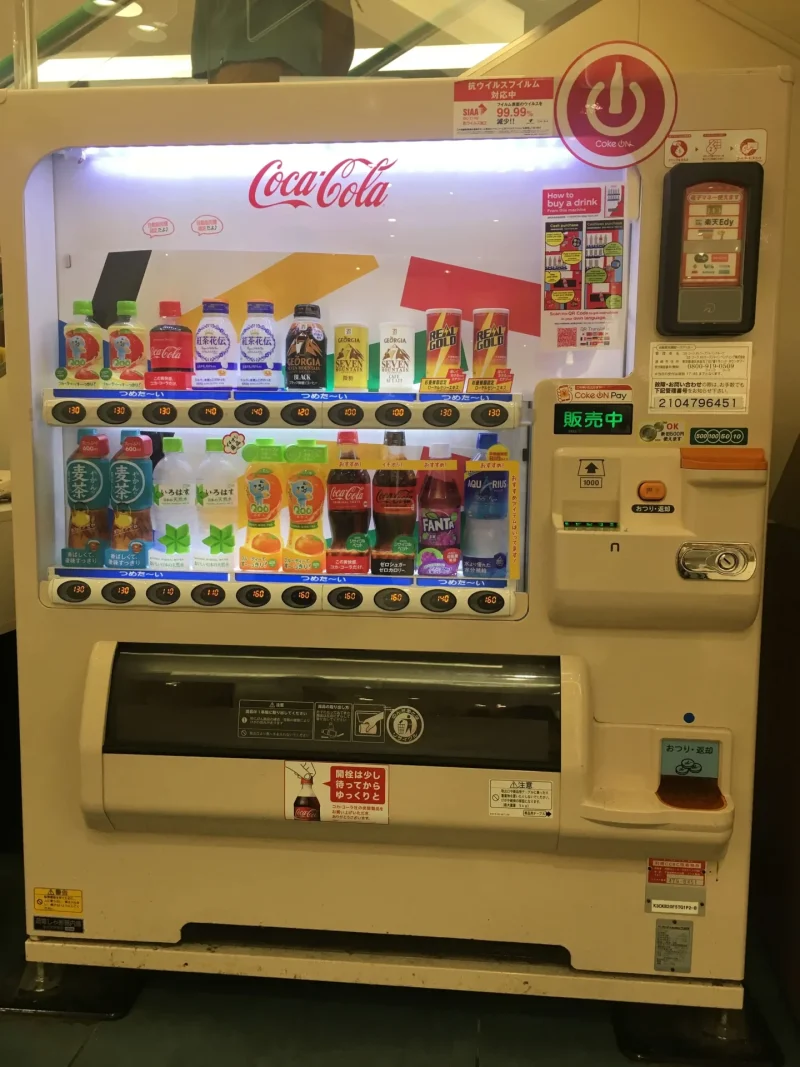 It would be nice if we could check the products sold on the app in advance.
Also, the app lists the stores where vending machines are available, but in reality, there are vending machines that are listed on the app but are difficult to find, so I gave up looking for them. I wish they would add more vending machines to the app.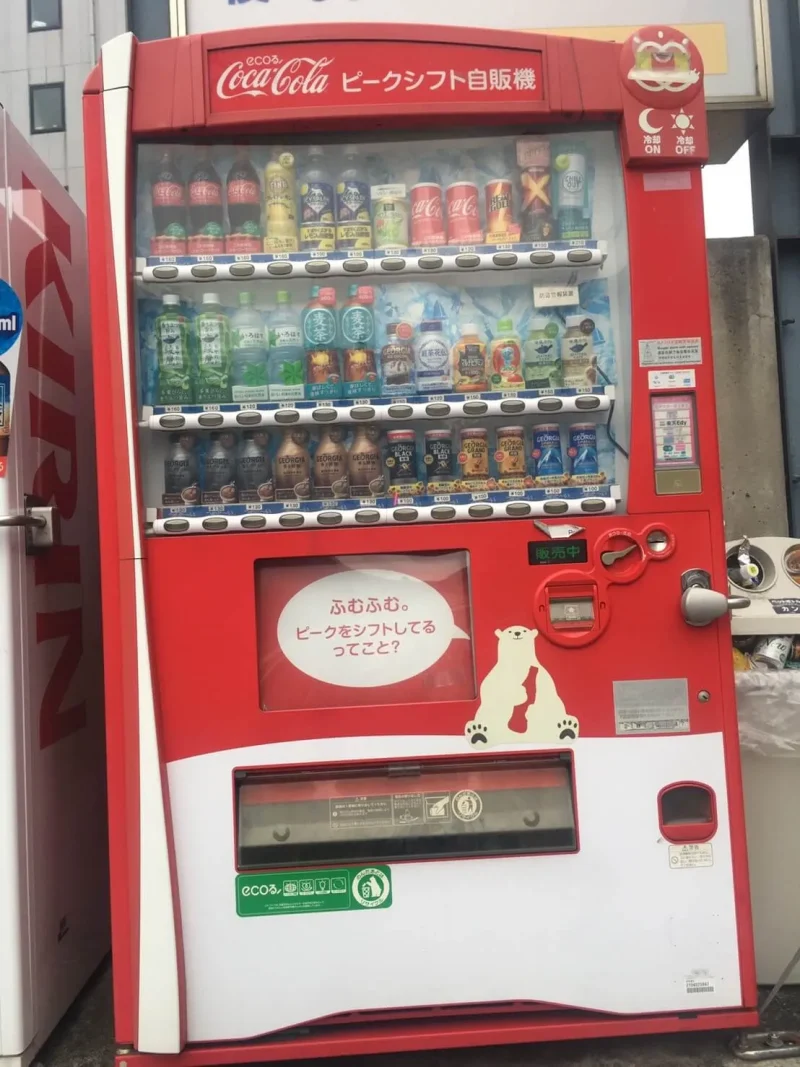 I thought it was only for red vending machines, but it worked for white vending machines too.
How to get a drink with the app
1、When you put your phone close to the "Coke On Pay" sign with the app running, the app on your phone will link to the app and display "Buy Product".
Select "Drink Ticket" on the far right.   *This is the way to do it if you have accumulated 15 stamps.
3、Select a product on the app.
4, Press "Redeem" and swipe up.
Then the product appears.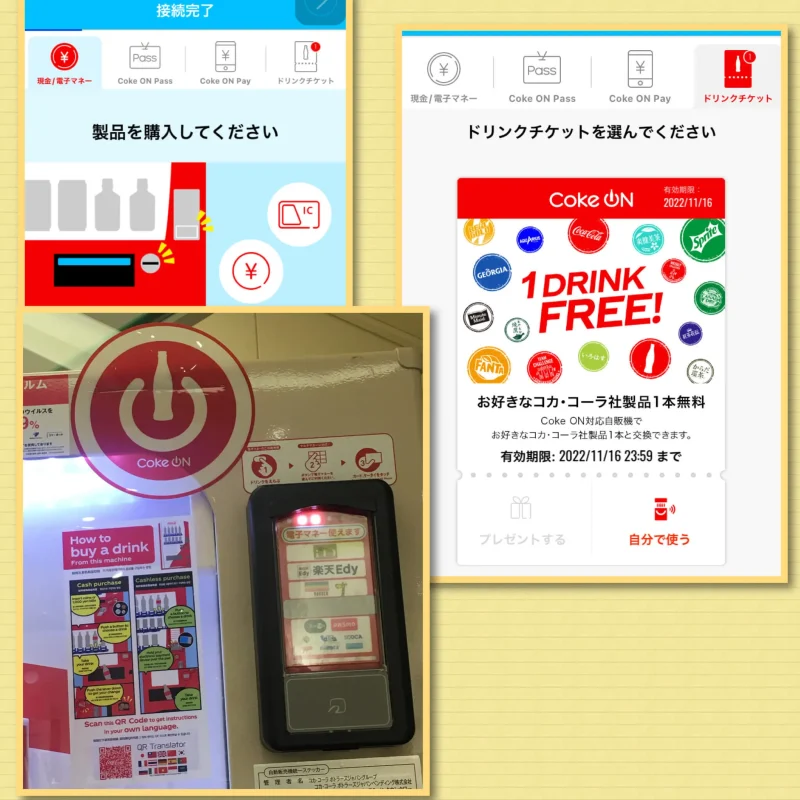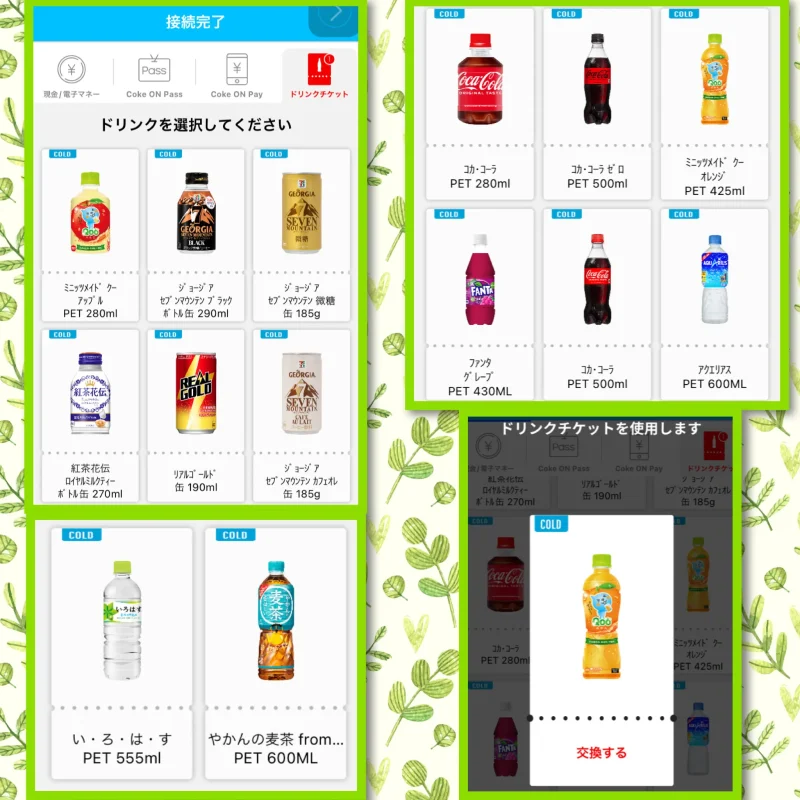 Types of vending machine purchases with PoiPo
In addition to the above, you can register your IC card in advance on the application to make purchases, or you can make purchases with an IC card without linking with the application, or you can make purchases in cash.
You can also purchase with cash.
Stylish and cute plastic bottle opener
This is a very convenient tool that requires little effort to open a plastic bottle, because it doesn't require fine finger movements. It is very convenient, isn't it? This time, I would like to introduce a PET bottle opener product that I use to open the lids of PET bottles and cans, which I use because I have no grip strength.

I have a plastic bottle opener that I use to open plastic bottles and cans without any hand pressure.
Handkerchief vending machines at train stations, etc.
●Jill Stuart (handkerchief, water bottle)●
Recently, I have been seeing some unusual vending machines around town. I have never seen vending machines in other countries, so this may be unique to Japan. I forgot my handkerchief today. I think it is very convenient when you forget your handkerchief today.
I was surprised to see small water bottles.
I also put an article that was introduced in the past.
A vending machine of interesting and rare handkerchiefs.
JILL STUART's handkerchief vending machine is very cute and stylish! I bought a handkerchief with a cat pattern. The vending machine is wheelchair-accessible, and it is also contactless and compatible with IC cards, so I thought I'd introduce it to you.

A famous cloth shop with a store in Tokyo had a handkerchief product from a brand called "LIBERTY".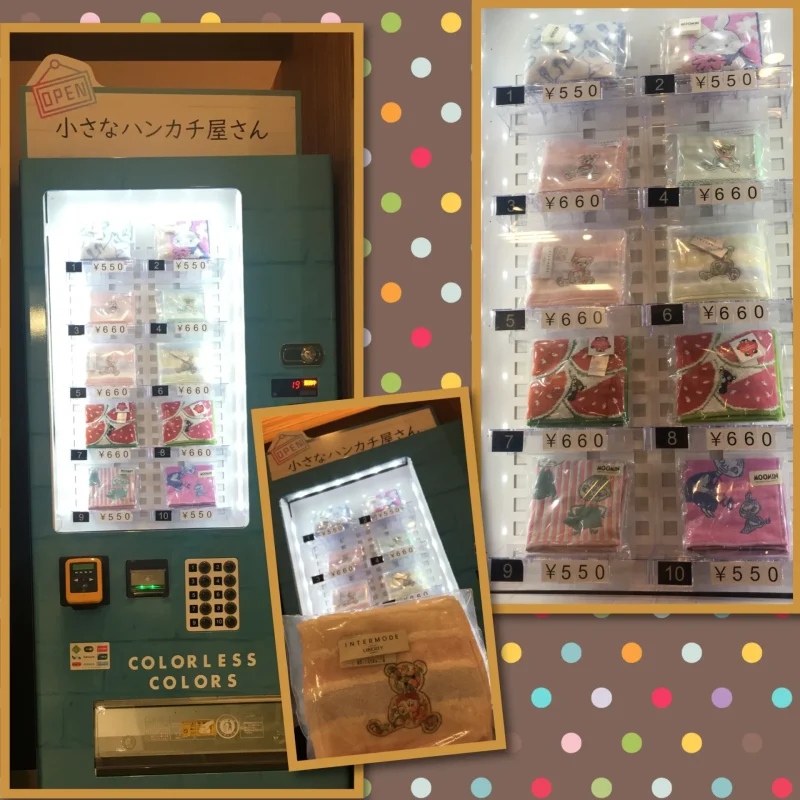 I bought a cute little bear from a vending machine called "The Little Handkerchief Shop." It's so cute no matter how many times I see it. It is my favorite.
Vending machine for snacks and bread
●Petit Mall (sweets, bread)●
Sweets and breads make a nice little snack when you are hungry.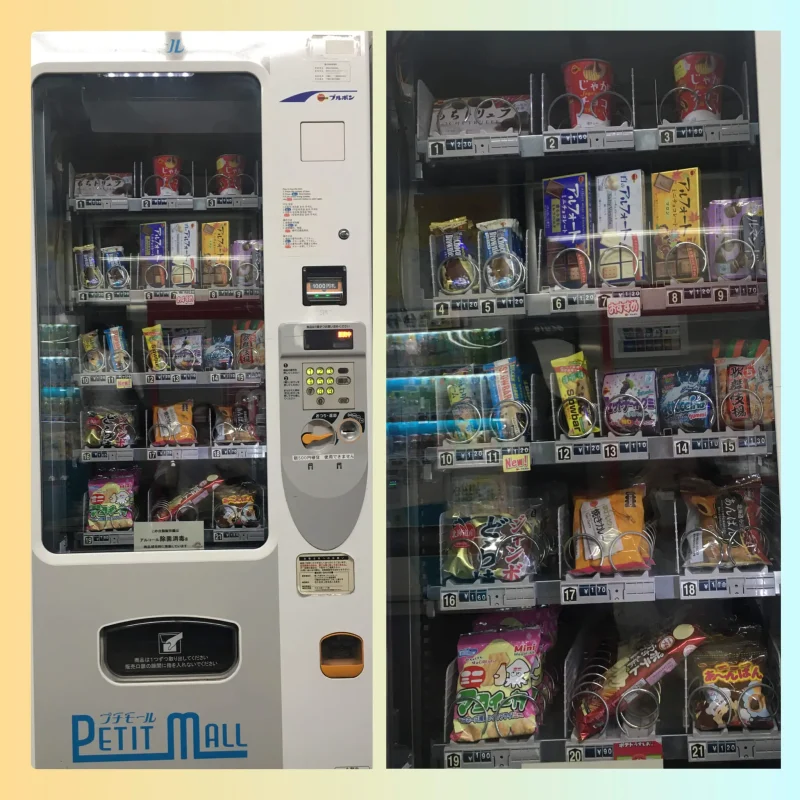 Great for when you don't have time to go out or stop at the convenience store!!!
It is truly a time saver.
They also have thorough quality control. You can be assured of a long shelf life.
Vending machines for cup noodles, bread, and snacks
This vending machine does not have hot water, but it would be nice to have something warm to eat, especially in the winter when it gets cold. I was surprised to see a cup noodle vending machine for the first time! There were also snacks.
These products have a shelf life of several months, so you can rest assured that they will last for a long time.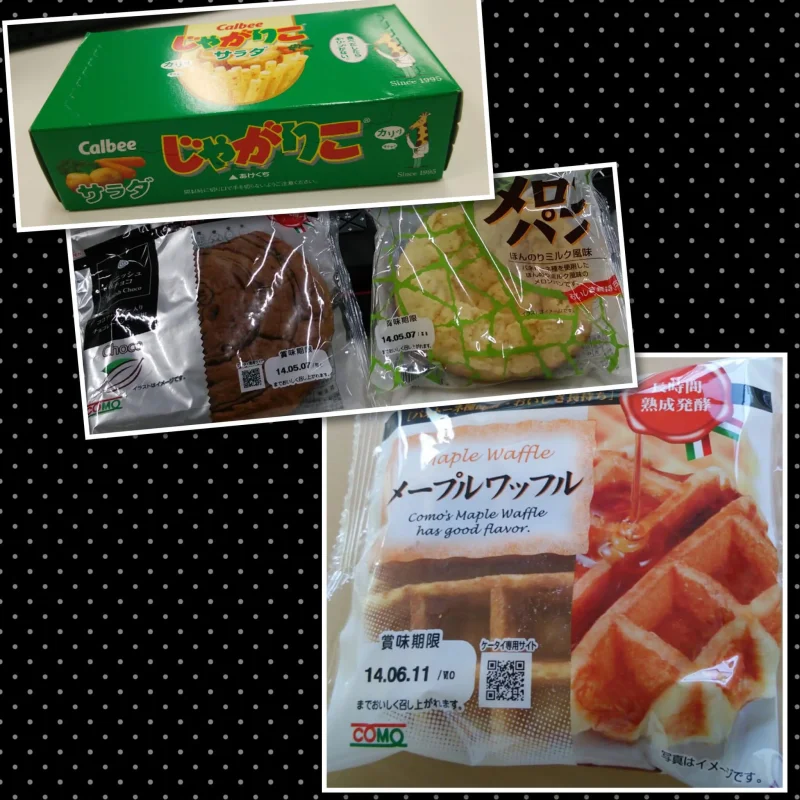 These days, vending machines for cup noodles, bread, and snacks can be found in college cafeterias.
I remember when I was a senior in high school and went to see open campuses of various universities.
Ice cream vending machine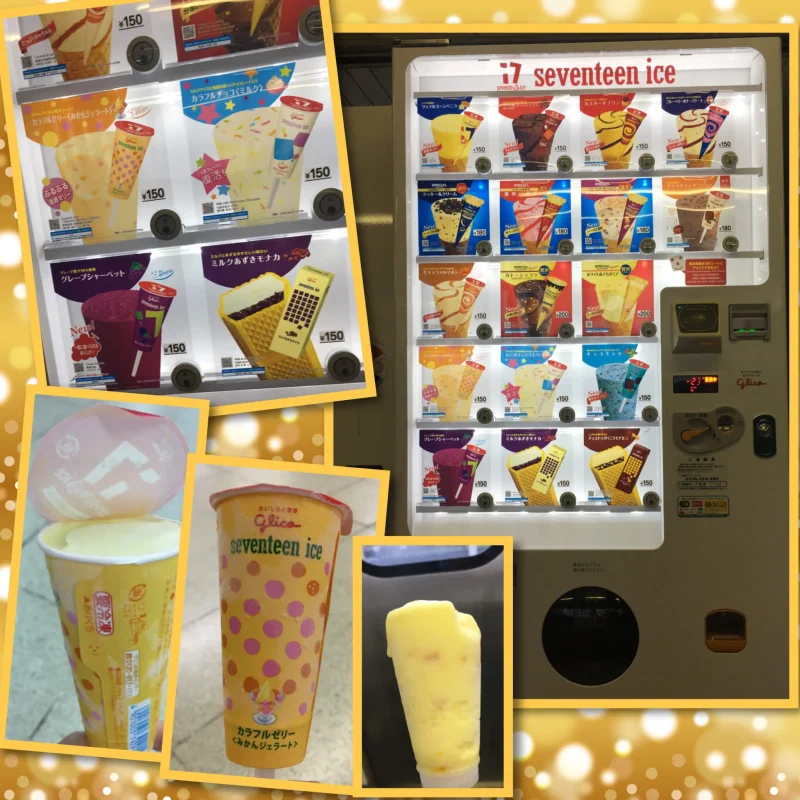 Ice cream has been a common sight for a long time, and you want to eat it in the hot summer. It is especially useful when you don't have time to stop by a convenience store, when it is too hot and you really want to eat it, or when you can't find the flavor of ice cream you wanted at a convenience store.
You can often find ice cream at station gates and inside facilities, but you can also find it on station platforms.
E-money compatible vending machines found at train stations
【The types of vending machines at train stations and other locations】
Recently, we have become a very convenient society in which we can pay with electronic money (transportation IC cards) and purchase items via apps.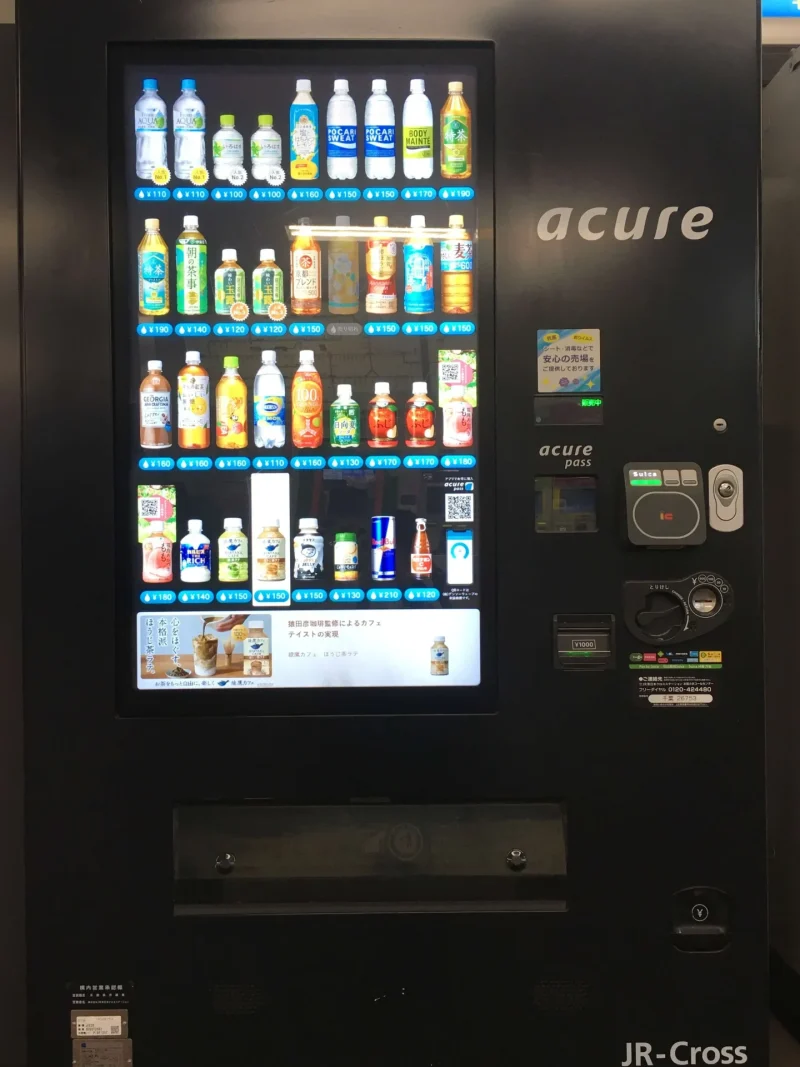 The black vending machine above is often seen at train stations.
You can buy vending machines at the station with your transportation IC card or cash.
Vending machines in hospitals, etc.
Mask vending machine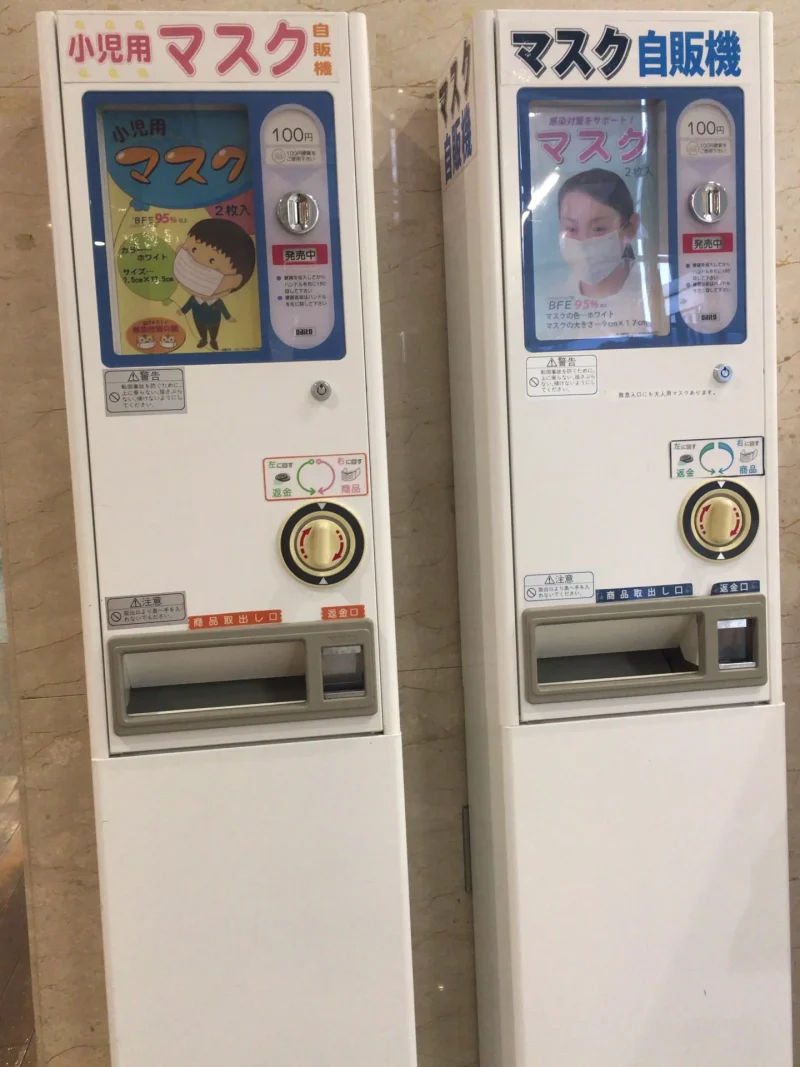 It is convenient when there is no store nearby and you didn't bring your own mask. This is useful when you are in a situation where you don't have a store nearby and didn't bring your own mask.
In hospitals, there are cases where people with viruses or illnesses such as new coronavirus infection are seen, so a mask is a necessary item.
Vending machines for tissues and clothes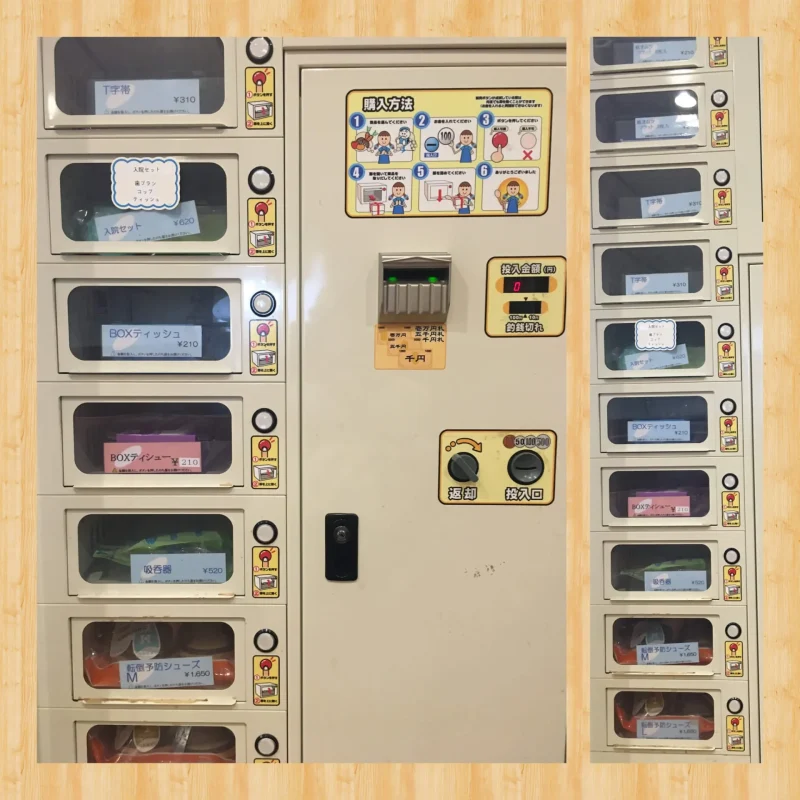 It would be nice to have a vending machine for tissues and clothes that would be useful in the event of an emergency and in the event that the need arises and the patient is unable to leave the hospital.
Unfortunately, the vending machine was located a little too high up.
Types of vending machines in hospitals and other places for purchasing items.
Some vending machines in hospitals still only accept cash for special products such as masks and tissues. Some of them were not barrier-free.
summary
Some vending machines these days are convenient because even people with disabilities cannot reach the top of the machine, so some can be pushed from the button in a position where only the top can be reached, and some allow all products to be selected by the button.
In addition, I am very happy to be able to execute this from the application because recently, perhaps due to the coronavirus infection, a non-contact type of vending machine is now available without touching the buttons.
There are also more and more vending machines that are accessible to people with disabilities, such as people in wheelchairs who are short in stature.
How was it? We introduced some interesting vending machines in the city.
I hope you will give them a try.
We hope you will give them a try, too.