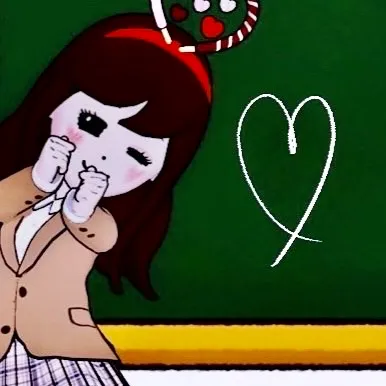 Koro
I'm Koro, a curious blogger in a wheelchair, and I'm the Director of Design and Systems at DisabilityLog. I love cute things, Disney, and fashion. I'm also interested in digital art and NFT!
Lately, I have been seeing some unusual vending machines.
I jumped at the chance to buy something on impulse.
The famous beauty and cosmetics brand JILL STUART's products were all lined up.
For all those who are in love with "cute".
Hah~ they are all too cute.
I was so thrilled.
I was a university student and often received them as birthday gifts or bought cosmetic goods from them, so I missed them so much I had to get my hands on them. The designs are excellent and the best cosmetic brand that any girl would love to have.
I'm going to write about JILL STUART's handkerchief vending machine!
If you're curious, check it out!
Even a wheelchair user could reach it!
Found a cute little vending machine!
JILL STUART handkerchief vending machine
From a distance, I found a cute pink vending machine that could be mistaken for a purikura machine.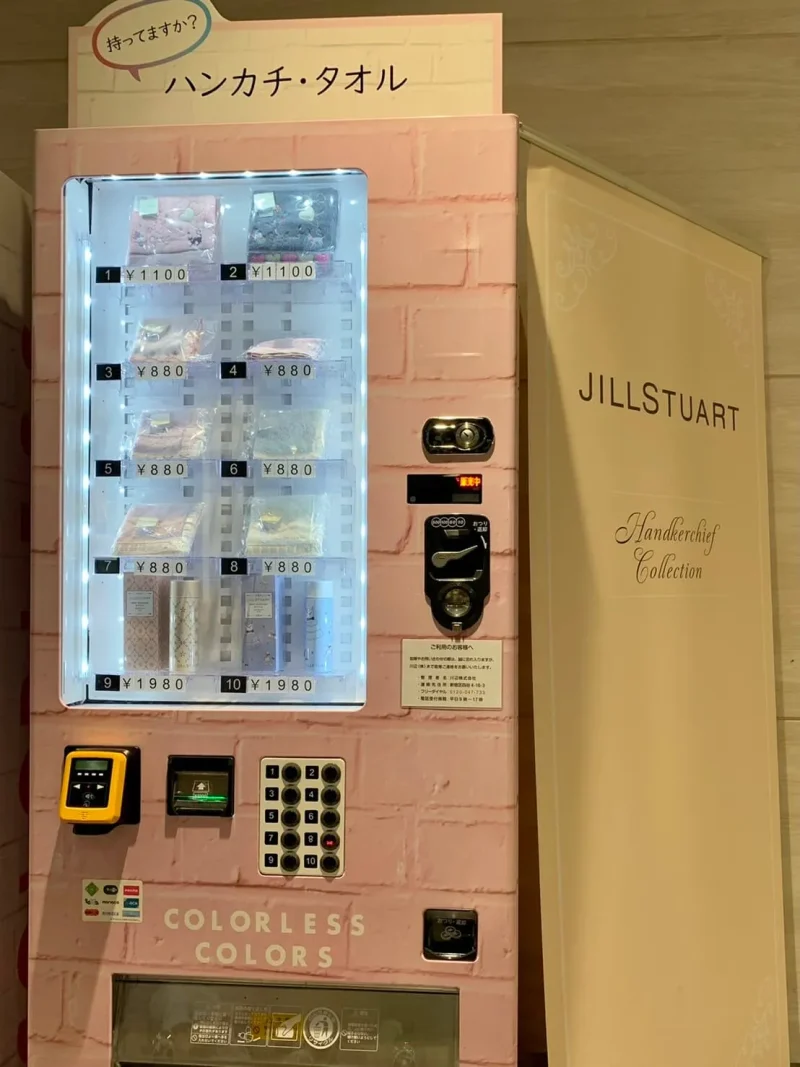 Isn't it very fashionable?
Just in case you don't have a handkerchief, or don't have one on the street, this is for you!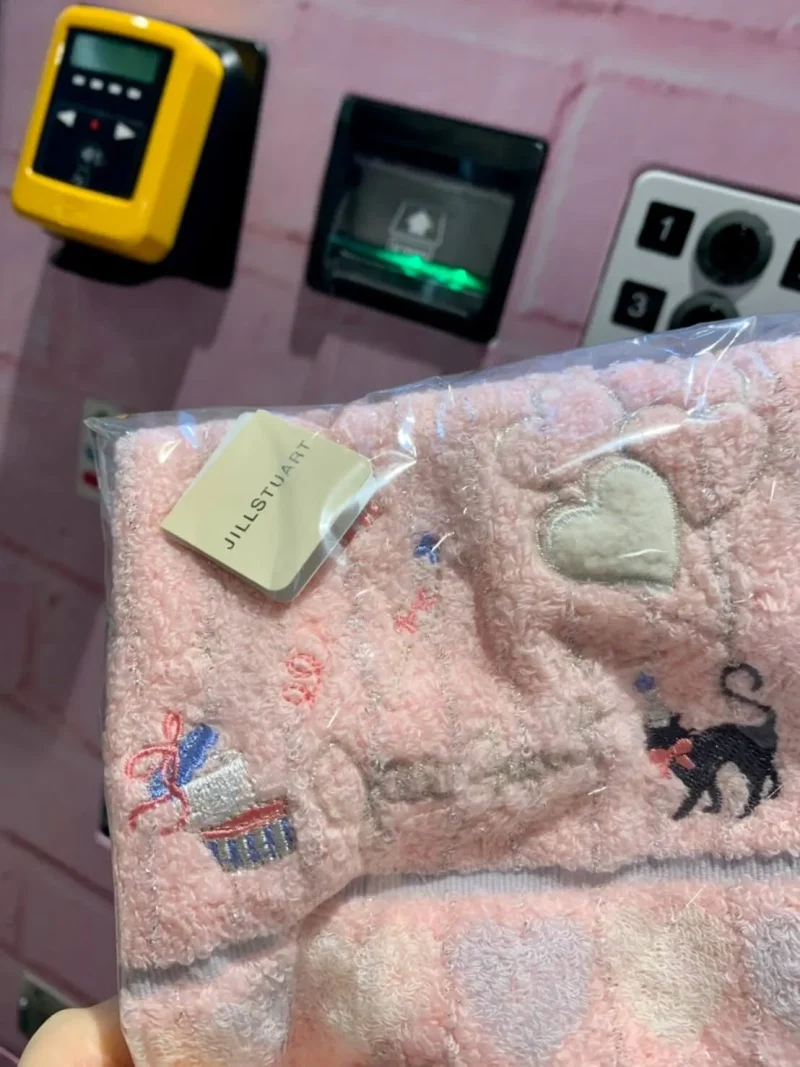 *Scroll down to the bottom of the table of contents for the up-close picture of the cat's cute little handkerchief!
A closer look at the vending machine revealed that in addition to handkerchiefs, water bottles were also on sale.
The pattern is very cute. The small size makes it easy to carry around.
Would be great for picnics and such!
In case you are wondering, it was located in front of the food court on the first floor of Chiba Station.
I was surprised because it seems to have appeared all of a sudden really recently.
Jill Stuart Beauty & Niji-sanji
If you are wondering what Jill Stuart Beauty is, please check out the official Twitter page.
Right now, JILL STUART is running a Twitter campaign!
Only until August 28th! Great project!
Niji-sanji is a very visually stunning driver!
Too cool… Winner. The best.
All the colors look so good, I'm tempted to get all four!
Can't miss this one either!
COLORLESS COOLORS and collaborative products?
I wondered what "COLORLESS COOLORS" was listed at the bottom of the vending machine and looked it up… and found the following article.
What is COLORLESS COLORS?

Colorless color.

A colorless, transparent and neutral state toward things and events.

It is not bound by stereotypes or molds.

From basic items to trendy items, we offer what you want now.

We value the "fun" and "happiness" of our customers, and the store's characteristics, individuality, and personality will change in a variety of colors.

This is where the "new" will begin.

First appearance in Shikoku! You are sure to find what you want now. Atrium Marché "Colorless Colors" opens on October 6!
I see, it looks kind of interesting.
It's the first in Shikoku, isn't it?
I am wondering why this vending machine was placed in Chiba.
Reachable while in a wheelchair.
The button with the item number was on the bottom.
It is very nice to have the buttons in a position where even a person in a wheelchair or a short person can reach them.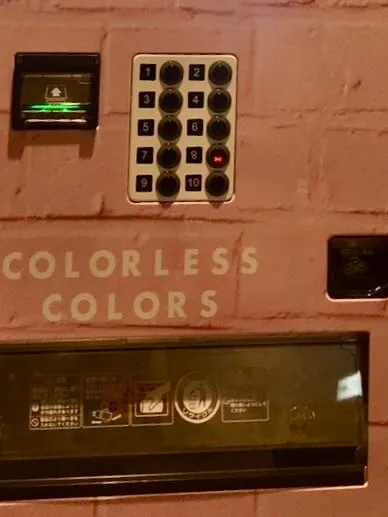 Elevators now have buttons on the side, and vending machines have buttons at the bottom to suit the viewpoint of wheelchair users.
I hope more and more vending machines with barrier-free designs like this keep popping up!
However, it was not as easy to see what the product looked like as the one above, so that was one regret.
One of the towels had fallen over, and, I don't know, that can't be helped?
Maybe we could get creative and tape it in place!
Easy shopping by touch with IC card
Next to the button I mentioned earlier, there was a place to hold an IC card.
It is nice to be able to make contactless purchases without having to take out bills or coins.
It appears that 9 types of IC cards are supported.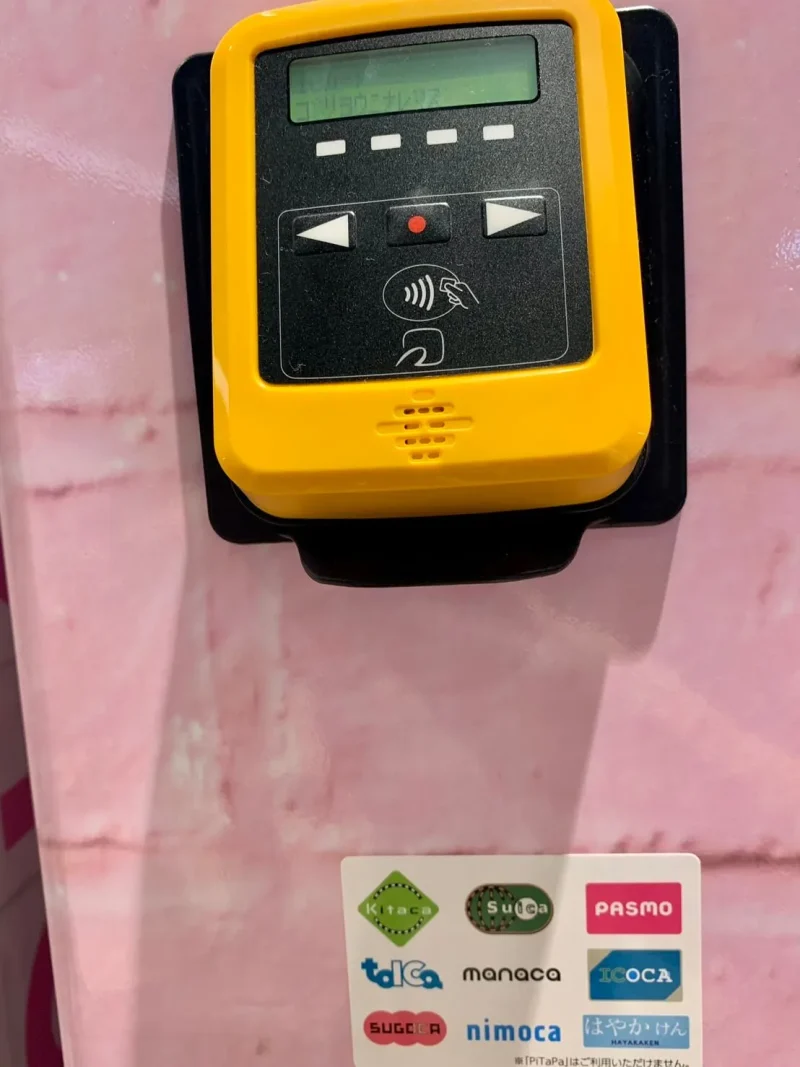 Below is a brief description of each type of IC card as well!
Kitaca…An IC card that allows you to pass through ticket gates by simply touching the card without buying a JR Hokkaido ticket. It can also be used as electronic money for purchases.
Suica…Suica is a JR East IC card that can be used for railroads, buses, shopping, etc. Suica can be used for railroads, buses, etc. in Kitaca, PASMO, TOICA, manaca, ICOCA, PiTaPa, SUGOCA, nimoca, Hayakaken, icsca, odeca areas from Hokkaido to Okinawa. and buses in each area.
PASMO…An IC card that can be used at any time in place of a ticket or wallet, making your life more convenient, and can be used on railroads and buses nationwide, especially in the Tokyo metropolitan area.
tolCa…Just touch the card and you can easily use it for train rides and shopping. Convenient JR Tokai IC Card
manaca…This card combines a train ticket and electronic money in one card. It can be used on trains and buses in the Nagoya area.
ICOCA…JR West's convenient IC card that allows you to pass through automatic ticket gates by simply touching the card while it is still in your pass case.
SUGOCA…And kaisatsu. And kaimono. Sss! and go! Convenient IC card ticket that allows you to pass through by simply touching the ticket gate of JR Kyushu's automatic ticket gate
nimoca…An all-round convenient IC card that can be used for Nishitetsu buses, trains, shopping, and many other things. Mainly for Fukuoka – Kyushu area.
Hayakaken…Cyberne standard IC card ticket introduced by Fukuoka City Transportation Bureau (Fukuoka City Subway) on March 7, 2009.
Get a cute handkerchief with a cat illustration.
I thought the handkerchief at the top of the pink vending machine was the cutest, so I popped it in and bought it.
When I pressed the button and held up my IC card, I heard a handkerchief fall from the bottom.
I opened it up from the product outlet to the front and picked it up… and there really was a handkerchief!
The place was labeled "recycle after drinking," but it wasn't, was it?
And an illustration of a plastic bottle. This is vending machine recycling!?
Finally, I'll show you a picture that shows only the handkerchief I purchased!
Jang-jang!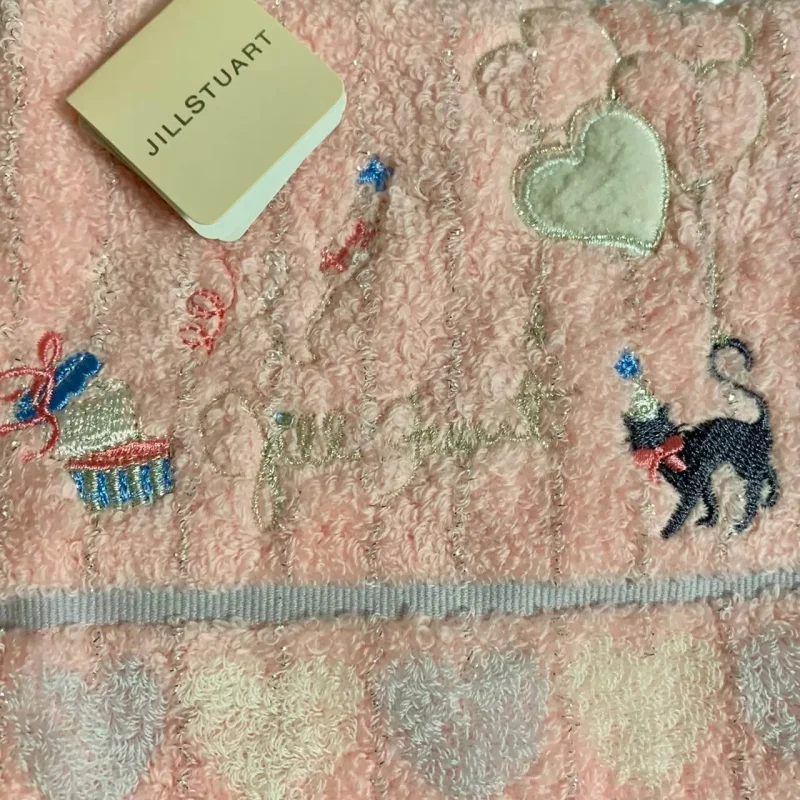 Look at it this way, it's soooo cute!
I was not sure about the gray color, but I am glad I went with pink.
I will use it on a daily basis.
Good purchase!!!
I will also introduce any unusual vending machines that have a wheelchair user-friendly design.