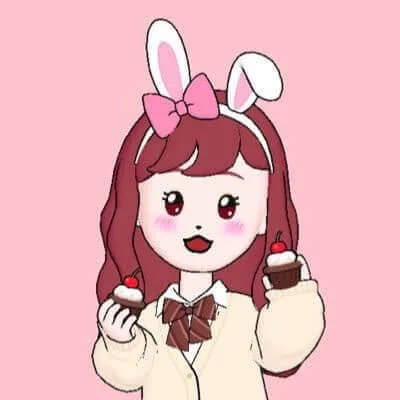 Usa
I'm Usa-chan, the "wheelchair x beauty" funny x model! In DisabilityLog, as a SNS influencer, I hope to provide lots of useful information for people with disabilities. I will also enjoy providing information about beauty, travel, sightseeing, music, photography, and other hobbies.
Here are some restaurants that are too good to be true.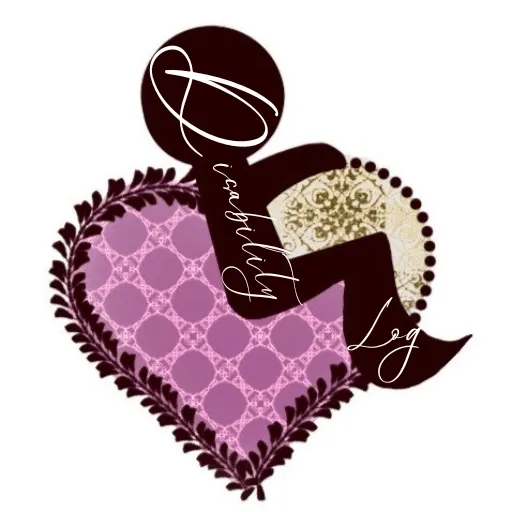 DisabilityLog
The purpose of going out to eat this time is~!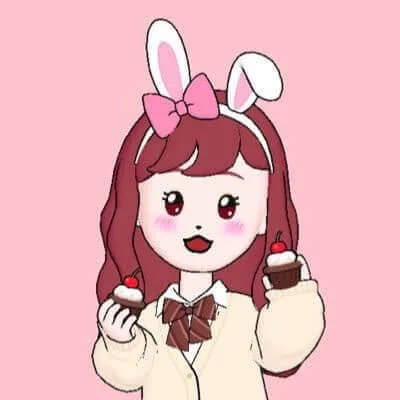 Usa
The eel hitsu-mabushi is available only for a limited time! The reason is to eat "Unagi Hitsujimabushi".
I had posted a glimpse of the restaurant at the last blog's first anniversary.
This is a continuation of that story.
● This is the one-year blog anniversary!
Kisoji's Eel Hitsumabushi
Kisoji's Eel Hitsumabushi is
The eel is made in Japan and grilled to a fragrant aroma.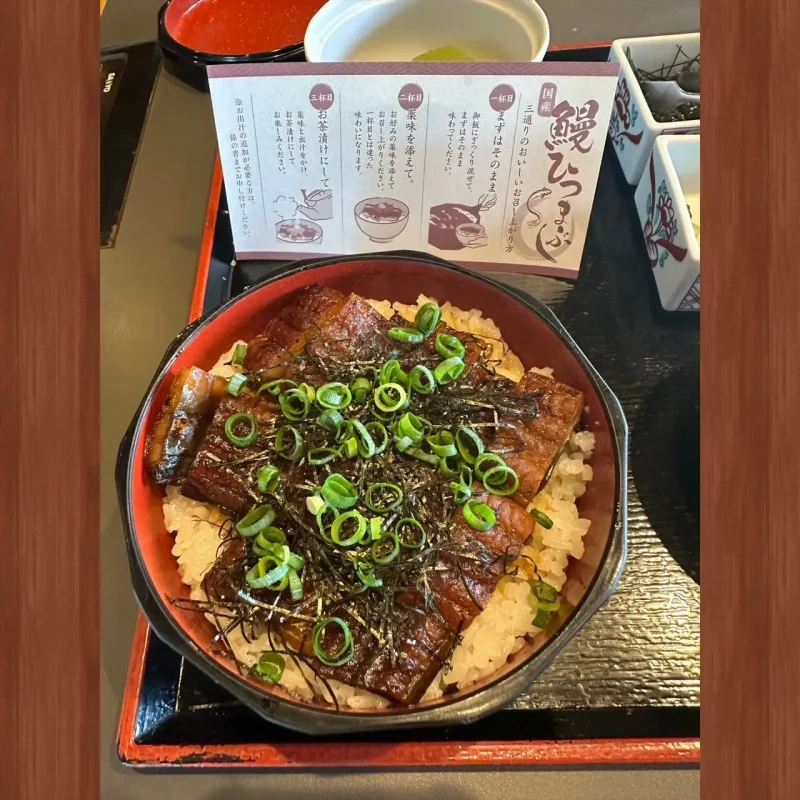 Kisoji's eel (unagi) hitsu-mabushi, the one I've always wanted to try!
way of eating
There are three ways to eat it,
1、as is
  You can eat it as it is!
2、Sprinkle with green onion and chopped nori as you like.
  It will make it even tastier!
3, Eat it with ochazuke (rice with green tea).
  It's so warming!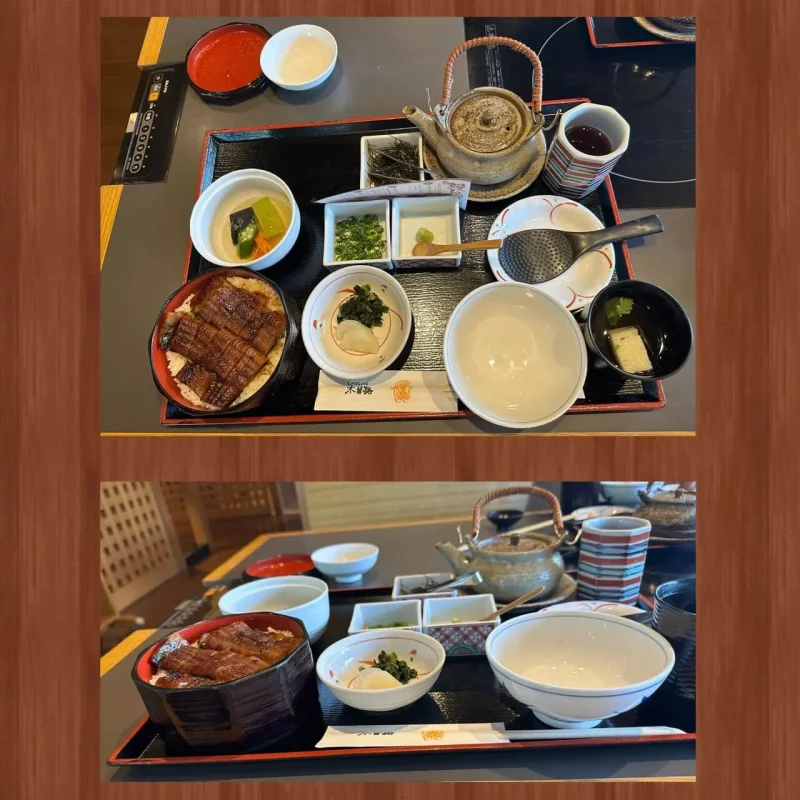 The whole thing looks like this.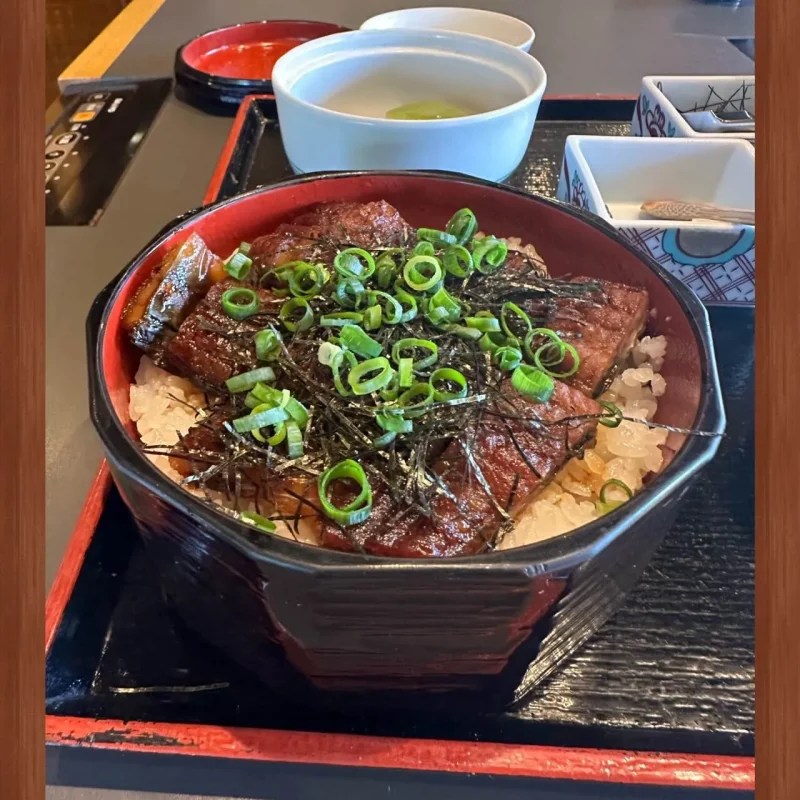 Zoom in before eating!
Dodo doo doo~ (lol)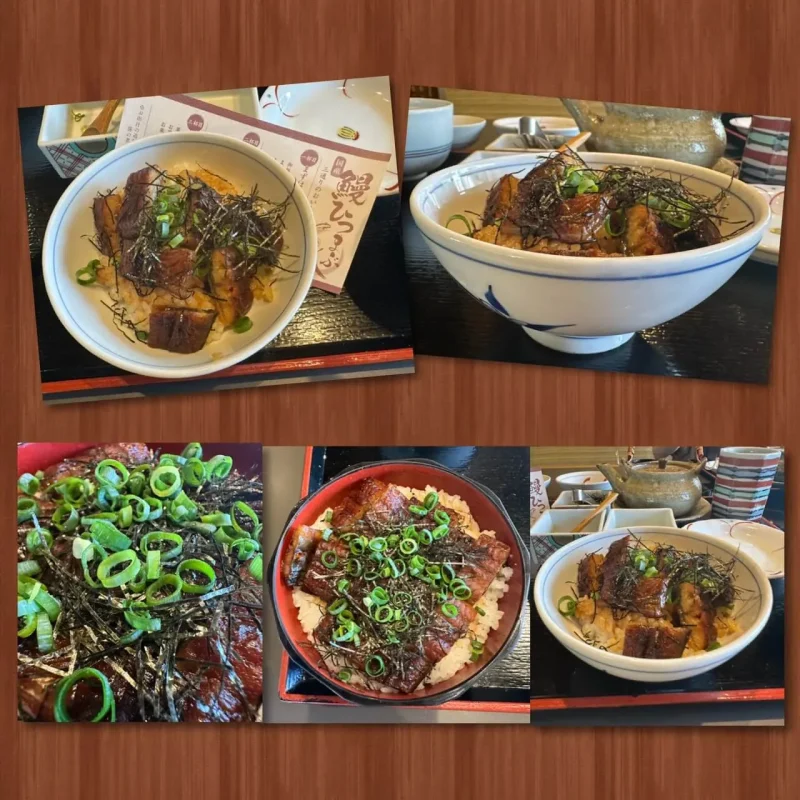 I saw them eat eel and rice in a bowl or in ochazuke (rice with green tea)!
The first time I ate eel (unagi), it was so good I forgot to take a picture, so I made sure to take one the second time!
Lunch only
Unagi (eel) Hitsumabushi [Matsu] (120g eel) 3,850 yen (tax included)
Unagi (eel) Hitsumabushi [Bamboo] (eel 80g, tax included) 3,080 yen
The dish shown in the photo is the lesser version, Hitsumabushi (eel) [Bamboo].
Incidentally, this eel is also available for take-out.
Sales Period
April 21, 2023 – September 28, 2023
Sweets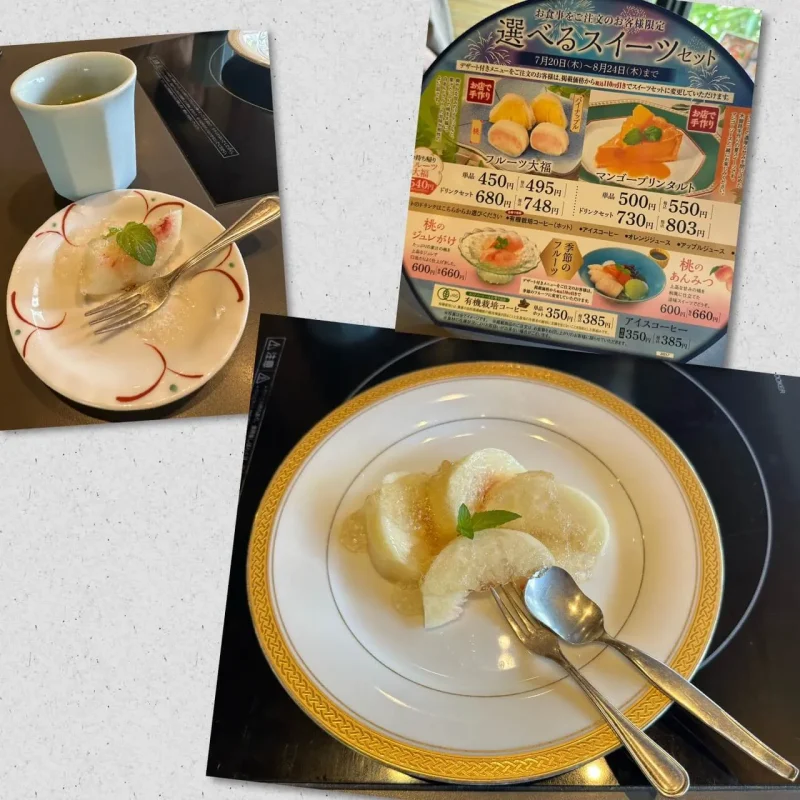 When you visit Kisoji once and dine there, you get one stamp, and when you accumulate five stamps, you get a free dessert of one seasonal dish, which we had after the meal.
Again, the seasonal one dish was "Momo" (peach). It was very delicious.
It was there when we were there around late July 2023!
The peaches were (7/20 – 8/24).
After the meal, hot tea is also served.
Merger Memorial Special Coupon
We received a special coupon to commemorate the merger.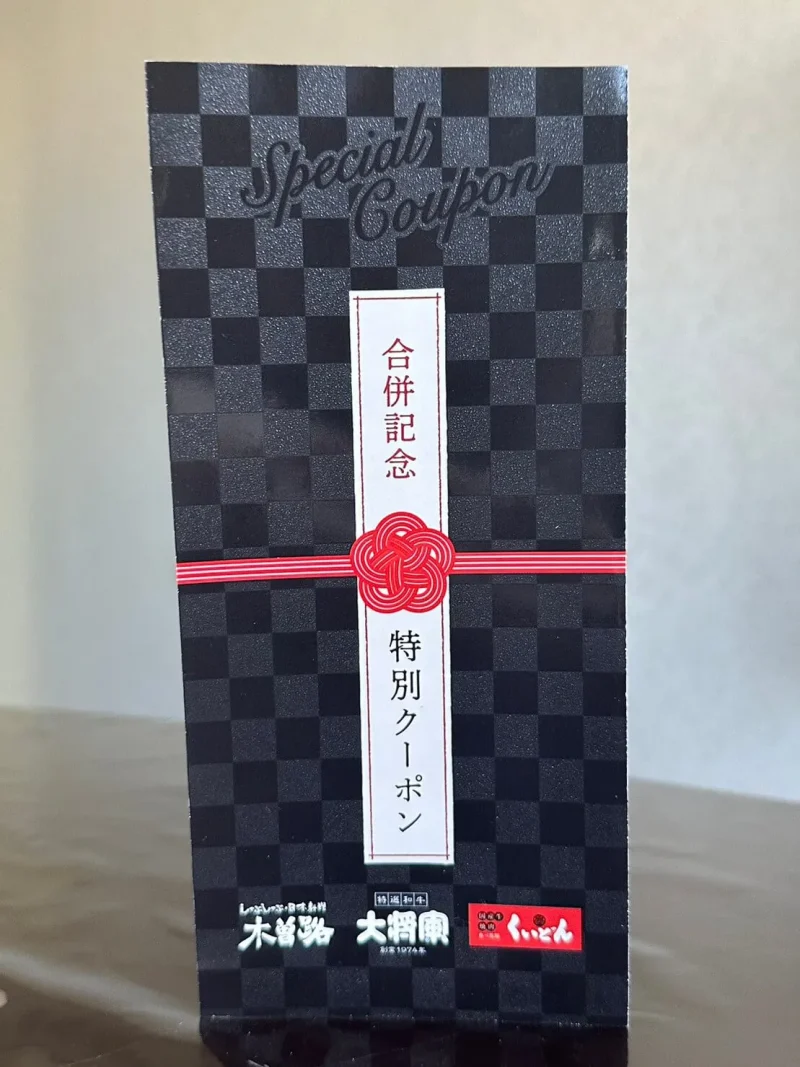 Very sparkly.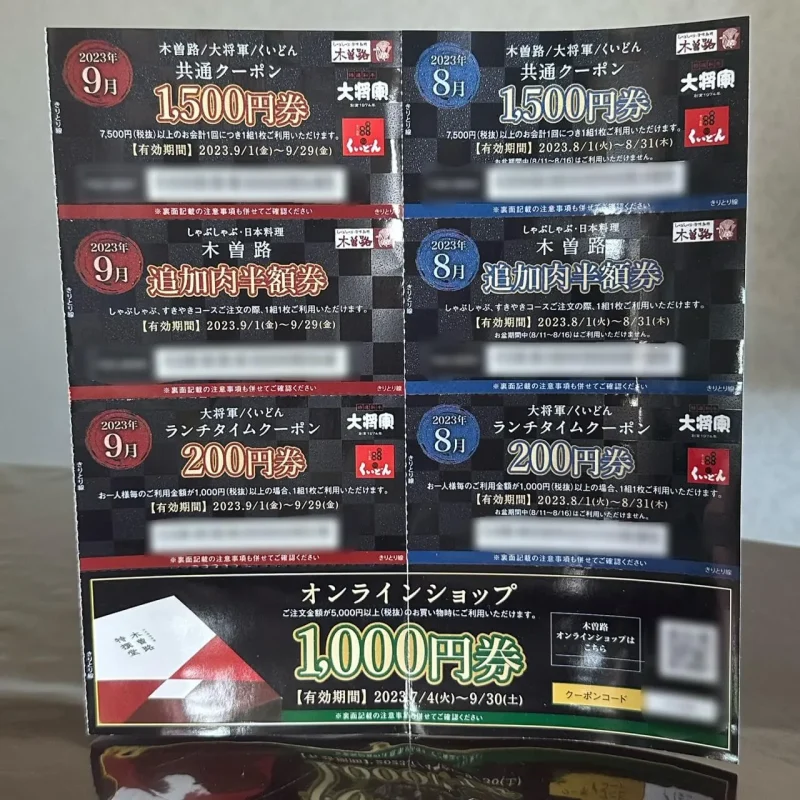 1,500 discount to be used at Kisoji Group, half off additional meat, 200 yen discount for lunch time, 1,000 yen discount for online store.
Can be used once each in August and September 2023.
● You have to purchase more than JPY to use it, so it is easier to use it if you come with more than one person.
Bonus points for special members only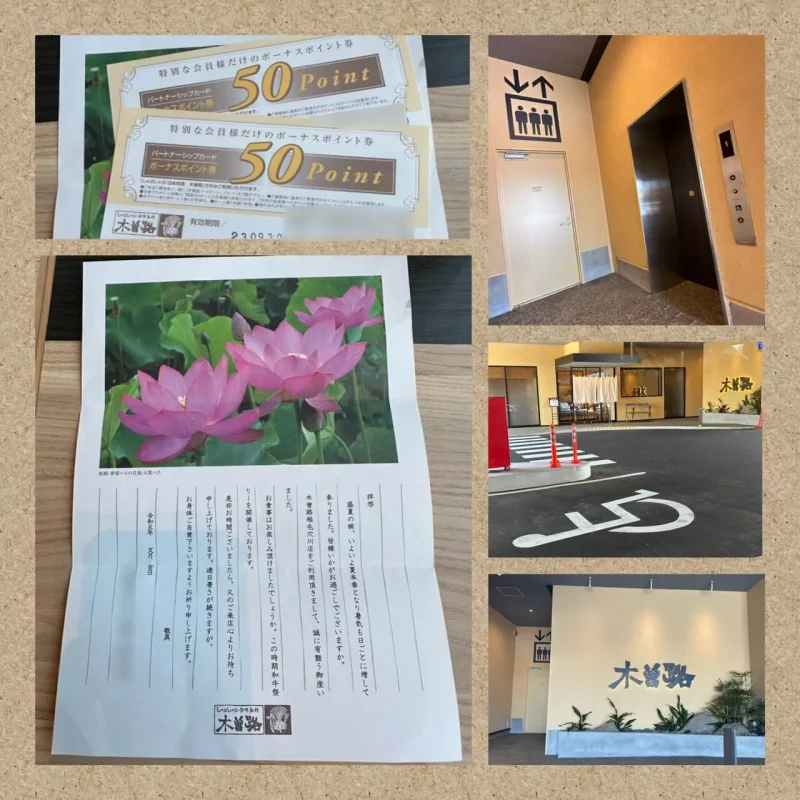 Where used at designated stores,
I received 50 points x 2 cards = 100 points as a special members-only bonus point
I received 100 points.
I can use 2 cards at once in one bill.
One point is worth 2 yen, I think.
Thank you very much.
There are no steps near the entrance of the store and there is an elevator, so it is easy to enter the store even when the parking lot was only open on the second floor.
Inside the Kisoji store
Inside the Kisoji store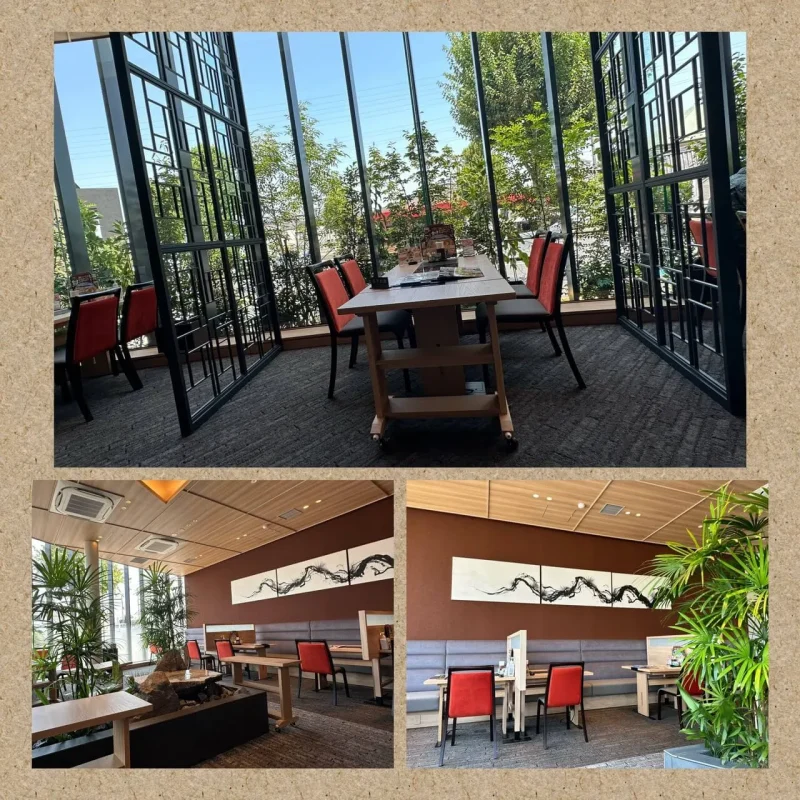 It really is like a hotel and I am impressed.
The hospitality is amazing.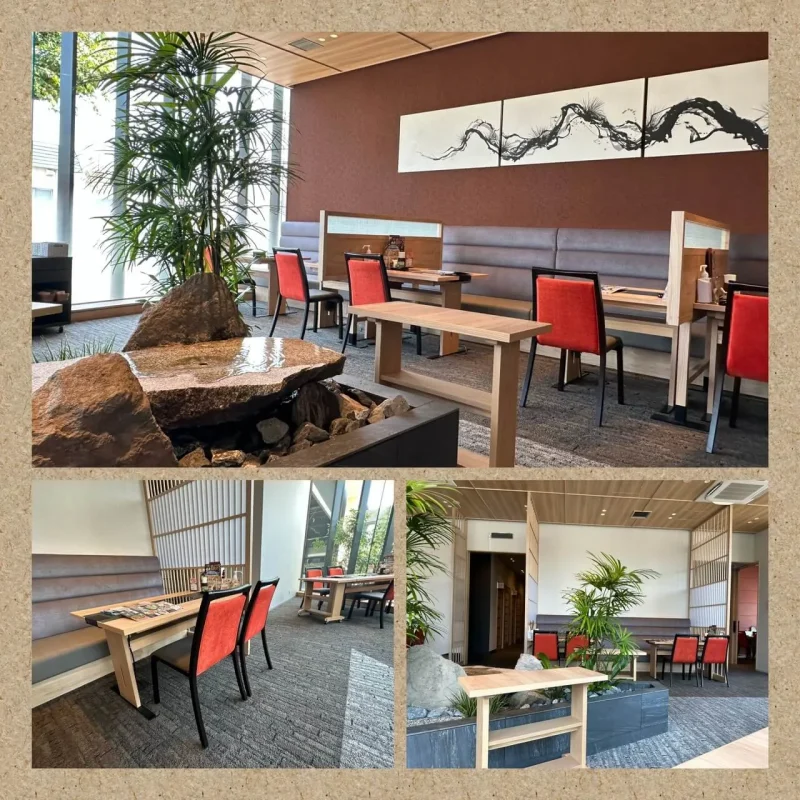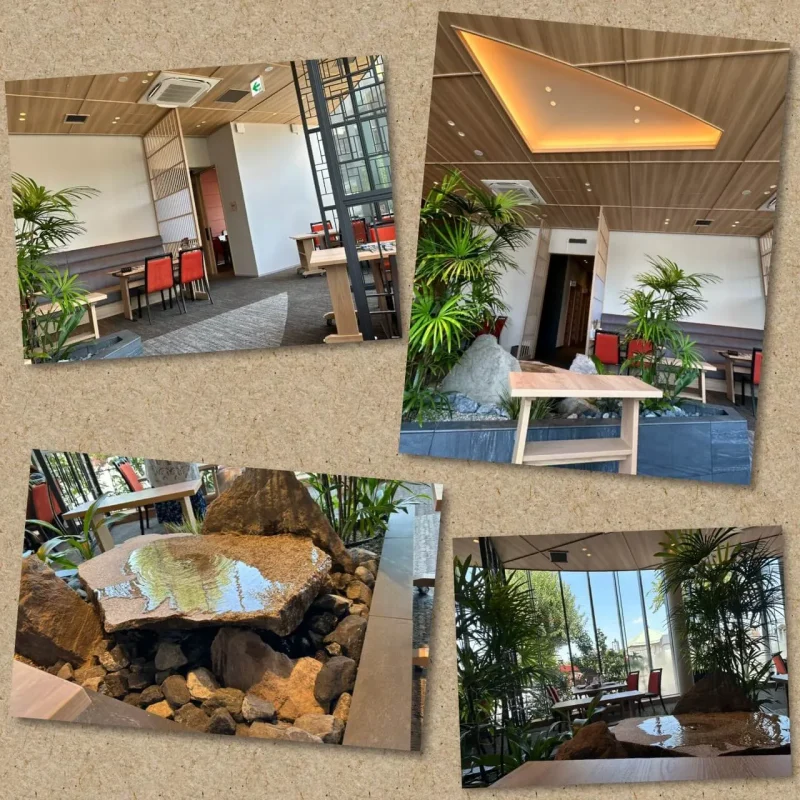 The restrooms were also barrier-free.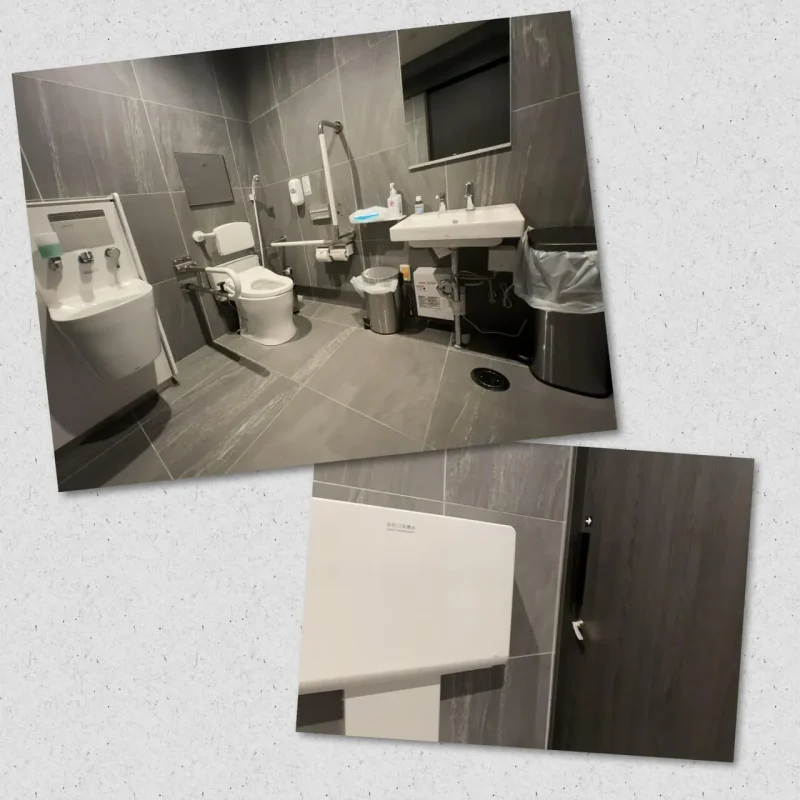 It was designed to be used by people with various disabilities and small children.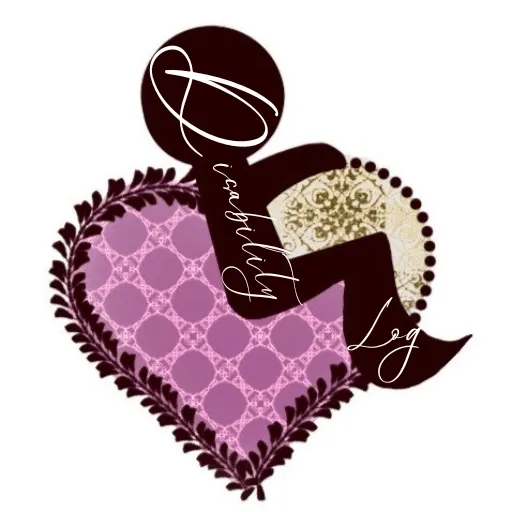 DisabilityLog
The restaurant has wheelchairs, elevators, wheelchair parking, and barrier-free restrooms, so you can dine with a person with a disability.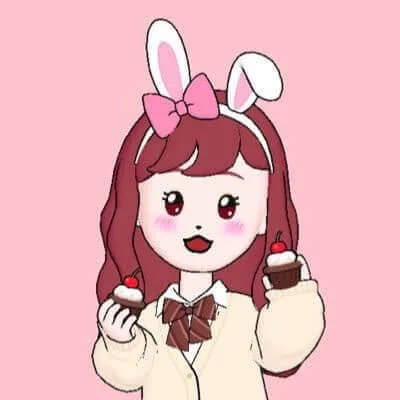 Usa
I highly recommend it because the eel hitsu-mabushi for lunch was very tasty.