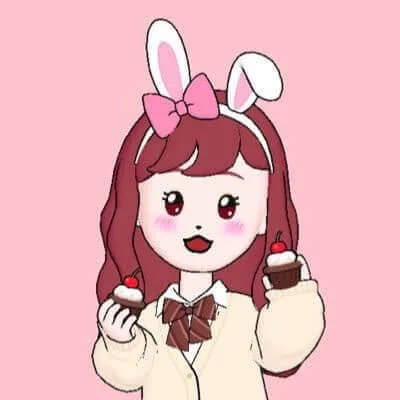 Usa
I'm Usa-chan, the "wheelchair x beauty" funny x model! In DisabilityLog, as a SNS influencer, I hope to provide lots of useful information for people with disabilities. I will also enjoy providing information about beauty, travel, sightseeing, music, photography, and other hobbies.
I participated for the first time in this event of the International Home Care & Rehabilitation Exhibition H-C-R in the 49th edition in 2022.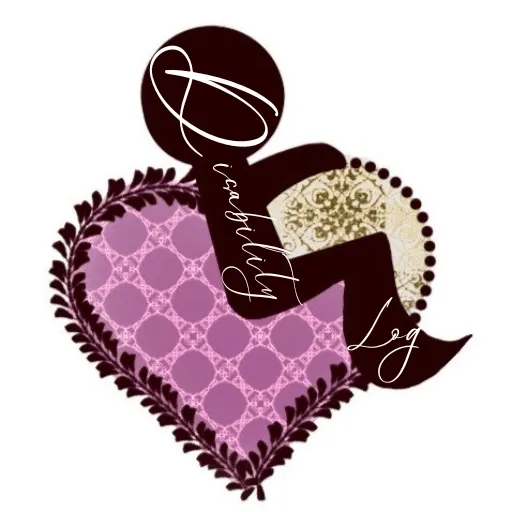 DisabilityLog
By the way, how did you hear about this event and what made you go?
I think there are a lot of people who are curious about this event.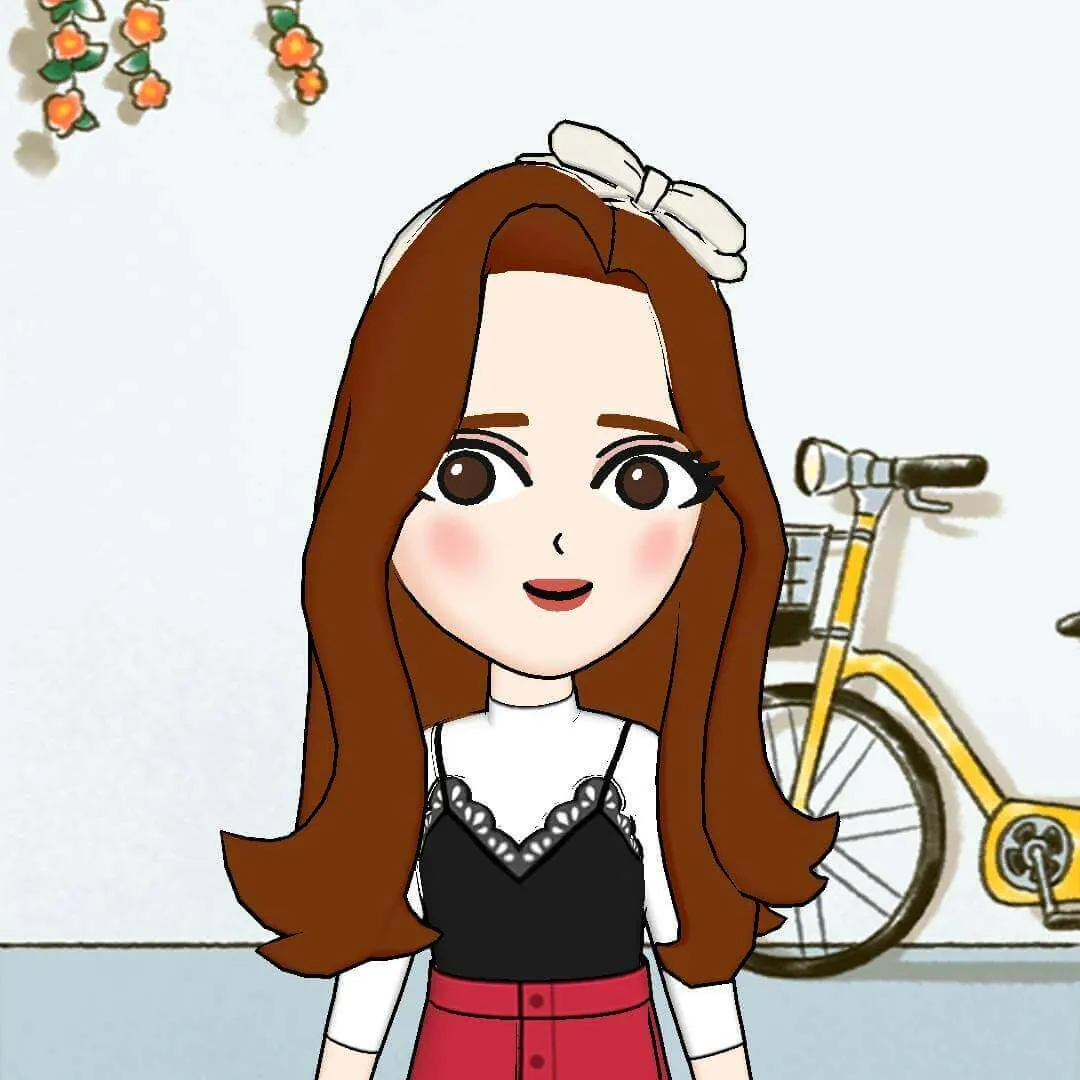 Riii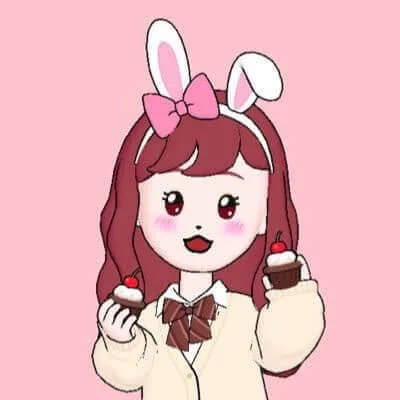 Usa
I was introduced to this event by a wheelchair vendor who told me that I needed a new "electric wheelchair" because my current "electric wheelchair" was getting old and needed a lot of repairs, and I started comparing other wheelchairs.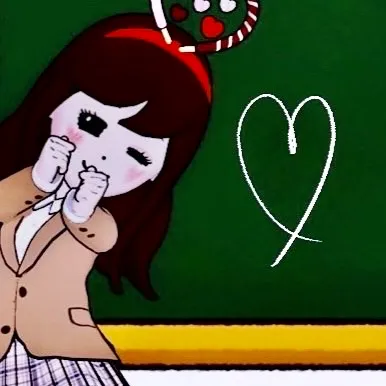 Koro
And the other reason is that I'm now in the market for a new power wheelchair to compare with other power wheelchair manufacturers.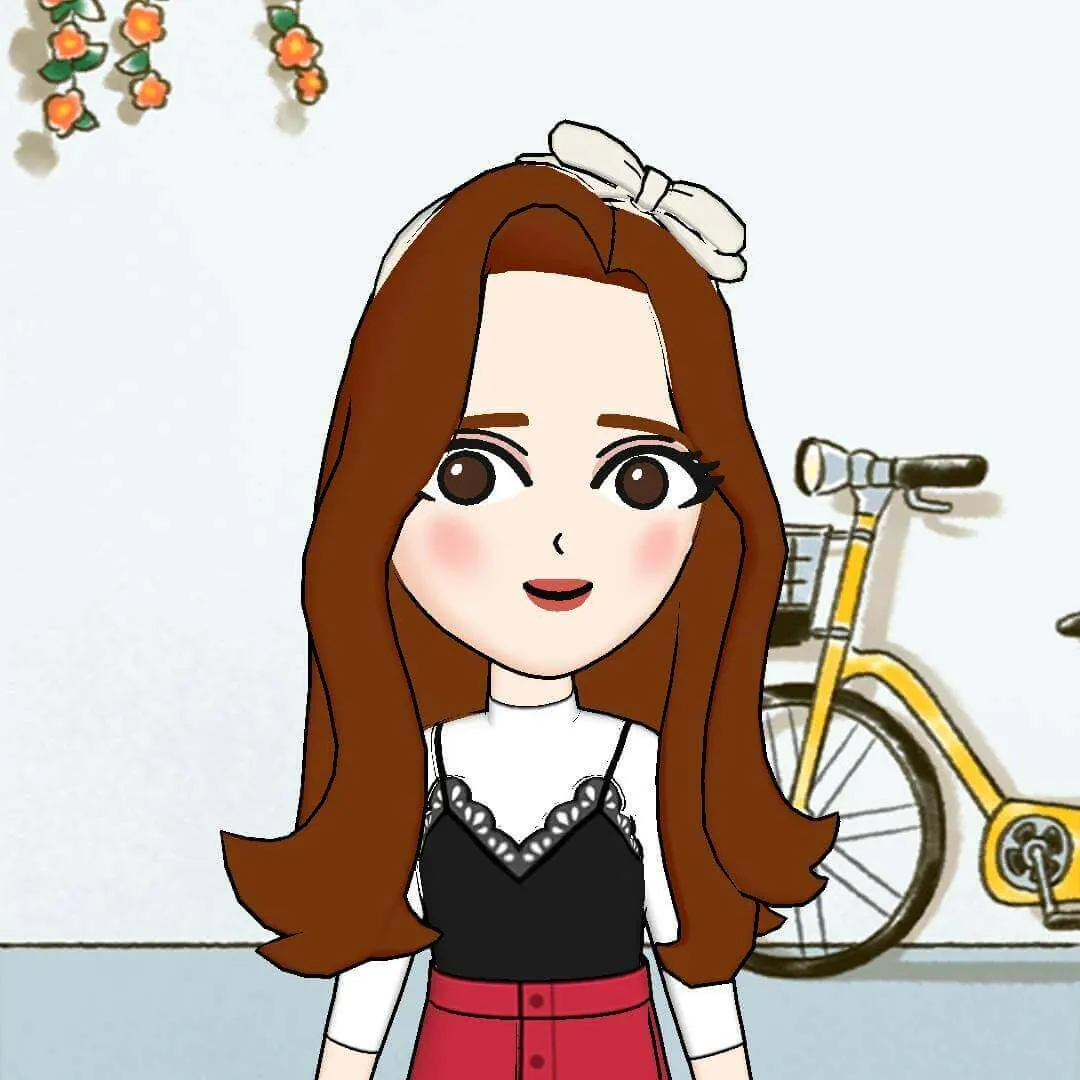 Riii
I see. So that's why you went to the International Home Care & Rehabilitation Exhibition (H.C.R.).
How did you learn about the International Home Care & Rehabilitation Exhibition (H-C-R) event?
There are four reasons.
Poor battery life
I am dealing with now that I have been in a power wheelchair for about 10 years and the batteries are not holding up well.
(I have 5 batteries in my electric wheelchair, but really, I can only charge 3 or 4 of them now.)
*Nickel-metal hydride batteries.
Discontinued
(The part where you move your hand to select the direction of operation is better to a new one because it is out of date and said that product is no longer manufactured.)
This is also common.
It breaks and cannot be repaired.
I was told, "After a certain number of years, various parts of the wheelchair (the parts that turn the wheelchair) break down too much to be repaired, so it's time to get a new wheelchair that suits your body.
By the way, the useful life of a wheelchair is six years.
I'm also looking at other power wheelchair suppliers.
I had recently ridden another electric wheelchair, a next-generation electric wheelchair called the Next-Generation Mobility-WHILL, and was wondering whether I wanted a wheelchair like the one I have now or the Next-Generation Mobility-WHILL, so I asked for advice. The wheelchair manufacturer told me, "There is an event called H.C.R. International Home Care & Rehabilitation Exhibition. Why don't you go and see it if you like?" I was really interested in this event, but I didn't know what to expect.
I would have liked to go on the same day as the vendor, but I could not go on the same day because of my work and the other people I was going with.
Still, I wanted to go to the International Home Care & Rehabilitation Exhibition (H.C.R.) at least once, so I decided to go on the last day of the exhibition.
Map of the exhibition hall by exhibitor
The following is a map of the International Home Care & Rehabilitation Exhibition (H.C.R.) by exhibitor, which can be viewed on the website.
The exhibition is roughly divided into East Halls 1 to 6.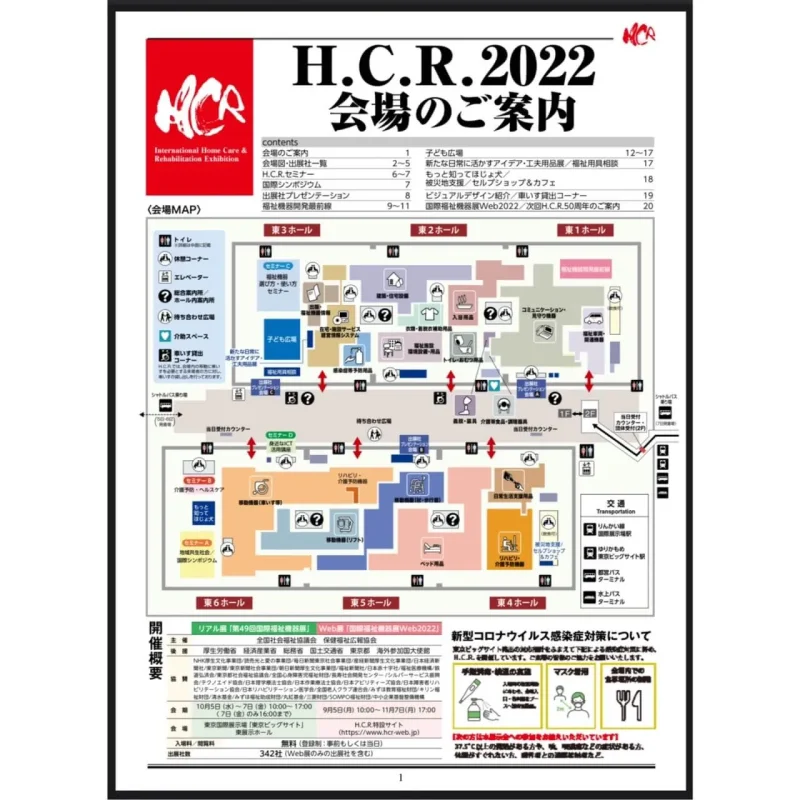 It is a very large area, so it would be nice to be able to see information on exhibitors you want to visit from your phone.
*If you have trouble seeing the images, please view them from the PDF posted on the linked website.
East Halls 1-3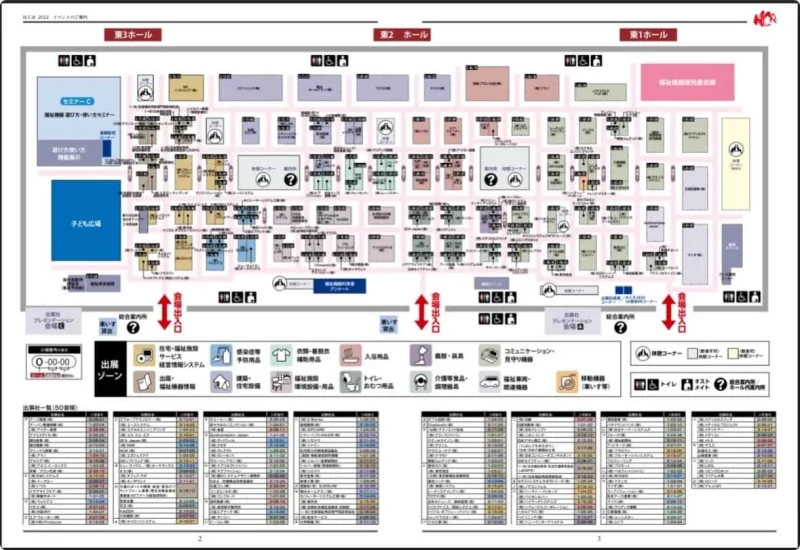 East Hall 1: Welfare vehicles, communication, monitoring equipment, frontline of welfare equipment development
East Hall 2: Construction and housing equipment (houses, toilets, kitchens, baths, elevators, etc.), bathing products, toilet and diaper products, clothing and dressing assistance products, welfare facilities, environmental equipment and supplies, artificial legs and orthotics, food and cooking equipment for nursing care, etc.
East Hall 3・・・Publication・Welfare Equipment Information, Home and Facility Services, Management Information System, Products to Prevent Infectious Diseases, Seminar on How to Select and Use Welfare Equipment, Children's Square, Consultation on Welfare Equipment
Exhibitor Presentation Hall
East Hall 4-6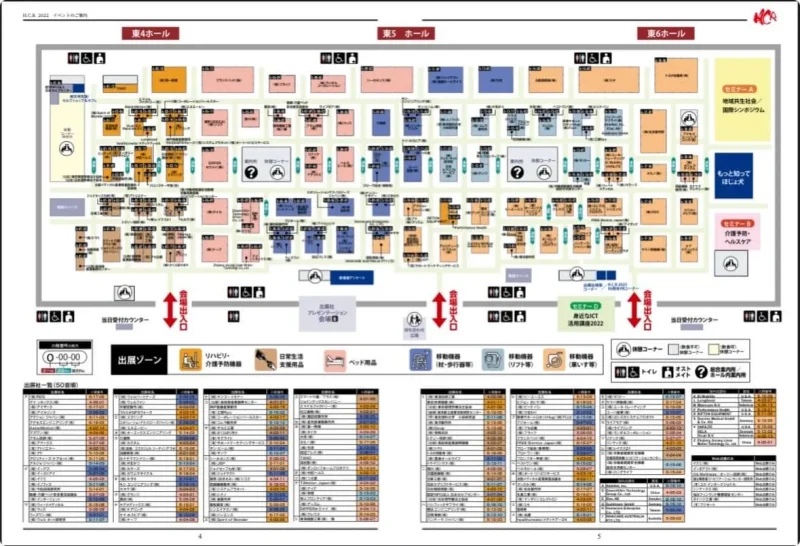 East Hall 4: Daily life support products, rehabilitation and nursing care prevention equipment
East Hall 5: Mobility equipment (canes, walkers), bedding equipment, rehabilitation and preventive care equipment, mobility equipment (lifts)
East Hall 6: Mobility equipment (wheelchairs, etc.)
bonus
When we were looking back at the website of the International Home Care & Rehabilitation Exhibition (H.C.R.) when we were preparing our post, we found ourselves in the picture if you look closely.
Home > Exhibition Info > Looking Back at H.C.R. 2022 in Pictures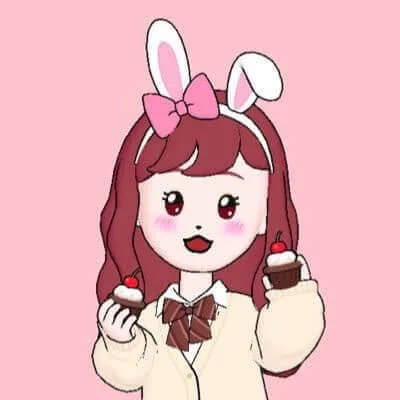 Usa
No way that was a coincidence (laughs).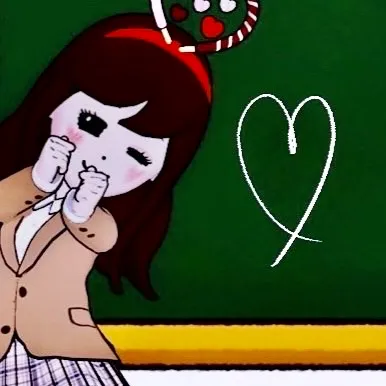 Koro
And in two places! Surprised. Is he a celebrity?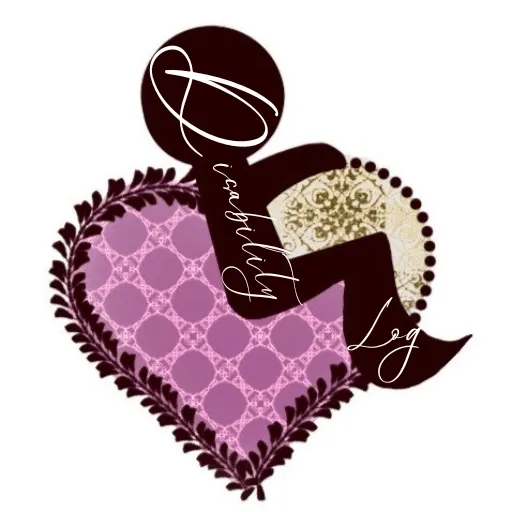 DisabilityLog
That's true. I'm kind of glad.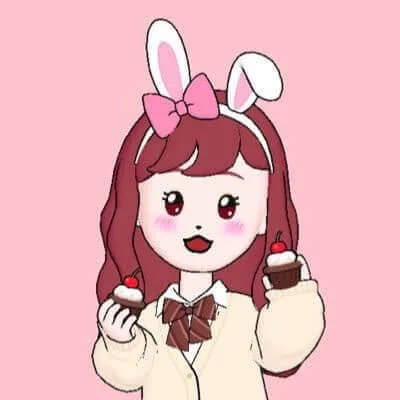 Usa
By the way, the place we were riding in was
3-3 A scene of test drive/trial3 4-7 A scene of product explanation7 
It was a Mazda car with a wheelchair on top.
You can look for it if you like.
It really helps to have this kind of information! I hope it will reach a lot of people.