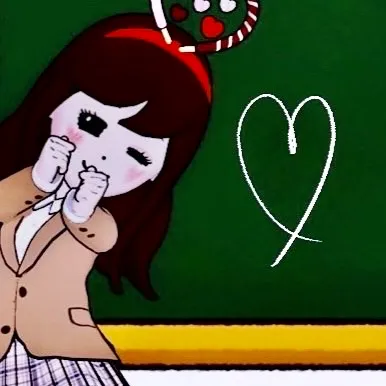 Koro
I'm Koro, a curious blogger in a wheelchair, and I'm the Director of Design and Systems at DisabilityLog. I love cute things, Disney, and fashion. I'm also interested in digital art and NFT!
Here you go!
This is the second installment of Staycation at Tokyo Station Hotel!
In our previous blog, we mainly posted information about the Tokyo Station Hotel's staycation experience, mainly regarding the barrier-free accessibility within the facilities and amenities.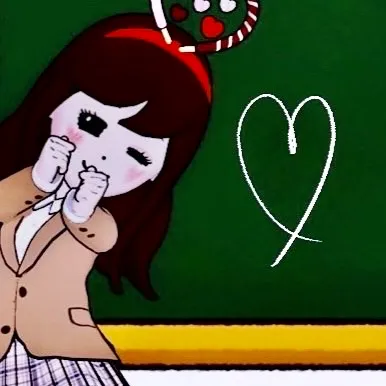 Koro
In this article, I would like to introduce a dinner course at a restaurant called "Blanc Rouge" in Tokyo Station Hotel.
Restaurant Blanc Rouge
The venue for dinner is Blanc Rouge.
The interior is like an aesthetic space where luxury and warmth coexist, giving it a European feel.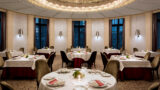 ブラン ルージュ|東京ステーションホテル【公式】
レストラン「ブラン ルージュ」では、総料理長 石原雅弘による上質で洗練されたお料理の数々をお届けしています。その時の旬を大切に、一皿一皿におもてなしの心を込めて。
Access from the room
The hotel staff showed us around after we finished getting our rooms ready.
Since the rooms are located on the third floor, go straight toward the Marunouchi South Exit of Tokyo Station, turn around at the end of the street and take the atrium elevator to the second floor, or go straight down the street again and take the elevator for guest rooms to the second floor.
After that, go straight in that direction and you will see a manual door, open the leading door.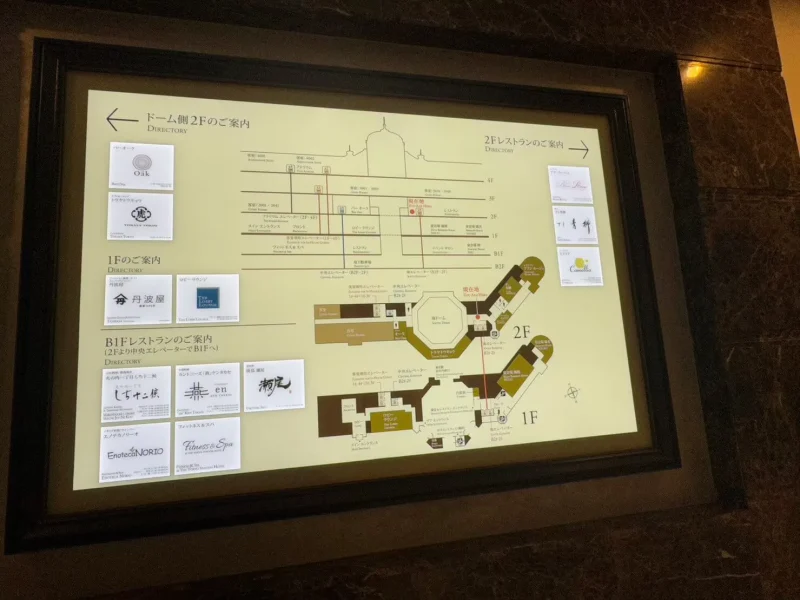 You will then be on the second floor of the dome at the Marunouchi South Exit of Tokyo Station, so cross the dome about halfway across.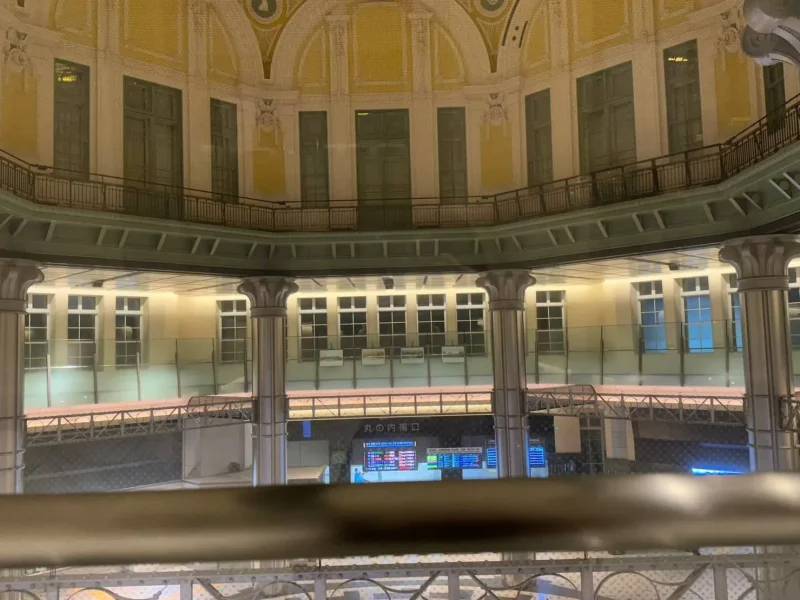 Then you will see a manual door again, so please open it and follow the path further to the back of the building.
You will arrive at Blanc Rouge French Restaurant.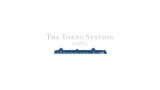 アクセス|東京ステーションホテル【公式】
JR東京駅丸の内南口直結の東京ステーションホテル。羽田空港から約30分。成田空港から約60分と絶好のロケーションを誇ります。地下駐車場36台収容。
Dinner venue interior
Place: Restaurant "Blanc Rouge" (2F)
Hours: Dinner 17:30 – 20:00 (LO 19:00)
The place was gorgeous and very beautiful.
We got there just as they were opening for dinner, so we got to take pictures while there were no people there!
If you go there on your anniversary or any kind of celebration, you'll be very pleased…!
"Blanc Rouge" Dinner Course
Here's what exactly goes into a course meal!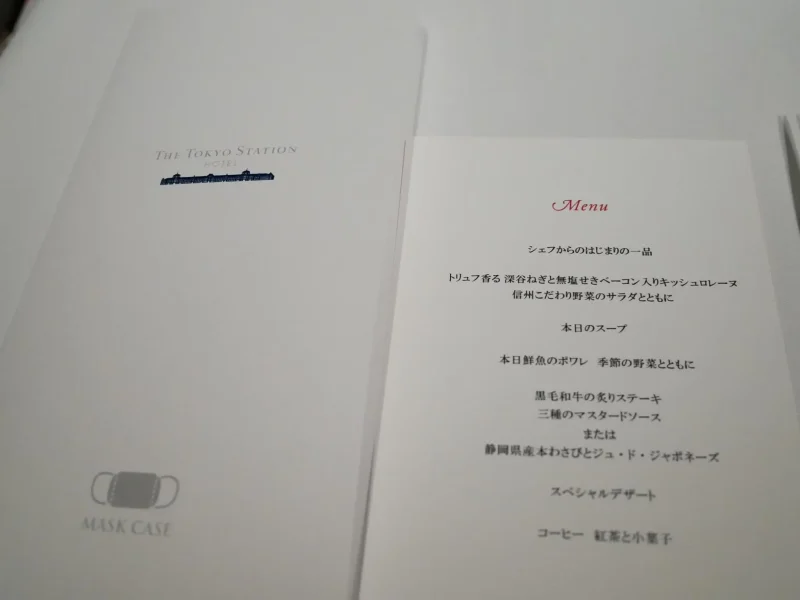 A beginning dish from the chef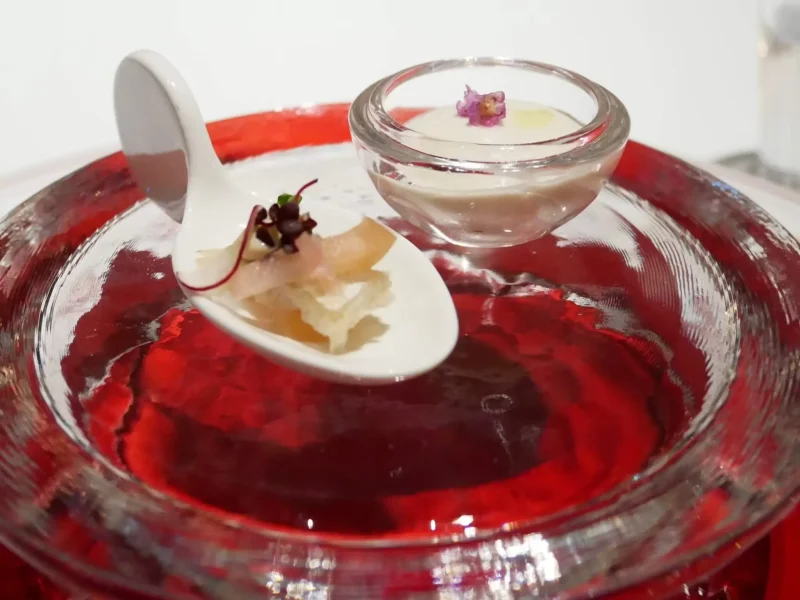 Quiche Lorraine with truffle-scented Fukaya leeks and unsalted bacon
With Shinshu Vegetable Salad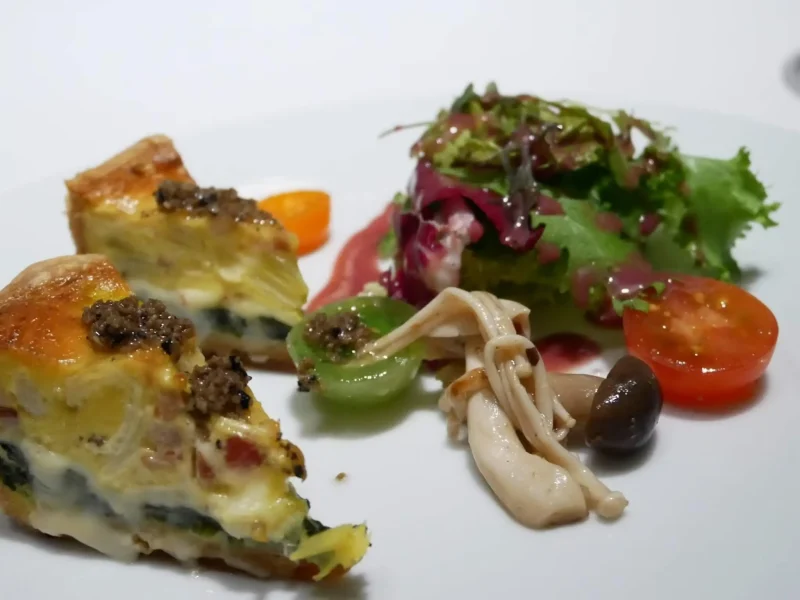 Minestrone with plenty of vegetables
Organic red rice with black rice
Soup of the Day!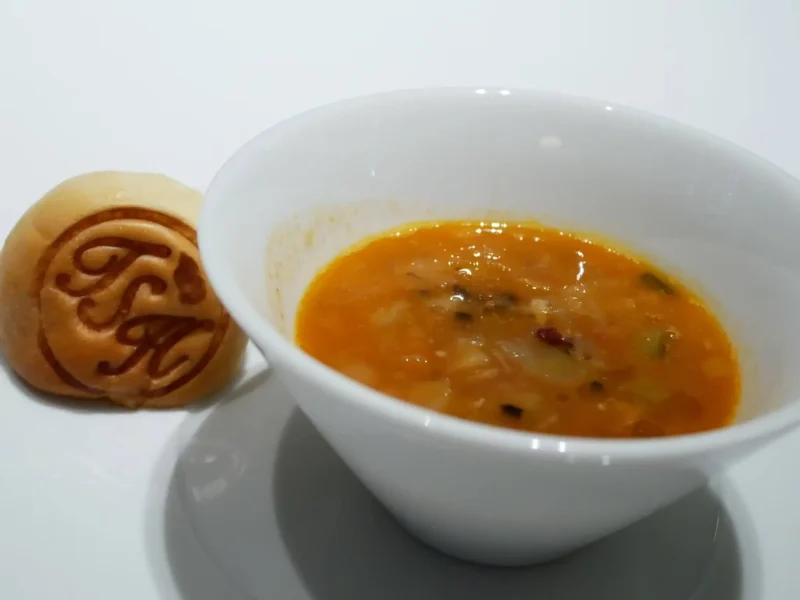 Poiret of the day's fresh fish
With seasonal vegetables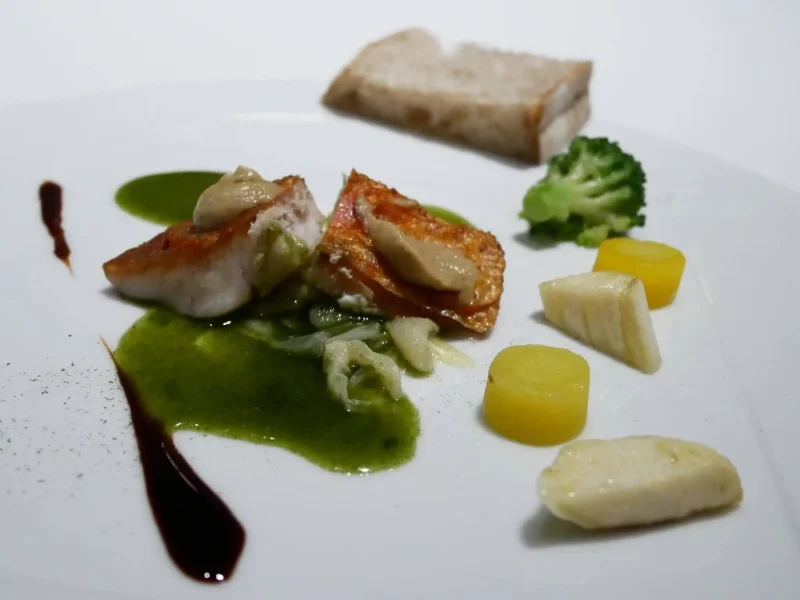 Seared Japanese Black Beef Steak
Three Mustard Sauce or Jude Japonaise with Wasabi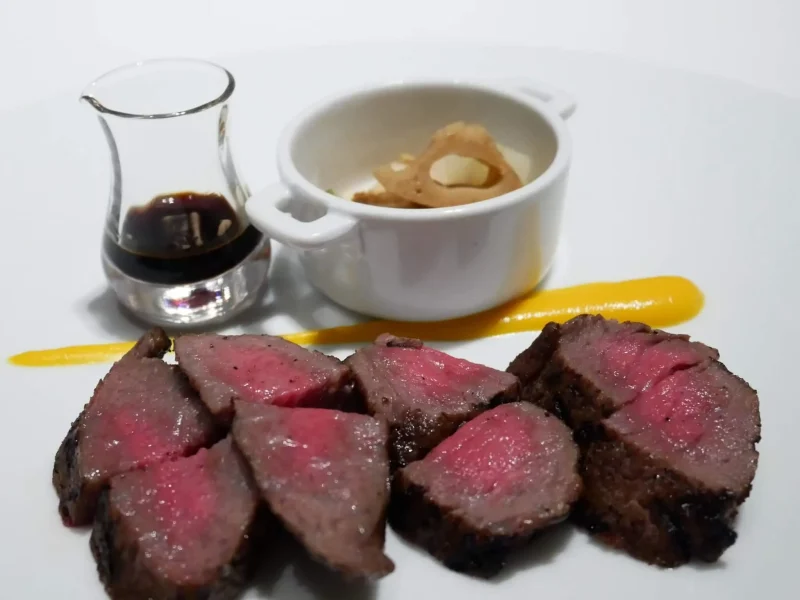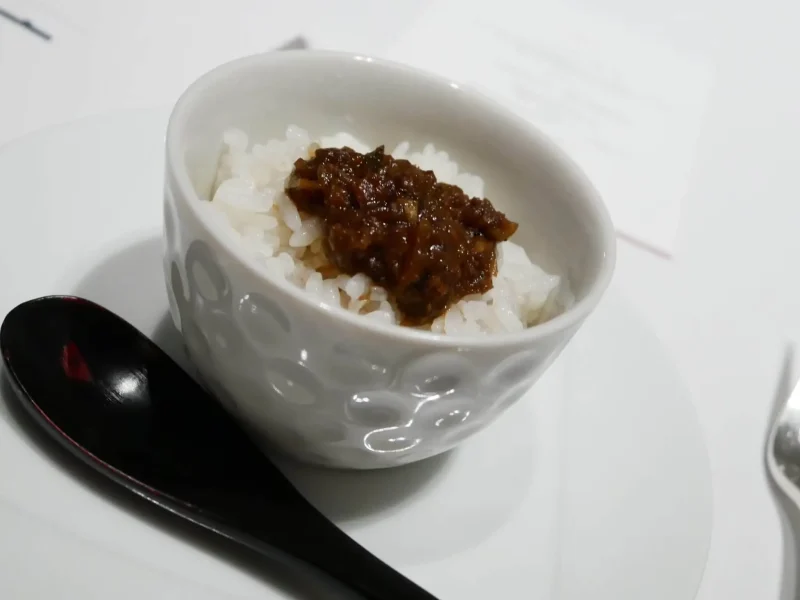 special dessert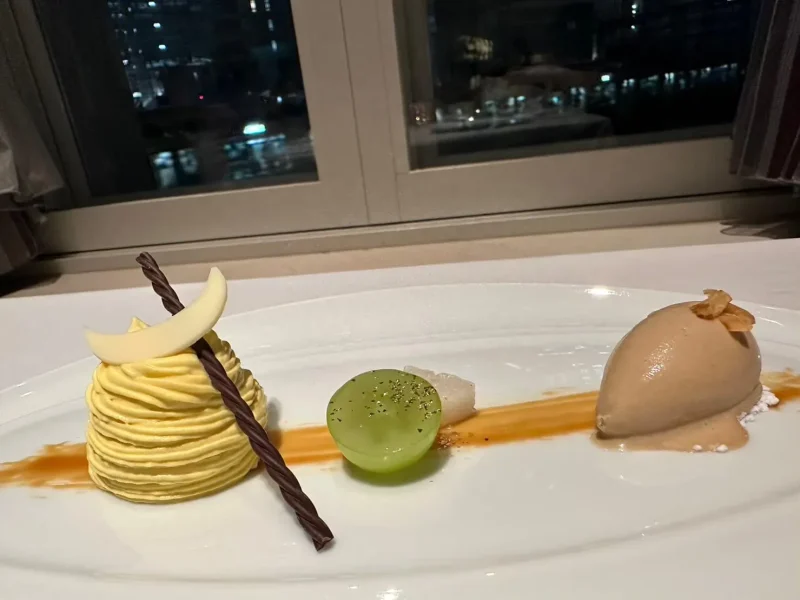 Coffee, tea and small pastries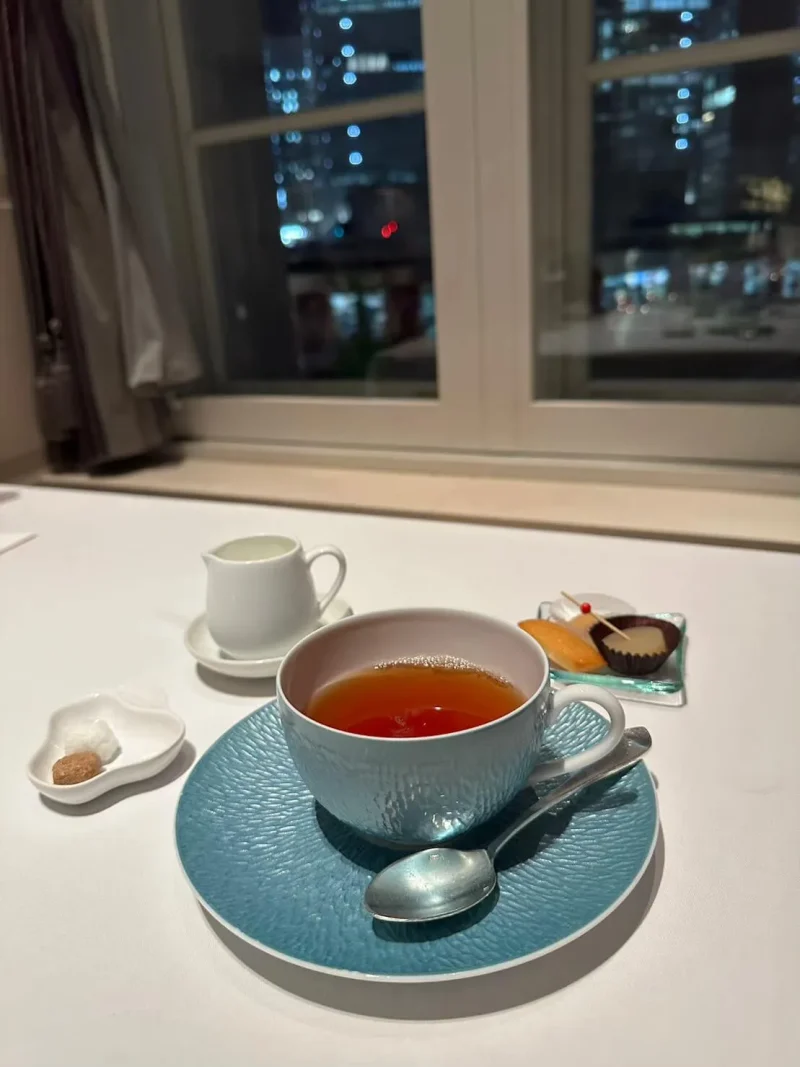 A little thoughtfulness
Prior Consideration
When I made the restaurant reservation, I noted that I did not like hard foods.
I could not swallow and avoided hard foods as much as possible.
Therefore, we were served as little hard food as possible.
The meat was a little tough, so I had it cut into bite-sized pieces.
Even so, I still left some of the hard food out, but I did my best to eat it.
I do not have any allergies, but I cannot eat hard food, seafood (octopus, squid, shrimp, etc.), mushrooms, shiitake mushrooms, or spicy food.
In that sense, it would be a relief to know in advance what kind of ingredients will be used in the menu.
Restrooms near restaurant
Before entering the restaurant, I had already used the restroom, but during the meal I got a stomach ache, so I walked to the restroom. (It wasn't that long of a distance, and it was within walking distance, so I thought walking might make me a little hungry.)
But there was a problem here.
This was also a manual door, and the sink was too high for me to reach, so I had to ask a passerby to get me some water.
I was still not feeling well after that, so I rested for a while on a chair that was nearby.
A staff member noticed me and had me temporarily kneel there, and he also took my wheelchair, and from there he switched the wheelchair from electric to manual mode and pushed me to my hotel room.
I had never had such a sudden stomach ache outside before, so maybe I could have chosen to leave it behind and not force it when I was getting full (I guess I ate too much…).
Thank you so much to the staff who carried us.
Lovely hospitality
Everything on the dinner menu was delicious, but the portions were so large that
We had to stop eating once we were near the limit of what we could eat anymore.
Therefore, we were allowed to take the last dessert and drinks back to our hotel room.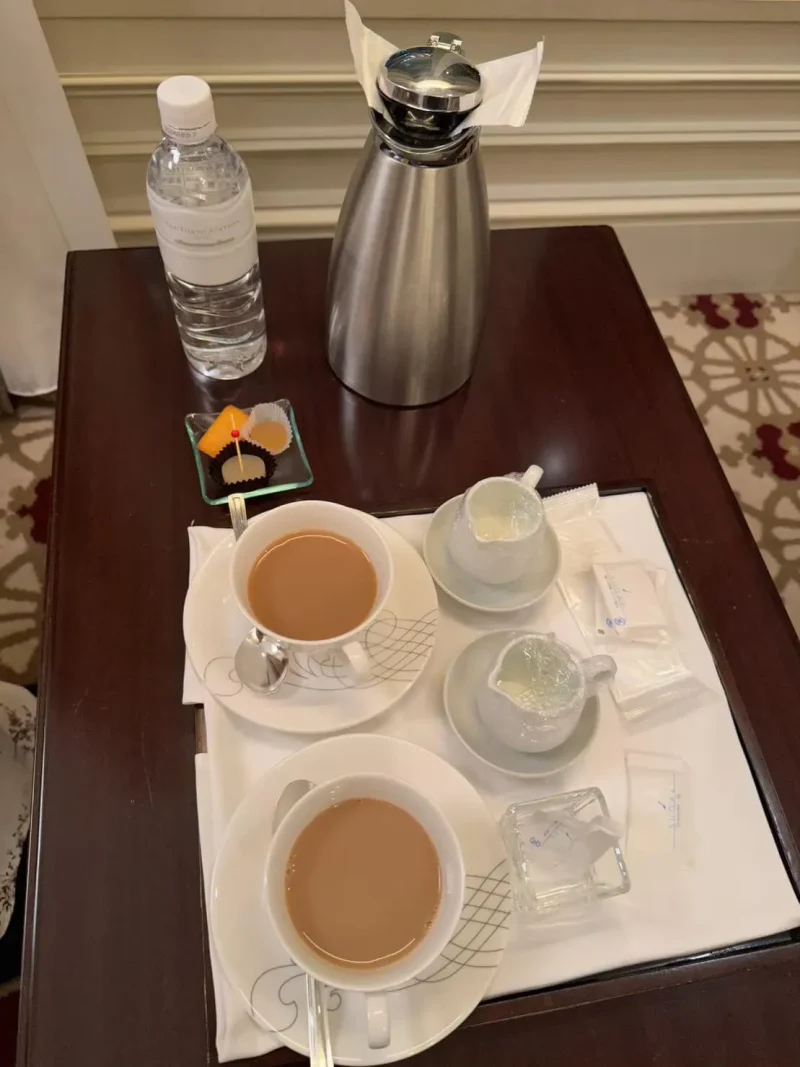 Thank you very much to all the staff who took care of us as best they could.
We are very sorry for the inconvenience and worry we caused you.
We should have been hungry enough to eat food before the courses and other meals…
Some people find it quite difficult to eat the amount of food for one adult, so if there was a menu with child-sized portions, even those who can't eat a lot might be able to finish the meal. Therefore, I am hoping for a half-size course menu or a menu that can be customized.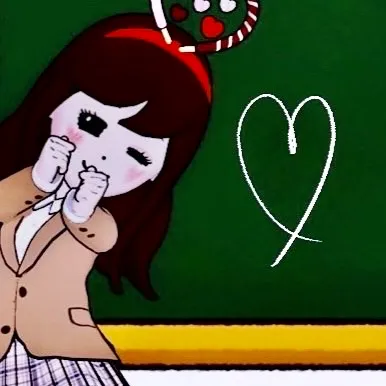 Koro
When I am in a wheelchair, I often have to sit all the time and it is hard for me to exercise, so I am often not hungry when I eat. Also, since you are shorter and your stomach is likely to be smaller than others your age, you may want to eat two meals a day with lighter meals before that when you eat course meals or other foods that are large in quantity. Or, share the food, have them eat the larger portions, or let them take it home. At any rate, we are grateful to those who helped us. After my condition worsened and after dinner, I immediately fell asleep in bed and the next day, I was able to recover in perfect condition.
Merry Christmas 🎄2022.12.25