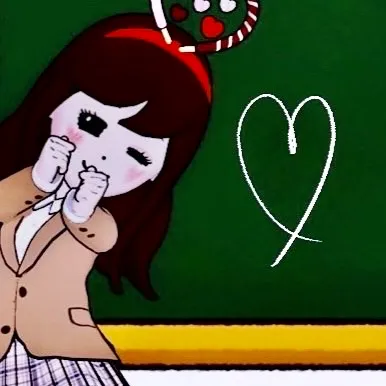 Koro
I'm Koro, a curious blogger in a wheelchair, and I'm the Director of Design and Systems at DisabilityLog. I love cute things, Disney, and fashion. I'm also interested in digital art and NFT!
Do you know how to enjoy Disney at a discount?
Tickets for Tokyo Disney Resort (Tokyo Disneyland and Tokyo DisneySea) "Event Wari" tickets, which started yesterday.
Click here to see how to purchase Disney's Event Discount deals.
Many of you may have been surprised by the suddenness of this Event Discount.
Even if the tickets were sold out, they may be resold with an additional limit, so you may be able to try again even if you were unable to buy or change the date. But the site is so heavily accessed that I've written about what to do if you can't get through, in the article above, so if you haven't seen it yet, do take a look!
Also, there was a news flash that a part of Disneyland caved in due to construction or something, and the parade was canceled. So I'm glad I got a Sea ticket instead of a Land ticket…
Now, let me explain the main issue about how to display tickets on the app on your phone and about group invitations.
What to do after purchasing an Event Discount Ticket
After purchasing your Disney ticket, here is what you need to do, in order.
Check your confirmation email.
You will receive an e-mail with the subject line "You will receive an e-mail with the subject line ".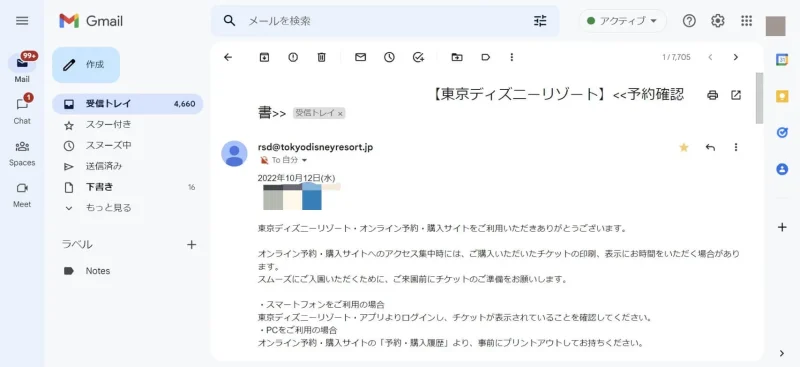 Click on the URL to display on your smart phone for park tickets
<To all Park Ticket users who are using a smartphone to view Park Tickets
If you wish to view your Park Ticket on your smartphone, please use the "Tokyo Disney Resort App" or the URL below. Please click on the URL below the text "Tokyo Disney Resort App" from your smartphone.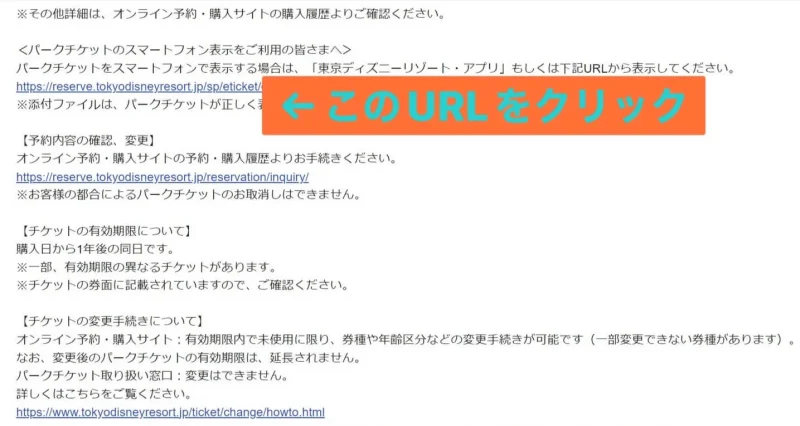 *Note that clicking on the PC does not make sense!
We are very sorry. This URL is for smartphones.
Please access from your smartphone. It will only be displayed as "Please access from your smart phone.
Keep the Disney app up and running.
Tokyo Disney Resort® App (Official App)
This is now a necessity if you are going to Disney.

Install the application and log in.
To log in, use the same email address and password as when you made your purchase.
Choose to go to either Disneyland or DisneySea.
Tickets for Event Excitement Discount are gold-colored
They're colored like premium tickets!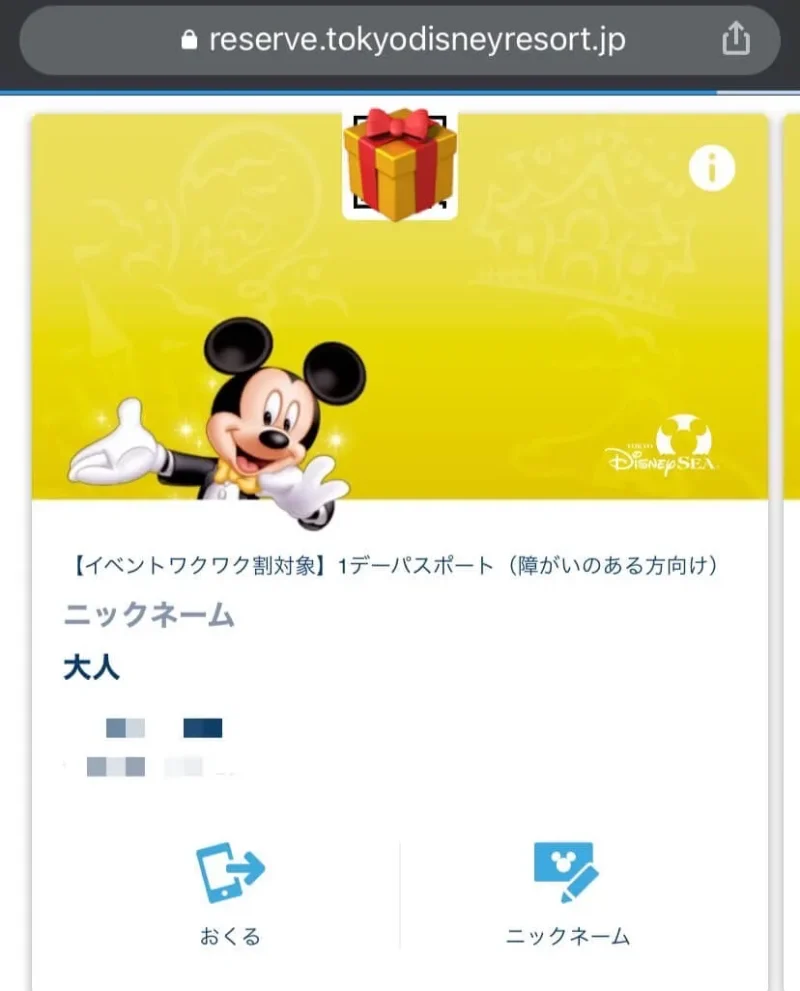 If the tickets were not reflected, you can try clicking on the URL again with the app up and logged in. Slide it to the side, and there you have the correct number of tickets purchased!
At this stage, we don't know whose ticket it is, so let's give it a name.
You can change the name from Nickname.
Ticket Invitation Method
Press "Send" on the screen above to send your purchased tickets to someone else!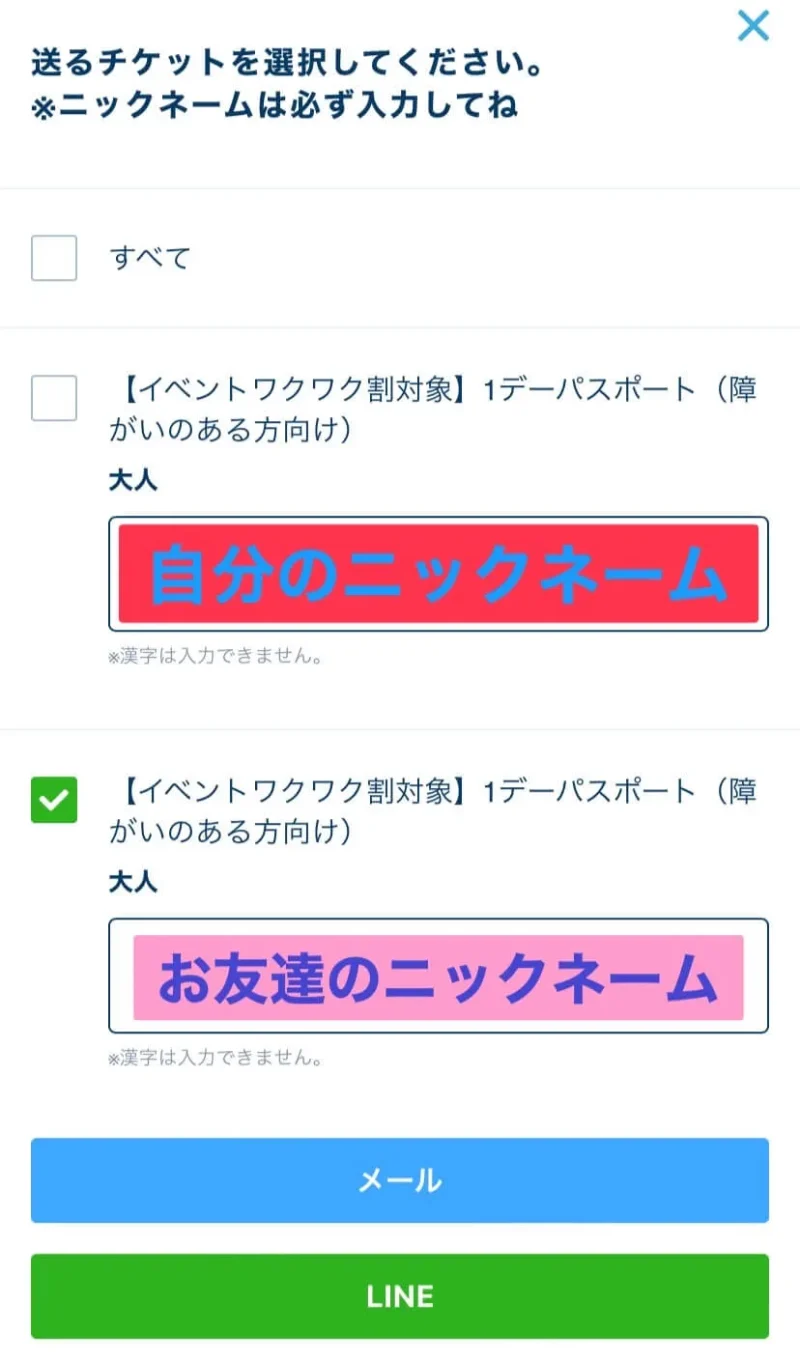 ❶Press the "Send" button on the e-ticket you want to send, and choose whether you want to send it via e-mail or LINE.
Then, select the person you want to send it to and forward it to.
❷Then you will see a button called "Create Group", press that button.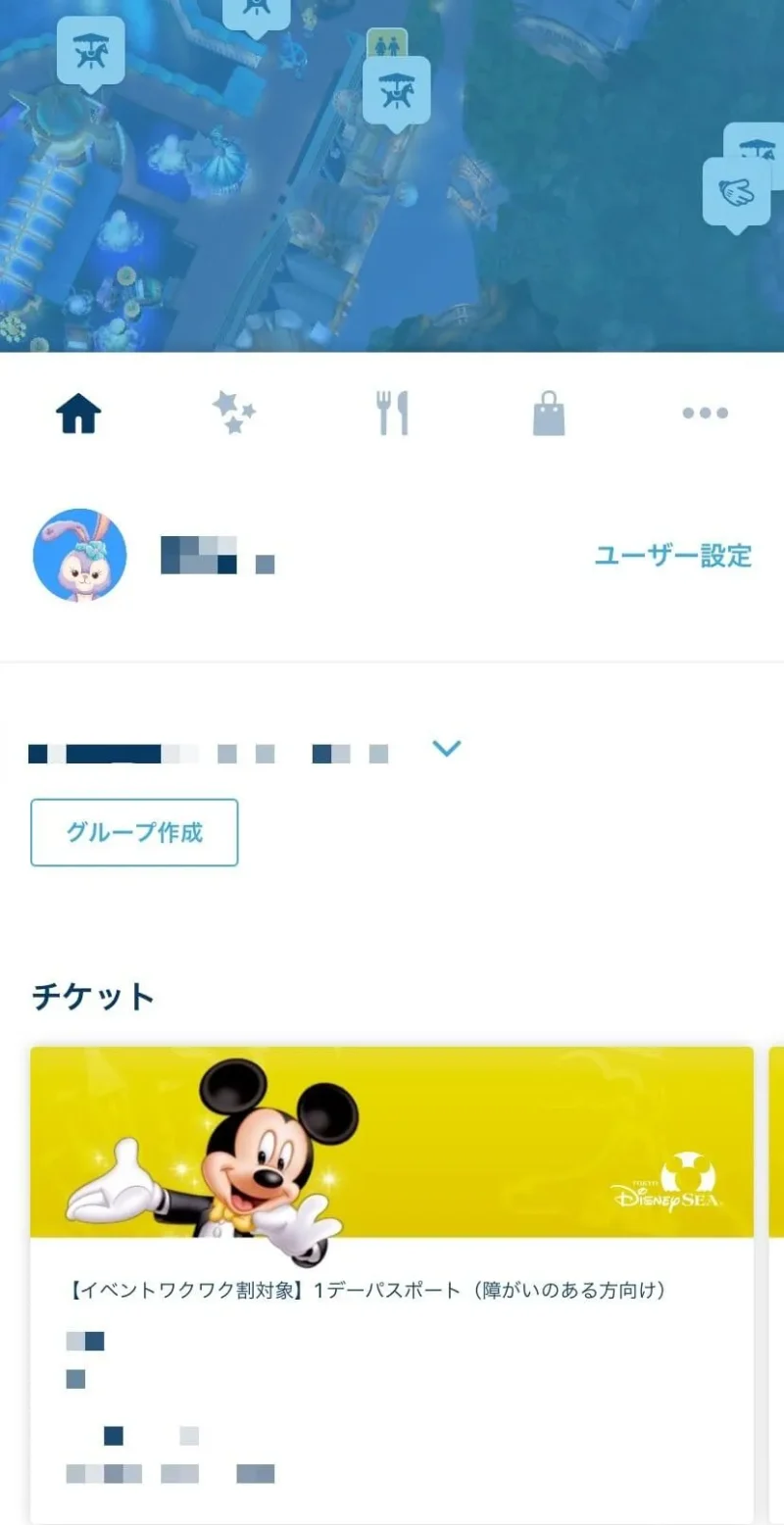 ❸Press the plus sign to invite members.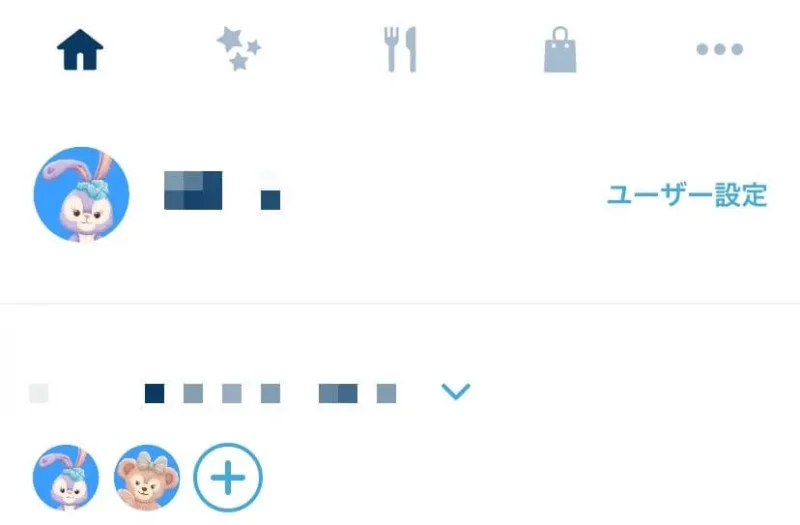 Choose the members you want to go with and invite them to join you.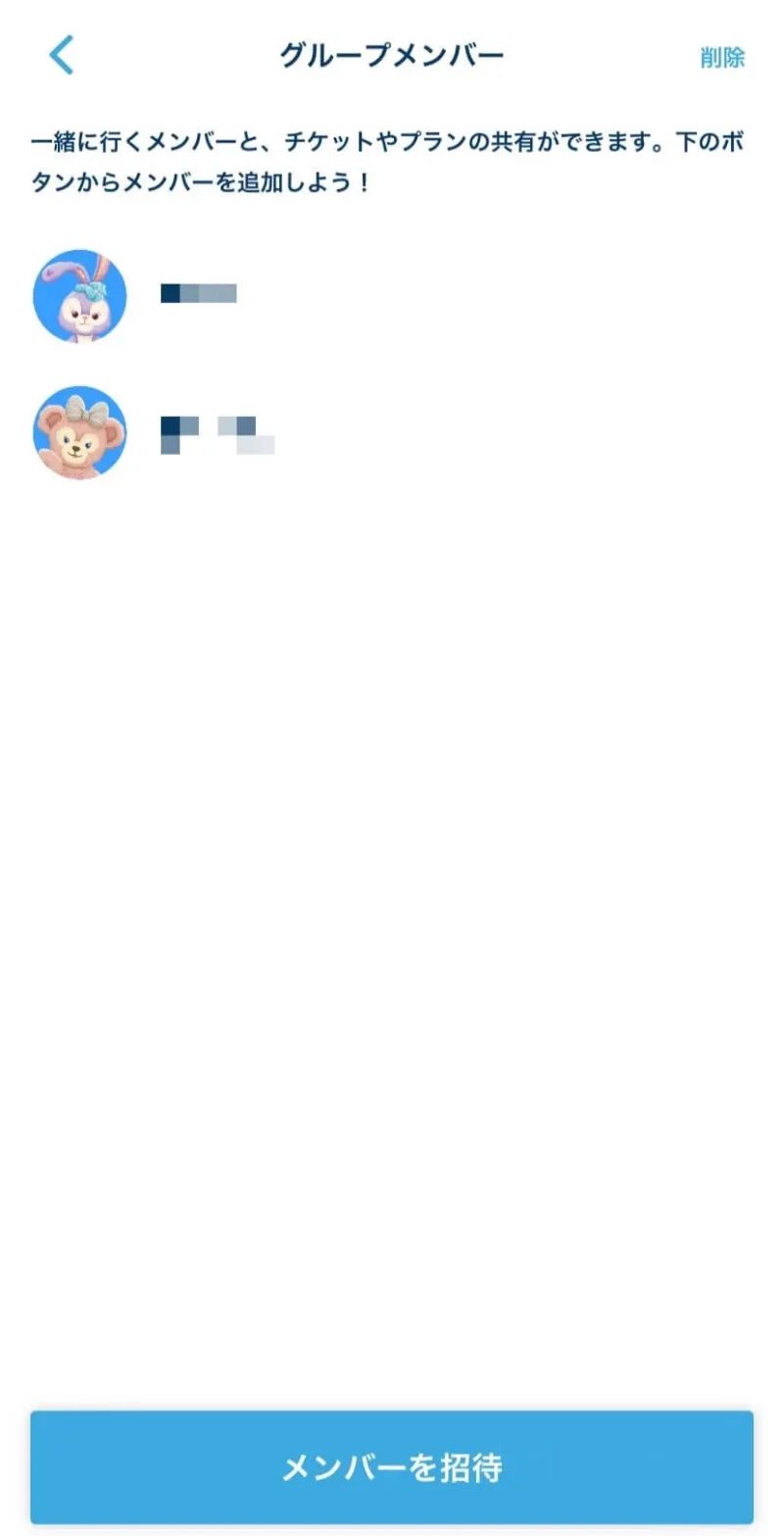 ❹If you send it to a member, your friend will be sent a long URL, press the URL. (If you send it to LINE, it will be sent to LINE)

Press "OPEN" to join the group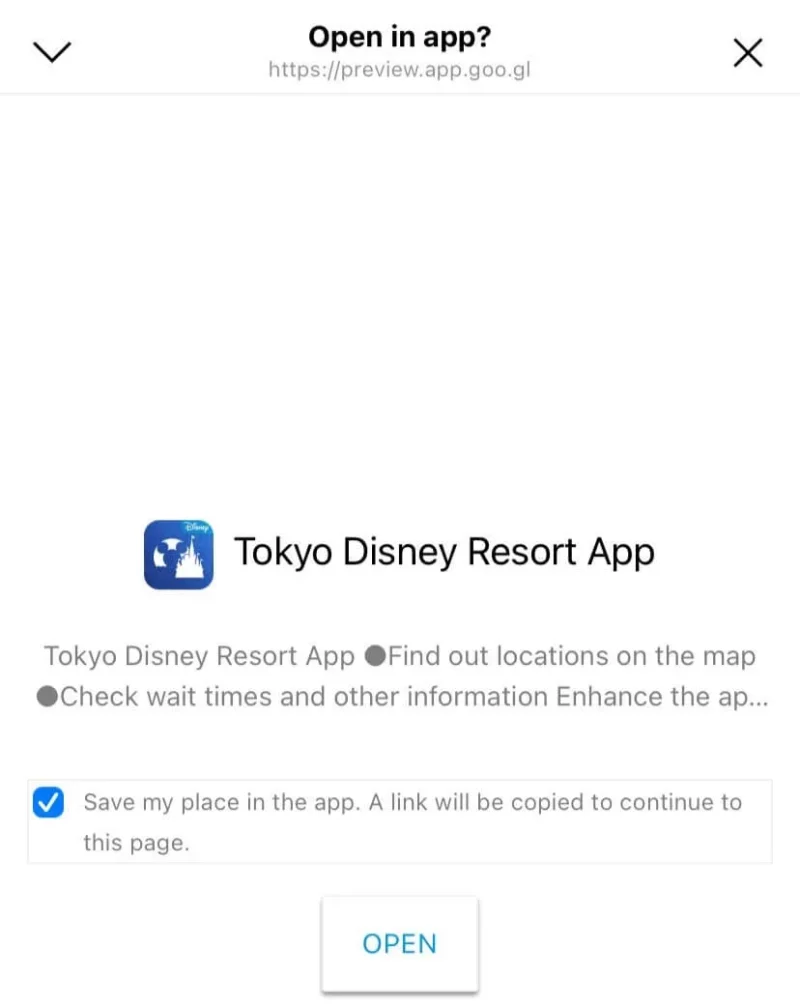 If your friend is also able to add you to the group and the ticket has been passed on, OK!
Now that you know how to send and receive tickets, you are ready to go!
Now, before you go, research in advance which attractions you want to ride, what goods you want, what stores and restaurants you want to visit, and what shows and parades you want to go to, if any, and share this information with your group members. Hotels and restaurants must also be reserved in advance, just as you did when you purchased your tickets!
Since crowds are expected, it may be a good idea to research warm clothes, rechargeable batteries for your cell phone, and the route to take to get there.
Terms and Conditions of Purchase
After all, be sure to bring your event allotment and what is a requirement (the third vaccination certificate regarding new coronavirus infection)! Here is a quote from the official website
On the day of admission, please bring one of the following certificates or something similar (vaccination certificate app, etc.) regarding new coronavirus infection. Photocopies, photos, or smartphone screens are acceptable. A Cast Member will check your certificate at the entrance.

Vaccination record (must be the 3rd vaccination)
Negative certificate of PCR test (using a specimen collected within 3 days prior to admission)
Negative certificate of antigen quantitative test (using a specimen collected within 3 days prior to the child's enrollment)
Negative certificate for antigen qualitative test (using a specimen collected within 1 day prior to the entrance)

*No children under 12 years of age will be admitted to the preschool without a certificate of eligibility.
Children under 12 years old do not need to have their certificates checked if they are accompanied by a parent or guardian.
If a parent or guardian does not accompany the child, the second vaccination will be treated as the same as the third vaccination for those 12 years of age or older.

https://www.tokyodisneyresort.jp/ticket/info/eventwari.html
preview of next installment
Event discount for Disneyland and Sea if you have already received 3 vaccinations.
We have compiled a list of how to purchase Disney tickets on PC with images for your reference ☟
So I will explain in the next issue how to prove 3 vaccinations for Corona.
If you're going too, or planning an outing, this one's a must!
And we'll continue to keep you posted on all things Disney here on DisabilityLog, so keep an eye out!