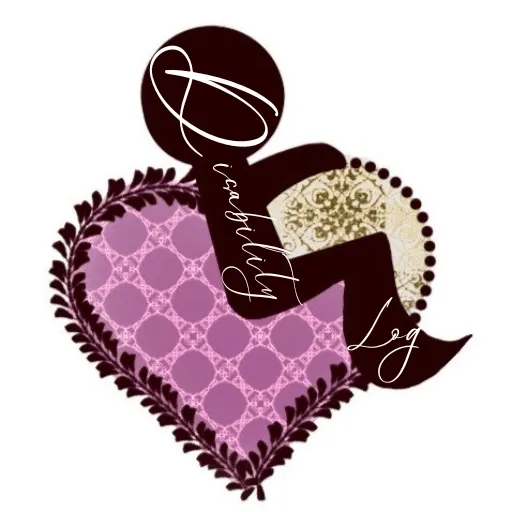 DisabilityLog
Important DisabilityLog announcements, event announcements, and topics and topics common to our members will be announced from our official account!
Today is Sports Day (October 10)
When you think of sports, what comes to mind?
With the Tokyo 2020 Olympic and Paralympic Games, "para-sports" have gradually begun to spread.
This time, we would like to announce an event about the Para "Travel" Support Project 2022 scheduled to be held on Sunday, October 16, 2022.
If you are interested, please join us!
What is the Para "Travel" Support Project?
The Para "Travel" Support Program is an This is an exchange program featuring para-sports spectating and tourism.
Click here for the poster of the Para "Travel" to be held in October 2022.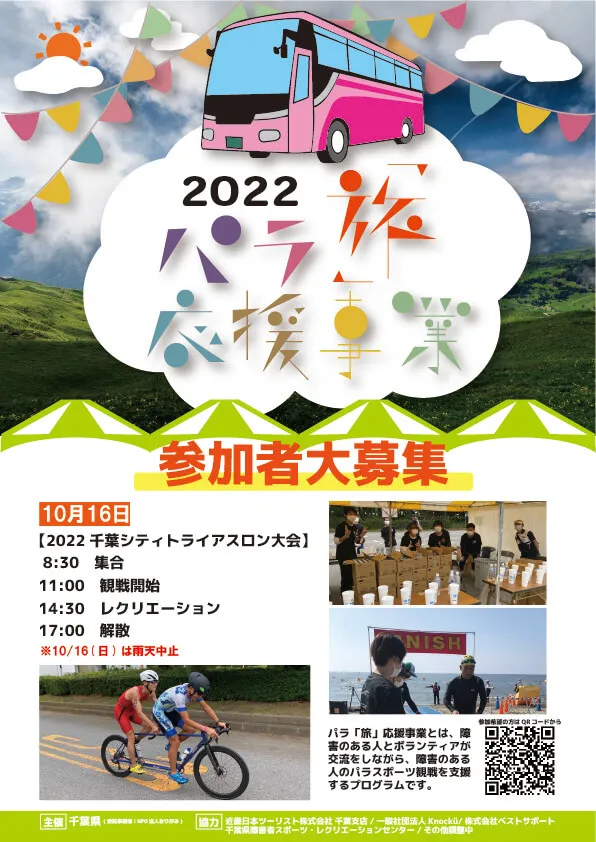 Purpose of Para "travel"
This project aims to achieve the following three objectives through supporting people with disabilities to watch para-sports games.
To motivate people with disabilities to go out
To deepen interaction between people with disabilities and volunteers
To foster volunteers' understanding of disabilities and new perspectives on support
What is important in para "travel"
The organizer's idea of the 5 attractions of the Para "travel"!!!!!
Just have fun!
Keep it simple! Lots of "choice" moments!
Significance only because we do it on the day of the paratriathlon!
You get to touch the paratriathlon site!
Each group gets to decide when they want to participate and when they want to take a break! You can go spectate!
Para "Travel" project organizers and sponsors
Organizer: Chiba Prefecture (Entrusted organization: NPO Origami)
Cooperation: Chiba Branch, Kinki Nippon Tourist Co.
General Incorporated Association Knockü
Best Support Co.
Chiba Prefecture Sports and Recreation Center for the Disabled
Chiba Prefecture Welfare Association for Persons with Intellectual Disabilities Human Resources Securing Committee
Para "Travel" 2022 Exhibition Outline
Date: Sunday, October 16, 2022 9:00 a.m. – 5:00 p.m.
Venue: Inage Seaside Park
Activity: [2022 Chiba City Triathlon] (Japanese only)
*With the assistance of volunteers and helpers, participants will watch para-sports events and sightsee in the surrounding area.
*This project is a joint project between people with disabilities and student volunteers.
This project is designed to deepen exchanges between people with disabilities and student volunteers through watching para-sports competitions, recreation, picnics, etc.
Number of applicants: Approximately 25 people with disabilities living in Chiba Prefecture will be selected through an open recruitment process.
稲毛海浜公園
稲毛海浜公園の公式ホームページです。千葉市美浜公園緑地事務所からお届けしています。
Sunday, October 16 Timeline
For the general flow of the day, please click here.
Timeline of the day
9:15

Meet (in front of NTT Building, East Exit of JR Chiba Station)

*Wheelchair users who are unable to transfer should arrive by 9:00 a.m.

11:00

Start watching the game

Watch the 2022 Chiba City Triathlon

12:00

14:30

recreation

We'll see what we do on the day of the event.

17:00
*Schedule is current at this stage.
Daily Schedule
Click here for schedule details↓.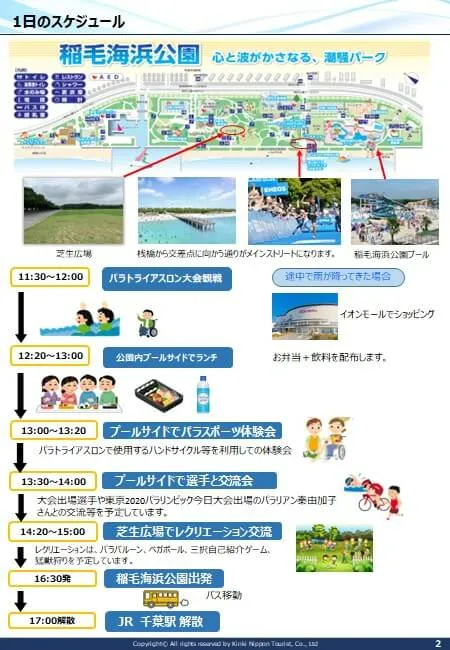 Watch the paratriathlon competition *If it rains on the way, go shopping at AEON MALL
Lunch at poolside in the park *Lunch box + beverages will be distributed
Poolside para-sports experience *Experience using the handcycles and other equipment used in the paratriathlon
Exchange with athletes by the pool *Exchange with athletes competing in the Games and Paralympian Yukako Hata, who will compete in the Tokyo 2020 Paralympic Games, etc.
Recreational exchange at the grass plaza *Recreational activities will include paraballoon, pegar ball, three-choice self-introduction game, and beast hunting.
Departure from Inage Seaside Park *Bus transportation
Dismissal at JR Chiba Station
Chiba City Triathlon Outline
On October 16 (Sunday) from 9:00 am to 5:00 pm, participants will watch a paratriathlon.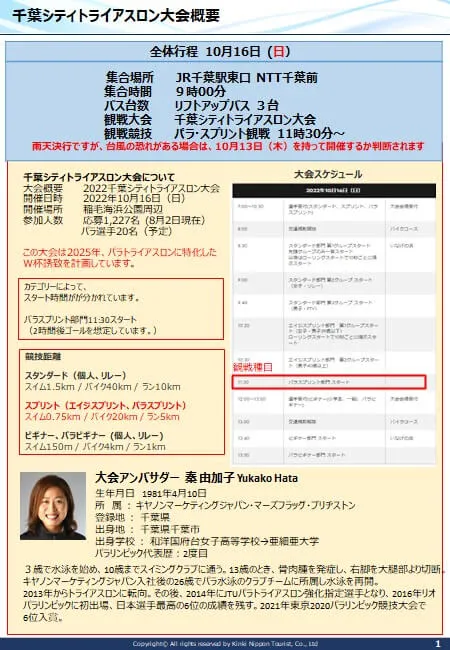 千葉シティトライアスロン
大人も子供も/ベテランも初心者も/健常者も障害者も/選手もボランティアもスタッフ/そして地域住民の方々も…「誰もがトライアスロンを楽しめる大会」を目指します。また、大会会場である稲毛海浜公園を中心とした海辺地区の魅力発信と、スポーツを通じた市民の交流の場となるよう、大会を成長進化させていきますので皆様のご参加・ご支援よ...
Triathlon
A triathlon is a competition in which athletes compete in a combined swim, bike, and run time, making full use of equipment.
The following is a quote from the Parasapo website.
Competition Overview
The triathlon consists of a swim, bike, and run in succession, and was newly added as an official event at the 2016 Rio Games. The sprint distance (0.75 km swim, 20 km bike, and 5 km run) is half of the Olympic standard distance, and the total time is competed in the sprint distance. The competitors are classified according to the type and level of disability, and include seated, standing, and visually impaired athletes. The Tokyo event will feature four events each for men and women.
Points of Interest
The "transition" from swim to bike and from bike to run is also called the "fourth event" because the time is added to the time. In the Paralympic Triathlon, the equipment used in each disability class is different, and there are various aids to be put on and taken off, so it is easy for individual differences to emerge. In addition, depending on the class, teamwork is also essential, as the athletes are supported by "handlers" and "guides. The transition area, where you can watch the athletes in action and cheer them on up close, is also a recommended place to watch the races.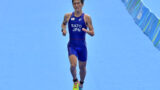 【トライアスロンとは】パラリンピックの競技ルール・観戦ポイント|パラサポWEB
東京2020パラリンピック公式競技「トライアスロン」の競技解説ページです。このページでは「トライアスロン」のルールや観戦のポイントの他、パラリンピックなどの最新の大会・イベント情報、選手、フォトギャラリーなど競技の魅力をご紹介します。
How to participate
Application Form
If you have a disability and are interested, please register using the form at the URL below!
You are also welcome to spread the word. We look forward to seeing you there!
パラ「旅」応援事業参加申込フォーム(アセスメントシート)
こちらの申込フォームは、アセスメントシートも兼ねております。パラ「旅」応援事業にご参加いただく皆様に、より快適に、より楽しんで過ごして頂くために必要な情報を収集する目的で作成しております。 こちらで収集した情報は以下の場合を除き、外部には一切公開致しません。 ①パラ旅応援事業でみなさんのサポートを行う専門的なスタッフに...
For inquiries, please contact
If you need a paper application form, please feel free to contact us by e-mail or phone.
Mail: paratabi@origami-vol.or.jp( Para "Travel" Support Project Secretariat)
Tel: 090-2834-3627 (Attn: Yamamoto, Para "Travel" Support Secretariat)