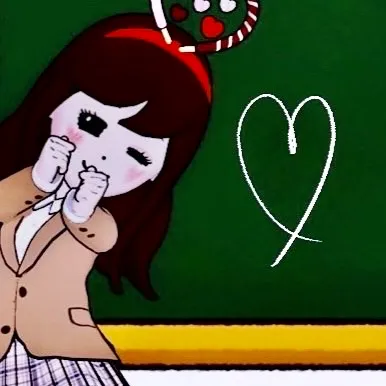 Koro
I'm Koro, a curious blogger in a wheelchair, and I'm the Director of Design and Systems at DisabilityLog. I love cute things, Disney, and fashion. I'm also interested in digital art and NFT!
Tokyo Disney Resort has started selling tickets for the "Event Excitement Discount" today (October 12)! Disney's 1-Day Passport is a whopping 20% off the regular price, and with the 1-Day Passport (for people with disabilities) you can get an additional 20% discount on that ticket, making it 40% off! You'd be remiss if you don't take advantage of this opportunity!
Even though the notice was given at 8pm the night before, if you are a Disney fan or have been planning to go to Disney for a while, you probably noticed it by checking the Internet frequently.
In my case, I was on standby from 2pm when I was told it was on the news.
But when I finally tried to proceed to the online purchase page, the site was so crowded with traffic that it was hard to get through…
I'd like to explain about how to purchase those super affordable Disney tickets and what the "Event Excitement Discount" is all about in the first place!
What is a Passport for Event Excitement Discount?
Tokyo Disneyland and Tokyo DisneySea will offer date-specific park tickets for a limited time through the government's event demand stimulation project ([Ministry of Economy, Trade and Industry] "Event Discount" and "Ganbarou! Shopping Street Project" (formerly known as the "Go To Campaign")), the park tickets will be available for a limited time only and are date-specific. The following ticket details are quoted from Disney's official website.
*The said tickets will be discounted by 20% from the regular price of each day.
*Only 1-Day Passport. Early Evening and Weeknight Passports are not eligible.
東京ディズニーリゾート・オフィシャルウェブサイト
東京ディズニーリゾートでは、遊ぶこと、泊まること、食べること、ショッピング、すべてがエンターテイメント!東京ディズニーランド、東京ディズニーシーの2つのテーマパークを中心とした滞在型テーマリゾートです。
What is the Event Demand Stimulation Project (Event Discount)?

Overview
In order to stimulate demand in the event industry, which has been particularly affected by the spread of the new coronavirus infection, the following events and entertainment (e.g., plays and traditional performing arts, live music, amusement parks and theme parks, movies, sports games and participation, museums, etc.) that have taken thorough measures to prevent the spread of infection are eligible for this program A discount equivalent to 20% of the event/entertainment ticket price (up to 2,000 yen).

In order to foster an environment where people can participate in events with peace of mind, the program will target consumers who have been vaccinated for the third time or who are test-negative (excluding online participation) and who have purchased tickets.

How to proceed in the future
Based on the improvement of the infection situation, the "Event Demand Stimulation Project" will be implemented for events held during the period from Tuesday, October 11 to Tuesday, January 31, 2023 (the project may be terminated during the period depending on the budget execution status).

(The program may be terminated during the period depending on the execution of the budget.) The program will be implemented only for events held in prefectures that have agreed to implement the program.

Ministry of Economy, Trade and Industry] "Event Discount" and "Ganbarou! Shopping District Business …
Event Excitement Discount] Eligible Period
For admission from October 13 ~ 2022 (Thursday) to January 31, 2023 (Tuesday)
Event Excitement Discount】1-Day Passport
Event Wakuwari】1-Day Passport
Ticket to Tokyo Disneyland or Tokyo DisneySea from the opening time
Adult ¥6,320 / ¥6,720 / ¥7,120 / ¥7,520
Middle Child ¥5,280 / ¥5,600 / ¥5,920 / ¥6,240
Child ¥3,760 / ¥4,000 / ¥4,240 / ¥4,480
Event Excitement Discount】1-Day Passport (for people with disabilities)
Event Wakuwari】1-Day Passport (for persons with disabilities)
This ticket allows you and one accompanying guest with an eligible certificate to enter Tokyo Disneyland or Tokyo DisneySea from the park's opening time.
Please click here for the applicable certificates and conditions of purchase.
Adult ¥5,200 / ¥5,440 / ¥5,680 / ¥5,920
Middle Child ¥4,240 / ¥4,480 / ¥4,720 / ¥4,960
Child ¥3,040 / ¥3,200 / ¥3,360 / ¥3,520
Passport for Event Excitement Discount] Sales Schedule
Different days have different periods of availability, so check back!
Plan your strategy according to the day you want to go, the weather, and the amount of money you want to spend.
Sales start date Period for sales
2022/10/12 (Wed.) 14:00 2022/10/13 (Thu.) – 2022/10/26 (Wed.)
2022/10/13 (Thu) 14:00 – 2022/11/9 (Wed)
2022/10/14 (Fri) 14:00 – 2022/11/23 (Wed)
2022/10/17 (Mon) 14:00 – 2022/12/7 (Wed)
Tuesday, 2022/10/18 14:00 – Sunday, 2022/12/18
After 14:00 on Wednesday, 2022/10/19, tickets for the same day two months ahead will be sold for one day each day.
(Example.)
2022/10/19 (Wed) 14:00 2022/12/19 (Mon) Entrance
2022/10/20 (Thu) 14:00 2022/12/20 (Tue) Entrance
2022/10/21 (Fri) 14:00 2022/12/21 (Wed) Entrance
BTW, I tend to look at weather reports on sites where I can see a whole month's worth!
Daily Forecast for Tokyo, Tokyo, Japan – AccuWeather
How to purchase a super deal event exciting discount on PC
You can purchase from both PC and smartphone applications.
The recommended method is to access and purchase from the official Disney website from a PC.
Tokyo Disney Resort Online Reservation and Purchase Site
This is because it was easy to connect and purchase when I had to start over several times due to errors.
Since some parts are a little difficult to understand only by text, I hope you can visualize the purchase process by showing you the actual screen.
As it turns out, it was the right decision to start up my PC and access the site at the same time!
So, in this article, we will show you how to access and purchase from a PC browser.
[Official] Park Ticket – Access to Tokyo Disney Resort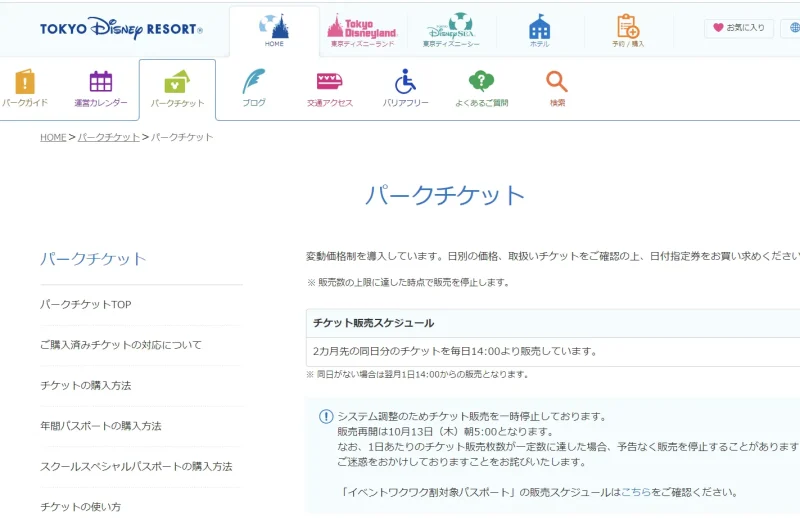 *Or you can search for "Disney Tickets!"
東京ディズニーリゾート・オフィシャルウェブサイト
東京ディズニーリゾートでは、遊ぶこと、泊まること、食べること、ショッピング、すべてがエンターテイメント!東京ディズニーランド、東京ディズニーシーの2つのテーマパークを中心とした滞在型テーマリゾートです。
*Please check the official Disney website for the latest information!
Ticket sales are temporarily suspended due to system adjustment.
Ticket sales will resume at 5:00 a.m. on Thursday, October 13.
Please note that ticket sales may be suspended without prior notice when the number of tickets sold per day reaches a certain number.
We apologize for any inconvenience caused.
Please check here for the sales schedule of "Passport for Event Excitement Discount".
Sold-out tickets may be resold without prior notice.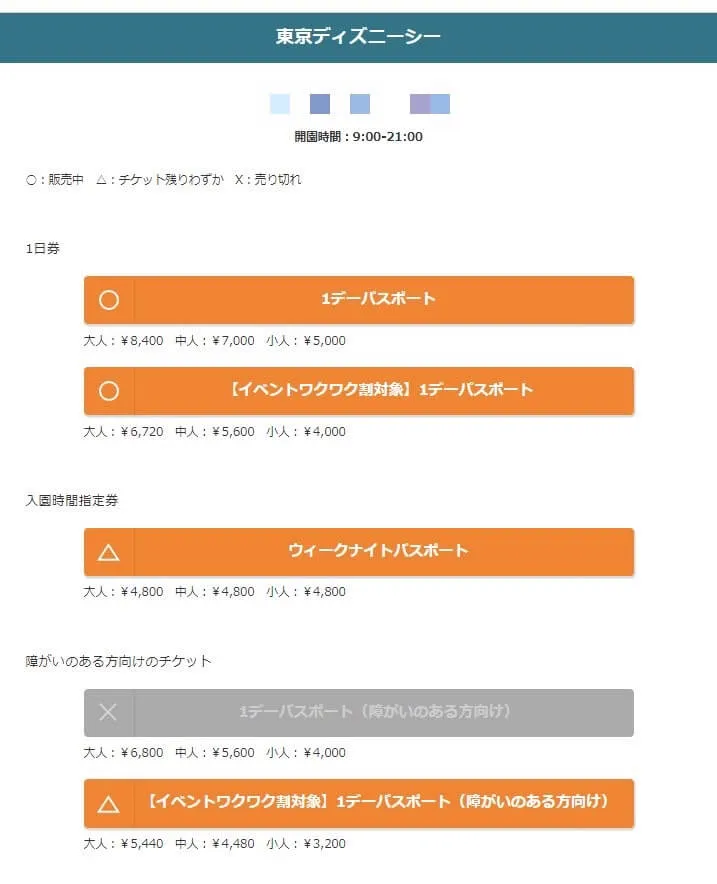 After opening the park ticket, scroll down and select the appropriate ticket
*or click on the Reservation/Purchase icon at the top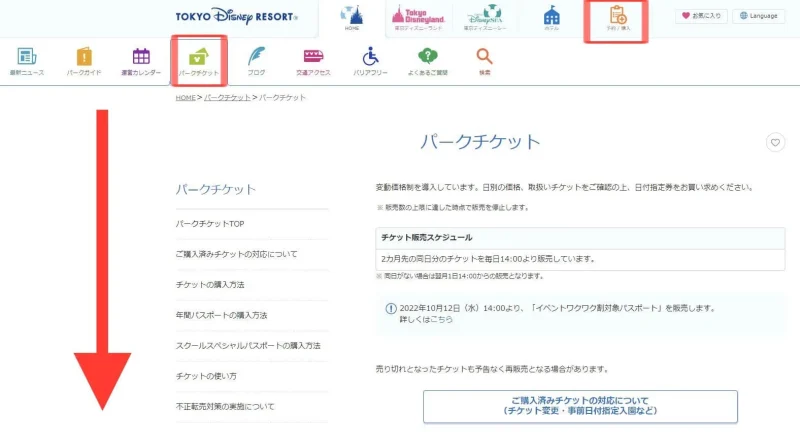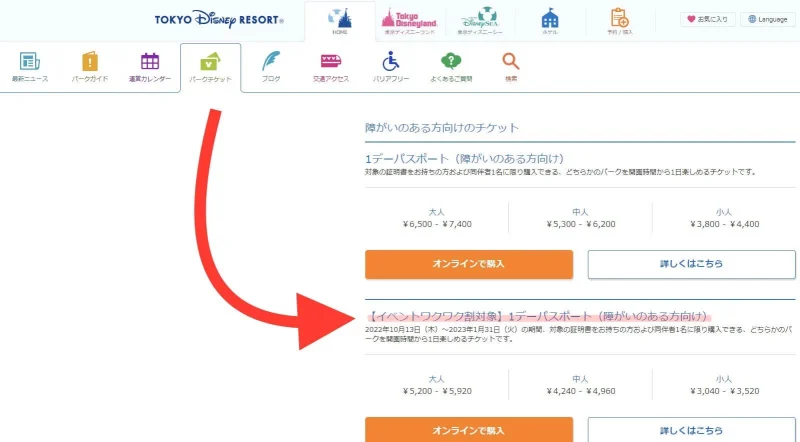 Tickets for the event are now available!
Click the orange "Buy Online" button to proceed to the purchase page.
By the way, I have a disability certificate, so I chose the [Event Excitement Discount Eligible] 1-Day Passport (for people with disabilities). I haven't been out much lately, partly because of Corona, so I'm hoping to take this opportunity to get out and about a lot and make lots of happy memories! By the way, up to one accompanying person can purchase the passport together with me at the discounted price for the disabled!
standby screen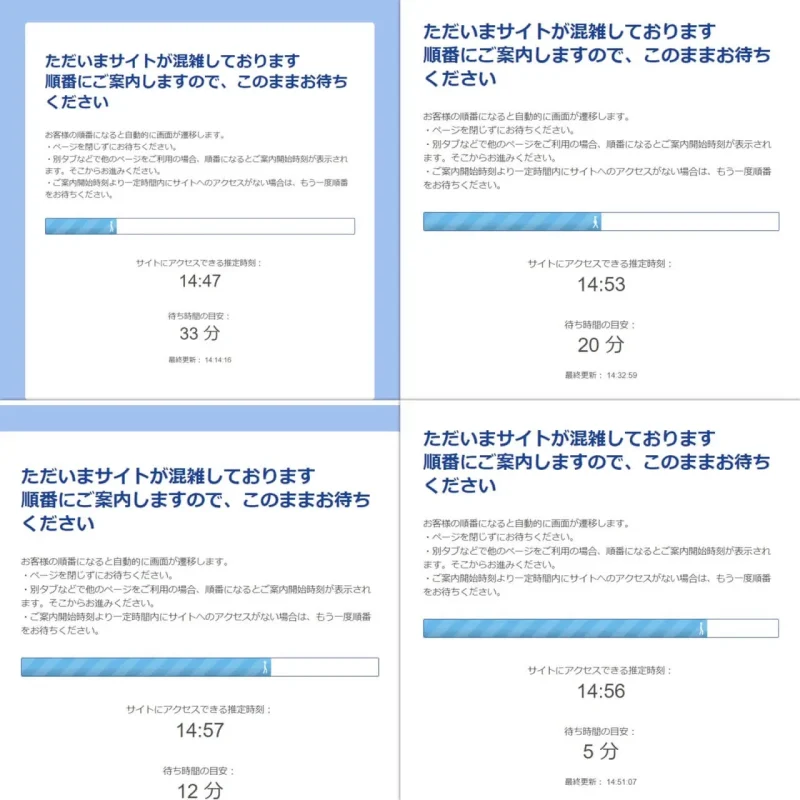 The estimated time to access the site was gradually extended.
I was very anxious while waiting. I was wondering if it was ready yet…
Waiting time (less than 1 minute)
It's about… time!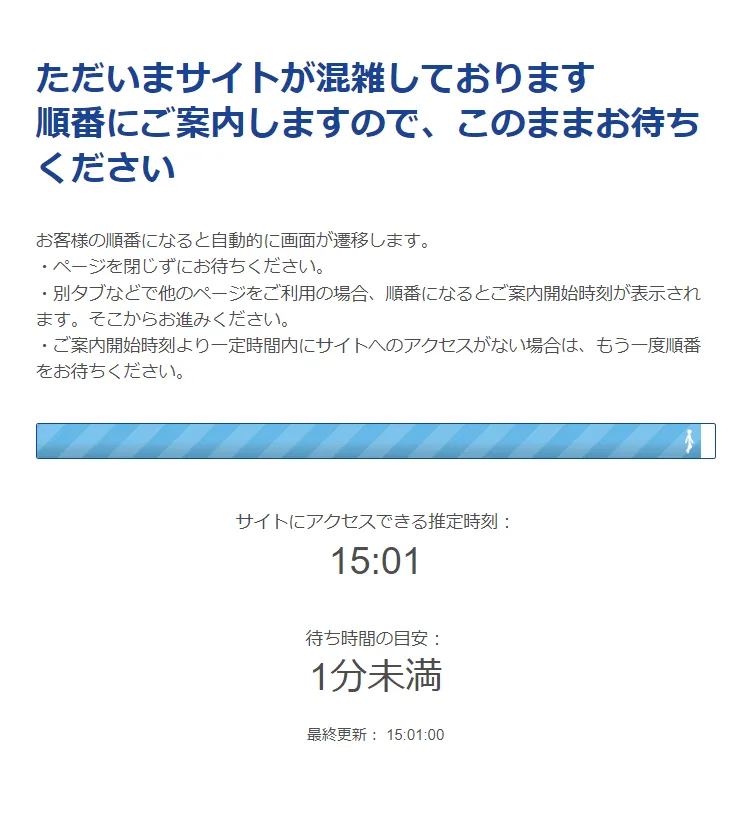 (5) But after this, an error occurs.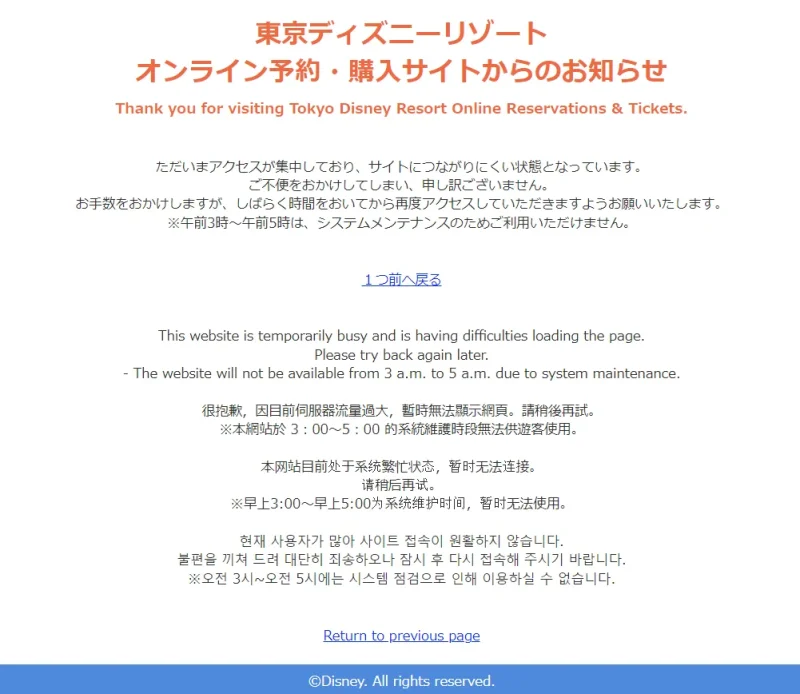 I was in a hurry and panicked.
When I pressed back one, I had to start over from the beginning… (on my phone).
So I was afraid to press it on my PC.
By the way, if you copy and paste this URL, the link "back one previous" does not appear, but it does not seem to make sense.
[Important] Error resolution and update method
I had several other tabs open and waiting for access to the same screen, so I refreshed the page several times by pressing the counterclockwise refresh symbol or F5 (+Fn) next to the URL at the top of that page.
If you get an error, follow the above steps, but stay calm and don't panic!
Finally, to the purchase screen (loading)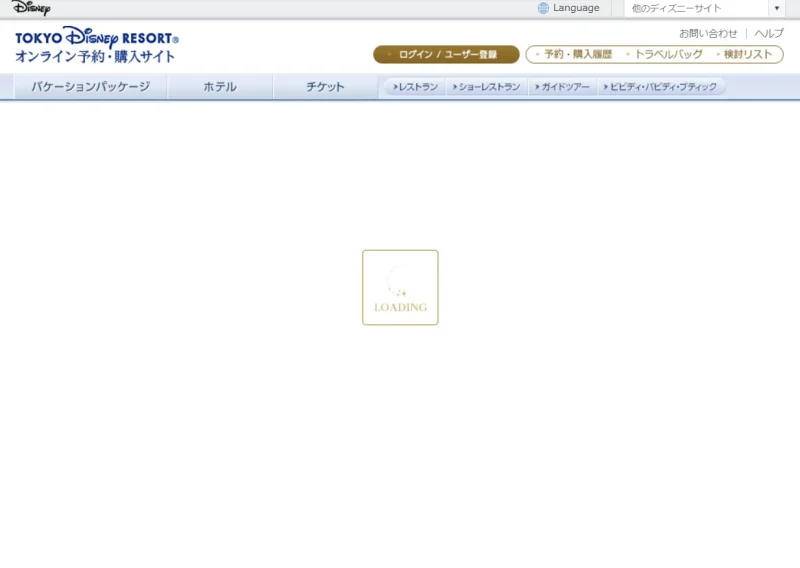 This loading screen, often comes up every time the screen switches.
At this time, do not go back to the previous screen or overload the system.
Date Selection
After confirming that I had chosen a 1-Day Passport with "Event Excitement Discount" at the top of the passport, I chose the cheapest day and the day with clear skies.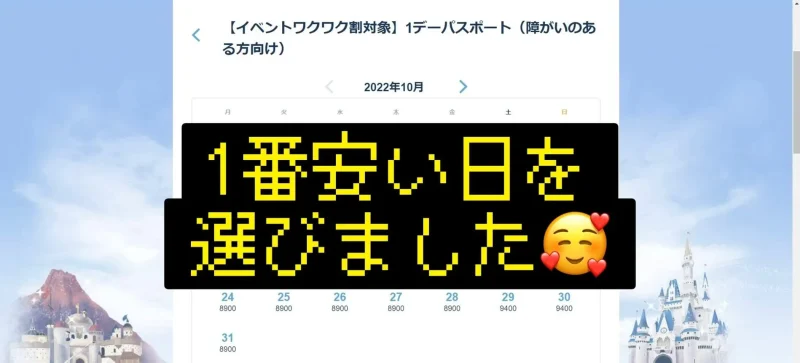 Select & agree on passport type
Choose the park you want to go to and how you want to pick up your tickets.
After that, decide the number of tickets for the number of people by clicking the + button, and then click "Proceed to purchase.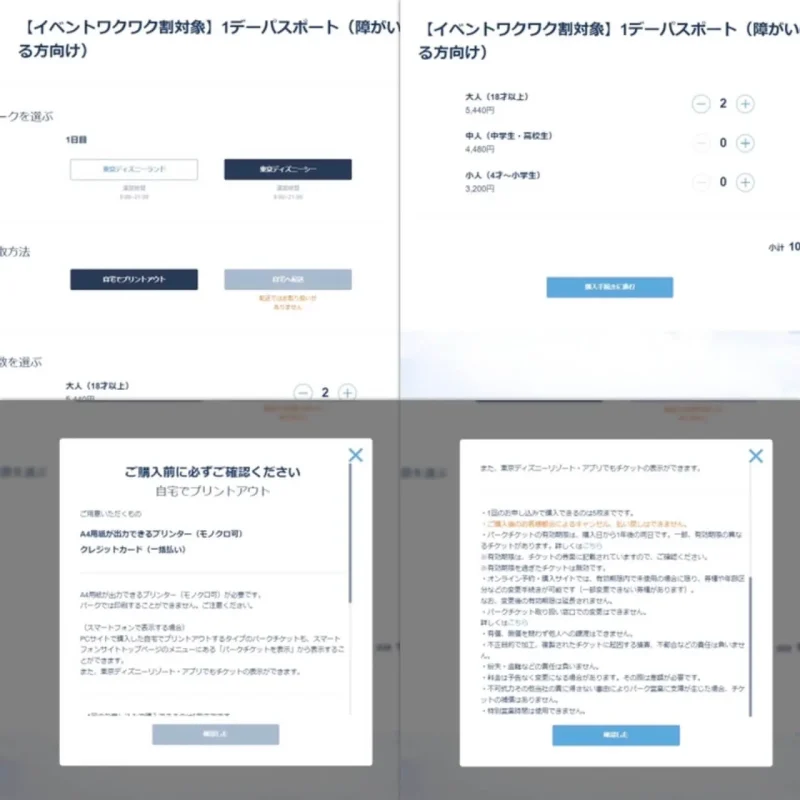 If you choose to print out at home, scroll down a little and click "I agree".
Go to login screen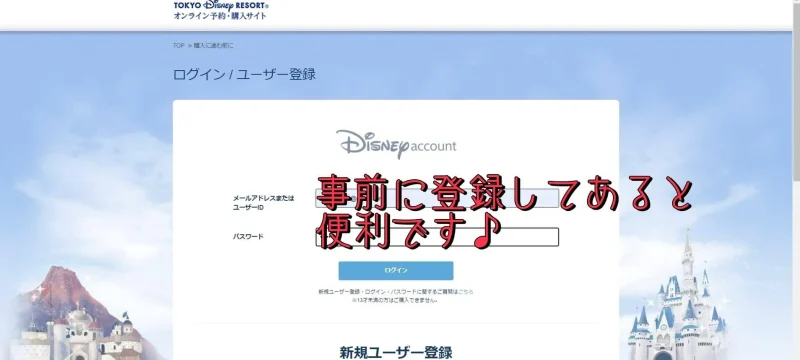 If you have previously registered as a user, it is a good idea to keep your e-mail address and password so that you can enter them immediately. If you are not a registered user, please register as a new user.
User Information Confirmation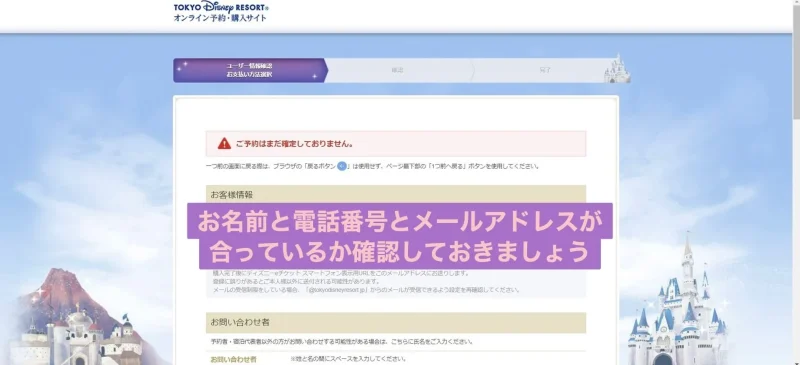 Please make sure that your name, phone number and email address are correct.

Please enter the contact person in hiragana with a space between the first and last name.
Payment Method
Below that, make sure that the park ticket is the ticket and amount you have selected, and further below that, enter the Corporate Program Use Coupon only if you have one.
The four required fields on the credit card entry screen are convenient for those who have previously purchased from the official Disney website and have them memorized on their browser by Google, Chrome, etc. Just place the cursor over them and click to enter them automatically.
Card Number
Holder of the card
Expiration Date
Security code
I suggest you write these four down somewhere, as you'll probably use them often on other online purchase sites! So that you can copy and paste them!
Then click on "Go to Confirmation Screen
confirmation screen
Check again to make sure that the information you have entered is correct.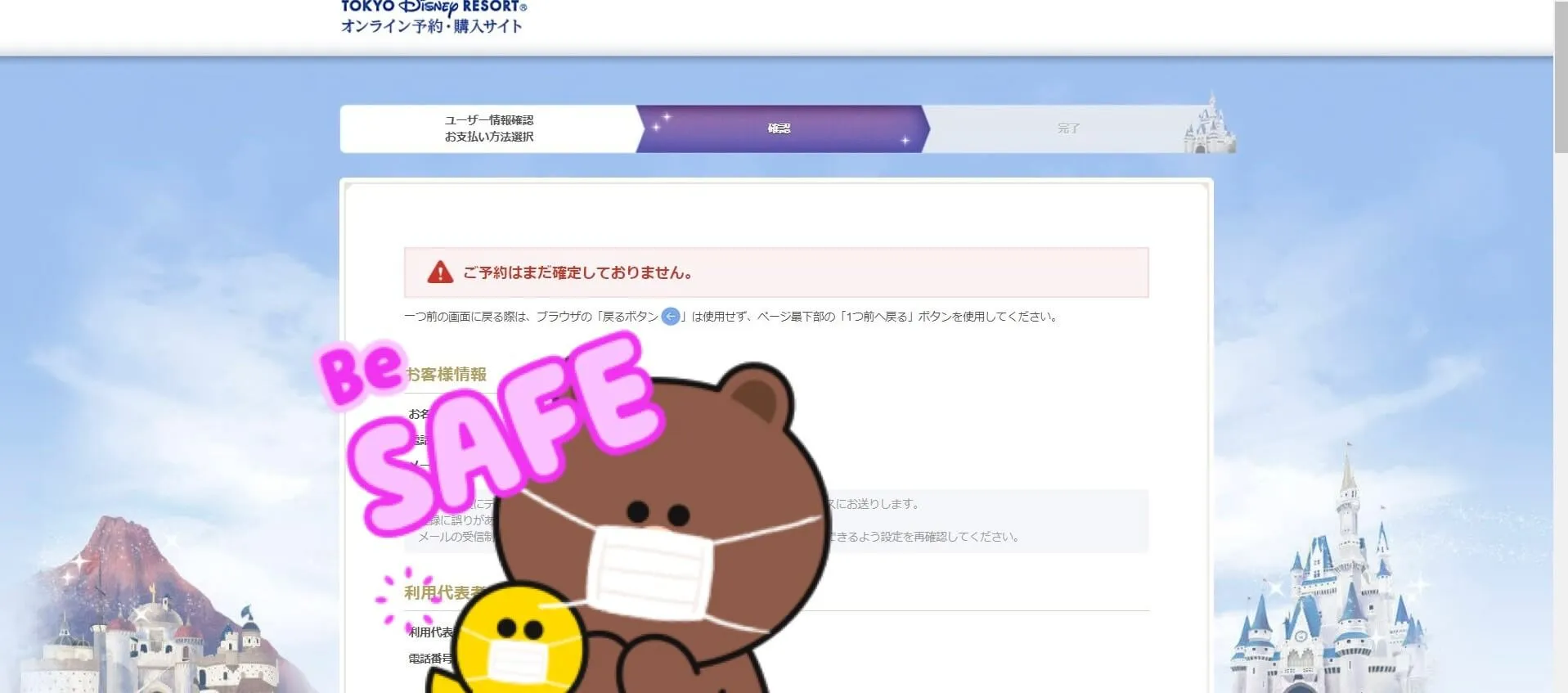 If correct, check the "Agree" box and click the "Confirm Reservation/Purchase" button.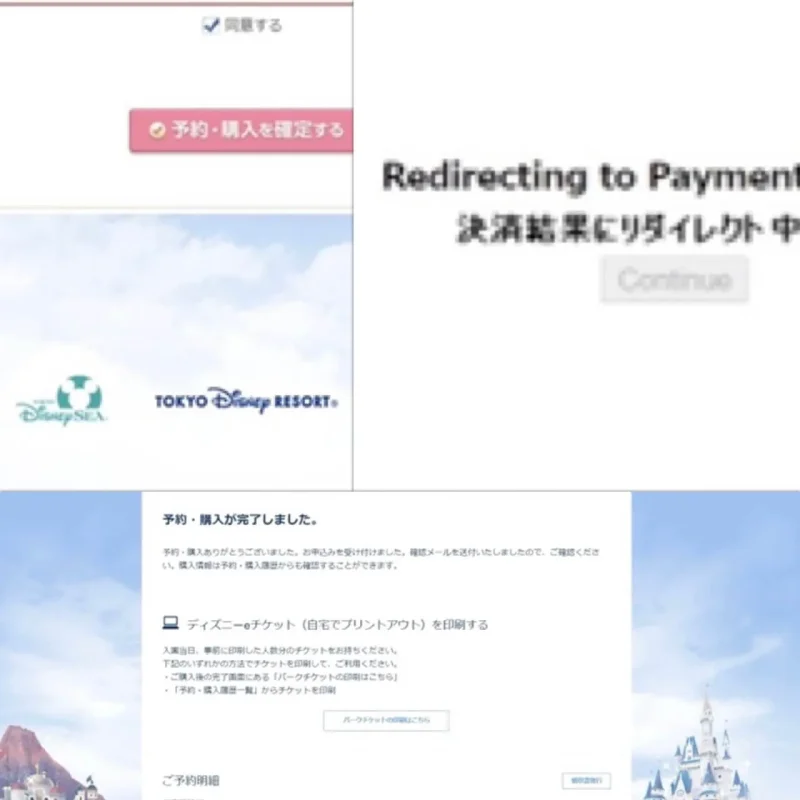 You will then be redirected to the payment result, and if the screen changes successfully, you will see "Reservation and purchase have been completed. Each time the screen changes, it will be loading, so you will have to wait a little, but once this last screen is displayed, your ticket purchase is complete!
You will then receive a confirmation e-mail to your registered e-mail address, where you can confirm your ticket!
Now is the time to get in on the excitement of Disney's discounted events for people with disabilities.
The regular 1-day passports were not sold out yet, but when I saw before 2 pm, the passports (tickets) for the disabled for the day I wanted to go were sold out, so I was in the mood to give up, thinking it would be too late. I wondered why there was a limit on the number of tickets.
But miraculously, I was able to purchase one because they had resold additional tickets. The timing was really good…
If you're going to buy Disney tickets, now is the time to go, when this discount isn't so well known!
I was hoping to go during Halloween + I was hoping to get some new DisneySea character (Leena Bell) merchandise soon, so I'm glad I bought my tickets at this time! I'm so excited to go now!!!
I found printing the tickets on paper to be a hassle and not good for the environment (+ less risk of losing them), so I loaded them with a QR code into an app on my phone. (And it's by far more convenient to keep track of them on the app.)
I'll be writing another post soon on how to do that and how to make purchases on your phone later, so be sure to check the DisabilityLog blog regularly!
Related Articles
[Deals] 20% Discount on Disney with Event Discount. How to View Purchase Tickets on Your Smartphone App and Group Invitations