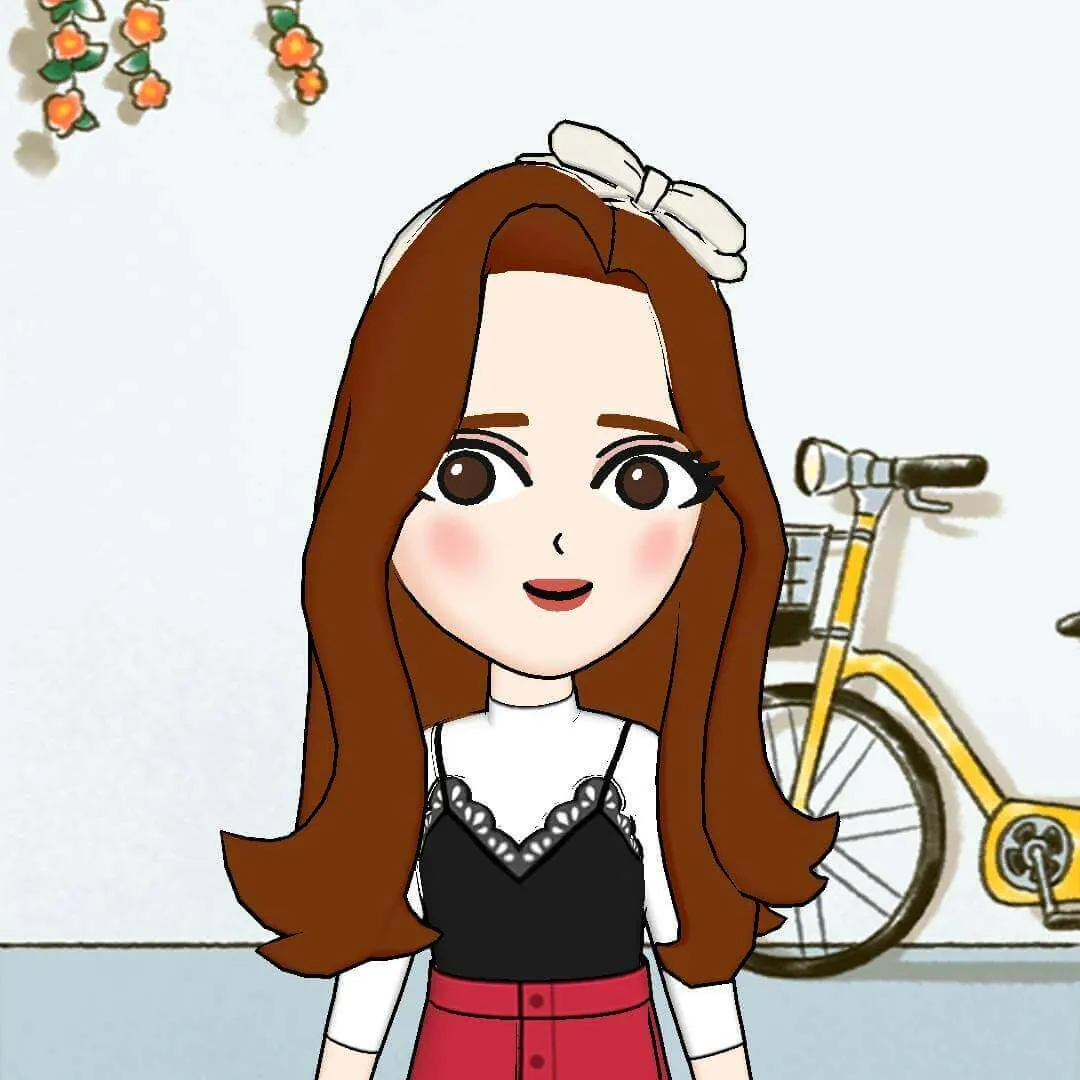 Riii
This is Riii★
In my last article, I introduced you to the hokans at the Executive House Zen.
This time I will introduce the food presentation at the Zen Lounge and the new and most powerful breakfast "SATSUKI".
Food Presentation
There are six food presentations per day in the Zen Lounge.
The times and contents of the food presentations are as follows
7:00-10:00 Breakfast
10:00 – 12:00 Morning Snack
12:00 – 14:00 Lunch
14:30 – 16:30 Afternoon Tea
17:30 – 20:00 Hors d'oeuvres
20:00-21:30 Night Cap
In other hotels, drinks are often served only during hors d'oeuvres, but in Zen Lounge, drinks are available at all times.
Drinks were brought to us when we asked the hotel staff and the menu could be viewed via QR code.
I will explain more about the food presentation.
afternoon tea
After checking in at 14:00, afternoon tea will begin at 14:30, although there will be a short wait.
At this time, I was able to enjoy cakes such as Pierre Hermé Paris shortcake, Ispahan, melon shortcake from SATSUKI, and marron shortcake and grape rolls from the "Super Sweets Buffet 2022 – Chestnut and Grape" currently being offered.
I was happy to enjoy the delicious cakes with a glass of champagne during the daytime ♡.
Each one was small, so we ate various kinds of cakes and scones.
In addition to the sweet cakes, there were also consommé soup, sausage pie, Edo rice crackers, and other savory foods, so when I got tired of the sweet cakes, I ate the savory ones.
I ate so much that I went to the Golden Spa to exercise to make myself a little hungry.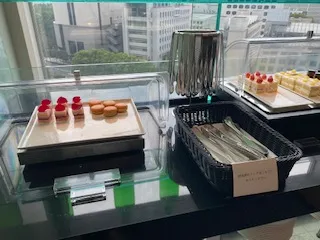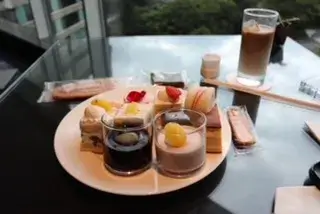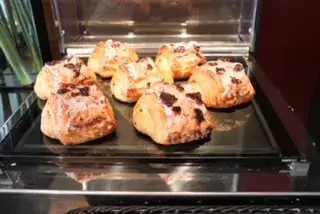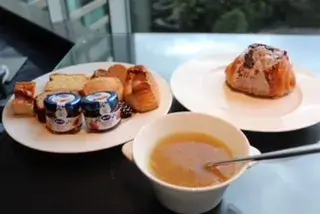 hors d'oeuvre
In the evening, you can have snacks (cheese, ham, etc.) to go with your drinks as hors d'oeuvres or light meals such as sandwiches.
The roast beef sandwich was delicious with tender meat and tasty onion.
We had it with a glass of champagne ♡.
There were also stick vegetables, so I had them with bagna cauda sauce.
There was a double consommé soup that was very rich.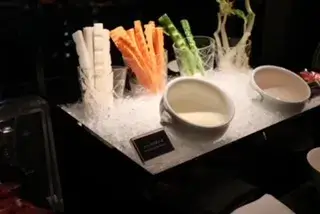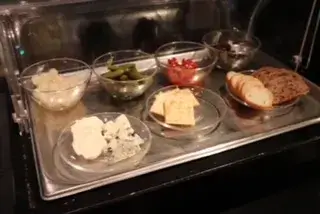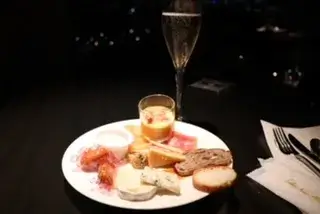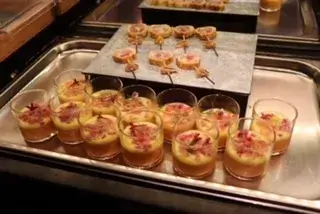 nightcap
Nightcaps included chocolate, macaroons, snacks, and dried fruit.
The Pierre Hermé bonbon chocolates were delicious.
There were also Pierre Hermé sablés and a meringue pastry called Pierre Hermé Croque Noisette.
There were two kinds of macarons, one was the same as the one at afternoon tea, but the other was chocolate flavored.
I feel a little guilty about eating something sweet before bed, but since I was up for it, I had to have it with a cup of rose hip tea!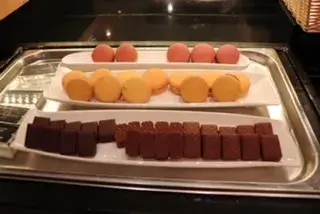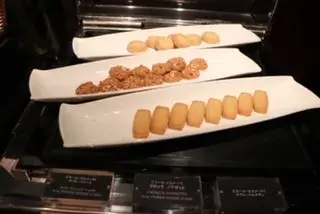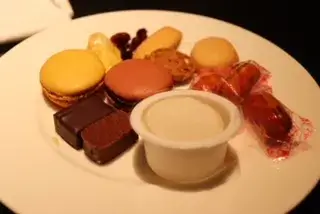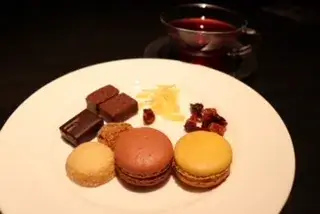 breakfast
You can choose to have breakfast at SATSUKI or room service, but you can also have breakfast at the lounge.
I ate at SATSUKI and did not have breakfast at the lounge, but I went to the lounge during breakfast time.
There were not many people there, so I could sit at any seat I wanted, and I sat at the window and enjoyed the view.
It was a clear day so I could see a bit of Mt.
I heard that it looks better in winter with snow on the ground.
By the way, most of the menu is also available at SATSUKI.
Also, it is not much different from what is served during the morning snack time. However, breakfast time has more items.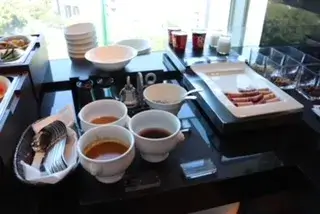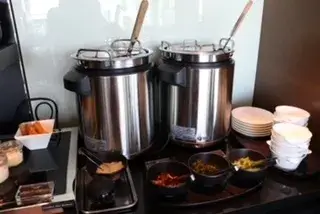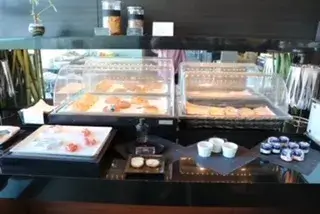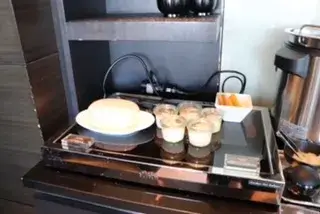 Morning Snack
The morning snacks are less breakfast items, and the scones and leaf pies are served here, but since scones and leaf pies are also served at afternoon tea, I got the impression that there is nothing new there.
However, the fruits are taken down after lunch, so if you want to eat fruits, it would be better to save them before the lunch.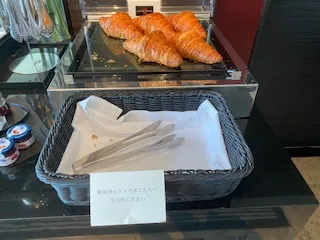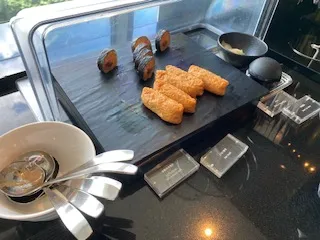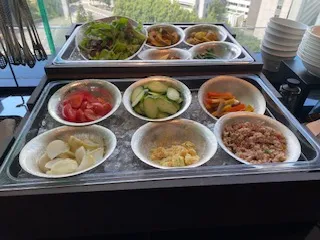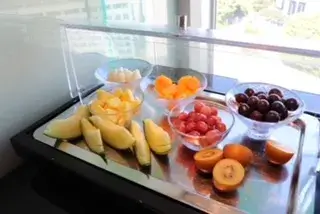 lunch
During lunch time, a sun egg sandwich, a ham and cheese sandwich, a tuna sandwich and muffins were served.
The sun egg sandwich was rich and tasty, as it was made with their special eggs.
There was also sausage pie, which was available during afternoon tea.
I had a late checkout and checked out at 2pm, but since the checkout time is usually 12pm, it was crowded from before 12pm until about 12:30pm.
The lounge is available for 30 minutes after checkout, so many people had lunch and left.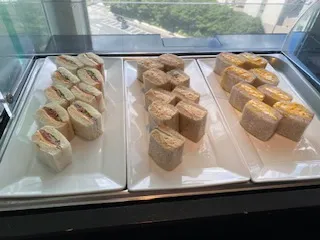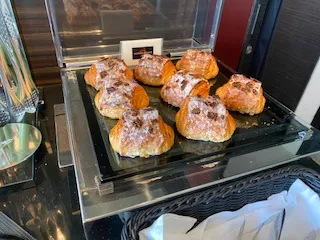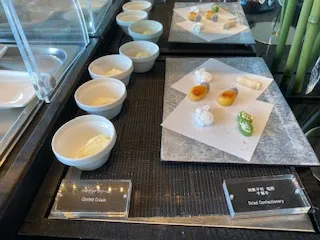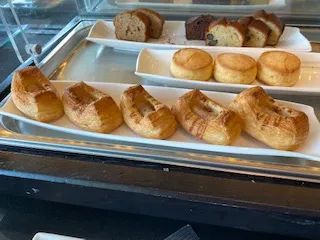 Choice of breakfast at New Otani
What is the breakfast of choice?
For breakfast, you can choose from Zen Lounge, SATSUKI, Garden Lounge, Nadaman, and room service.
For room service, there is a choice of continental, American, or Japanese breakfast.
If you want room service breakfast, you need to make a reservation by 24:00 the day before, so please ask the concierge if you want to choose room service.
Reservations cannot be made for breakfast other than room service.
So please go directly to the breakfast room, it was explained to me when I checked in.
The New and Strongest Breakfast "SATSUKI
I chose SATSUKI, the most famous and newest and strongest breakfast at Hotel New Otani.
I heard that SATSUKI breakfast is very popular and there is sometimes a wait.
Breakfast at SATSUKI is served from 7:00 to 10:00, so we went there about a half past 7:00 and were able to get in without waiting.
People who are not staying at the hotel or who are not on a breakfast plan can also eat if they pay 6,000 yen for adults and 3,500 yen for children.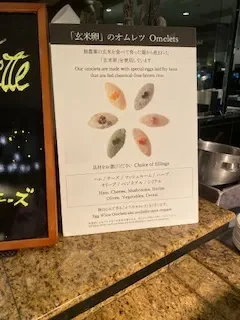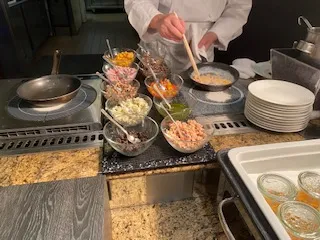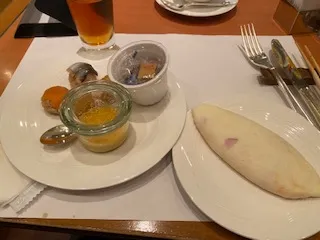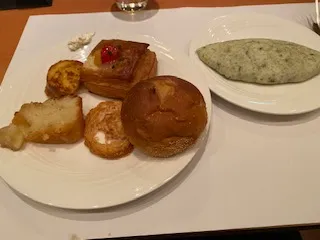 The chef makes the omelette right in front of you.
They use eggs from chickens raised on brown rice.
You can choose from seven different ingredients (ham, cheese, mushrooms, herbs, olives, vegetables, and cereal), and they also have a white omelet made only with egg whites.
I had the ham and cheese omelet and the herb omelet.
There were also other breakfast items such as steak, shumai, temari sushi, ham, salmon, etc., as well as porridge, soba/udon noodles, cereal, yogurt, fruit, and other breakfast-like items.
The bread was Pierre Hermé bread and was delicious.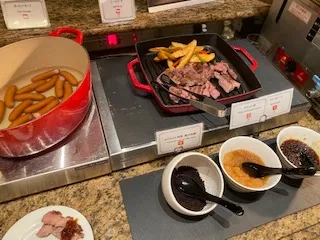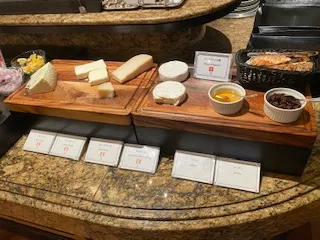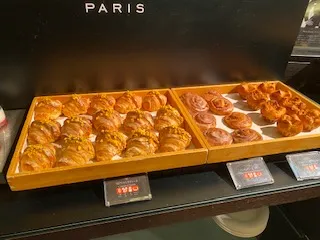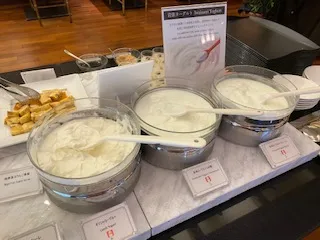 There is a drink bar for drinks, but the staff was circling and asked if I would like hot coffee or tea. They asked me if I would like hot coffee or tea.
I would recommend SATSUKI's breakfast because they have a variety of items and they are all delicious. (I found that SATSUKI's breakfast was the most expensive in terms of price.)
Finally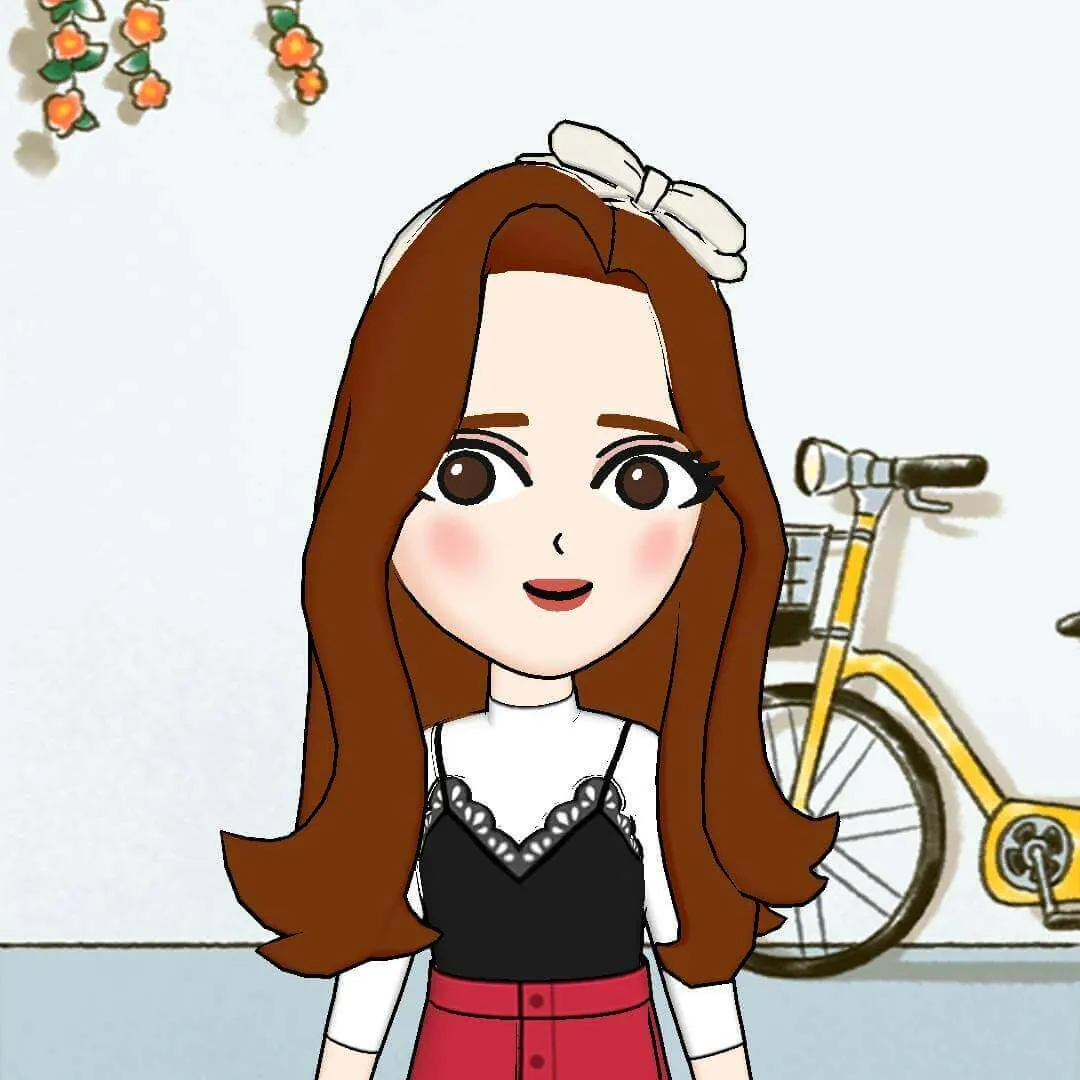 Riii
How was the food presentation and the new and most powerful breakfast SATSUKI at Executive House Zen?
It was my first time staying at Executive House Zen, and I had the food presentation and the SATSUKI breakfast, and it was great!
It was a luxurious treat hokans, and it was great!
I've divided this article into two parts, and I hope you'll be inspired to visit after reading the article★.
We are also starting a national travel support program, so why not make a reservation?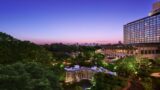 楽天トラベル:宿泊プラン一覧
ホテルニューオータニ エグゼクティブハウス 禅の宿泊プラン一覧。今オススメの『【秋冬旅セール】朝食無料・専用ラウンジ利用付』など、他にもお得なプランが満載!