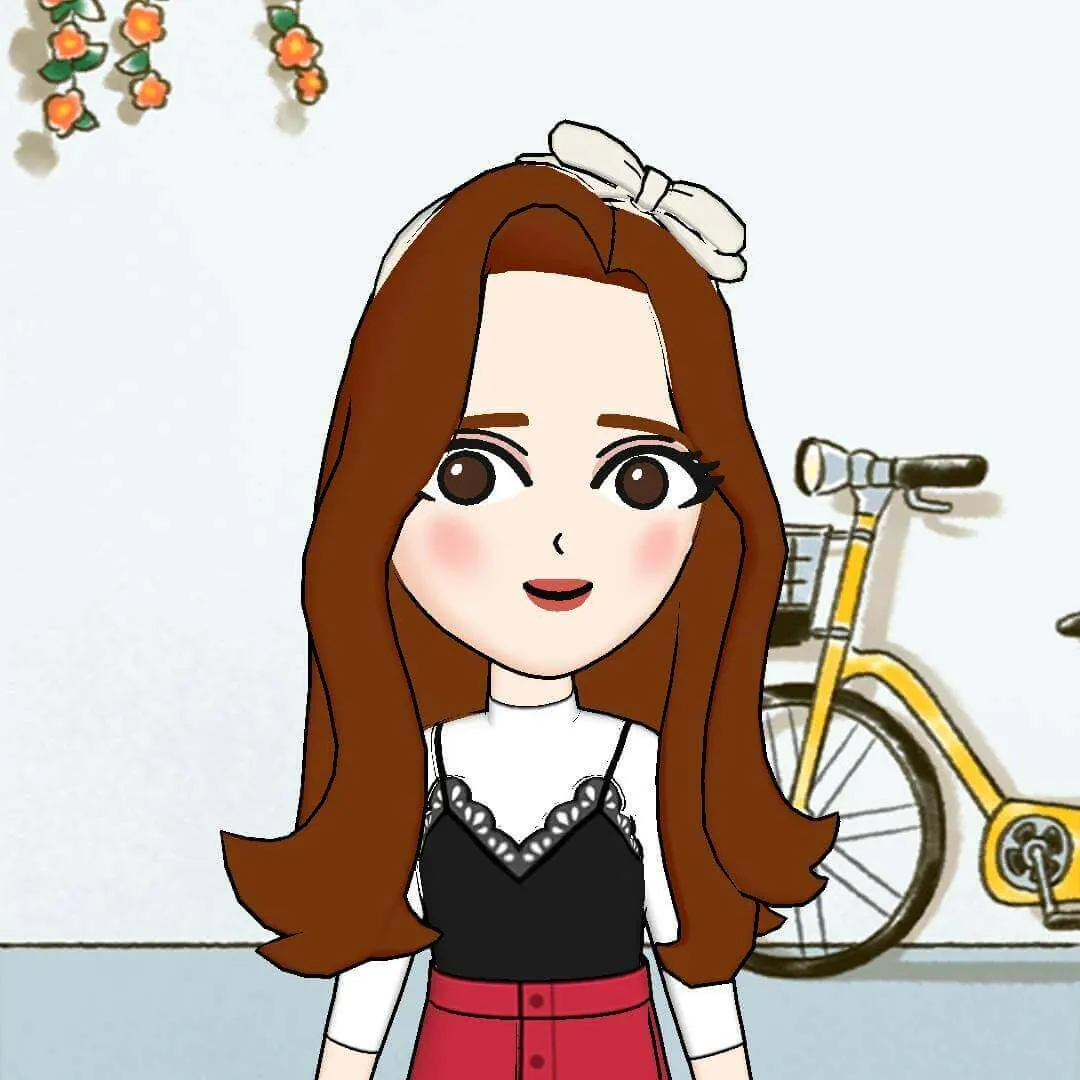 Riii
This is Riii…
With the start of the National Travel Assistance, I'm sure those of you who live far away are getting more excited about going to Disney.
If you use the Event Excitement Discount, you can go to Disney at a 20% discount!
If you are going to Disney, why don't you stay overnight at Disney?
This time, we will introduce you to the Tokyo Bay Tokyu Hotel, a convenient hotel that is a welcome baby inn and safe even for those with children☆.
Tokyo Bay Tokyu Hotel
Basic Information
Tokyo Bay Tokyu Hotel is a relatively new 4-star hotel that opened in 2018.
All rooms have ocean views, so you can enjoy a resort-like atmosphere.
There is a bus stop in front of the Brighton Hotel, which is directly connected to Shin-Urayasu Station, from which you can take a free shuttle bus to the hotel, which takes about 10 minutes.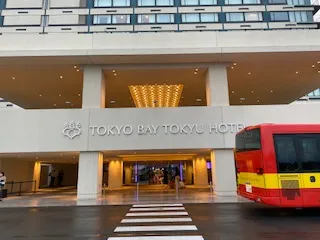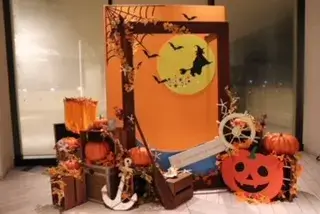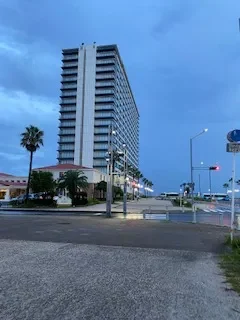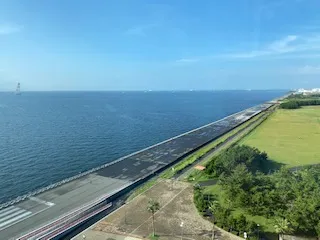 Tokyo Bay Tokyu Hotel is a "welcome baby" hotel, which means that there is a space for children to play, a nursing room, a diaper-changing room, and a room with picture books, toys, and other items available for children.
Although the hotel is a little far from the station, there is a Lawson inside the hotel, where you can use local coupons, so if you need to do some shopping, Lawson will be sufficient.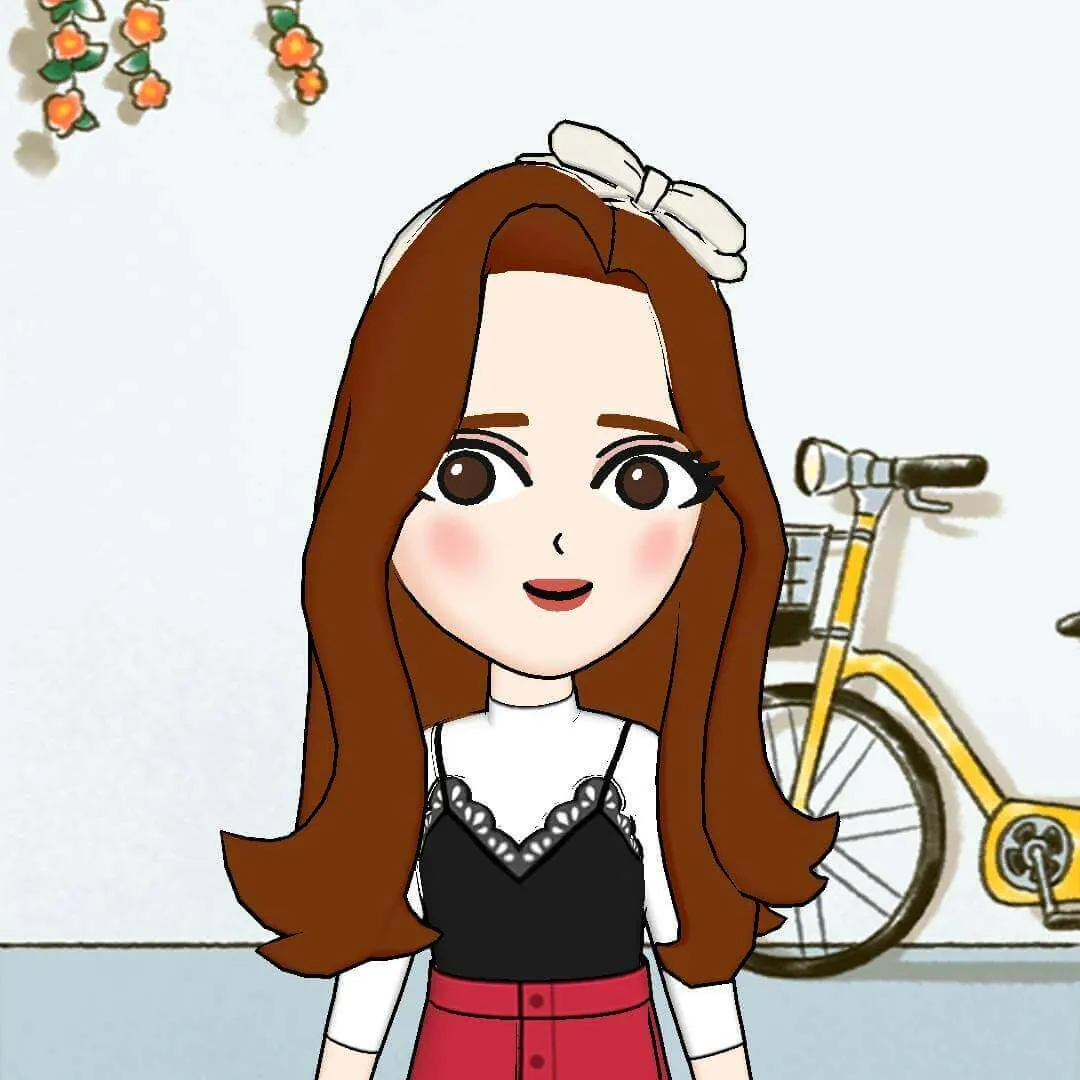 Riii
In fact, we saw many families with children.
Since it is Halloween period, there were many people who dressed up in costumes at the hotel and took the bus directly to Disney.
Changing clothes in the restrooms in the Disney parks or in nearby restrooms is not allowed, so if you want to dress up, do it from your hotel room or from home!
Tokyo Bay Tokyu Hotel
〒279-0013
7-2-3 Hinode, Urayasu City, Chiba Prefecture
047-390-0109
Check-in 15:00
Check-out 12:00
東京ベイ東急ホテル
About Free Shuttle Bus
There are two to three buses per hour between Shin-Urayasu Station and the hotel.
The red and yellow buses are very conspicuous and easy to recognize from a distance.
Please be careful not to get on other buses because there are also buses bound for Ibis Hotel, Art Grace, and Oedo Onsen Urayasu Bankago at the bus stop of Shin-Urayasu Station.
This hotel also has a direct bus service from the hotel to Tokyo Disneyland and Sea, which also runs two to three times an hour.
It takes about 10 minutes from the hotel to the Land and about 15 minutes to the Sea.
The hotel bus stop is located on the first floor, with separate lines for the Shin-Urayasu Station line and the Tokyo Disney Resort line.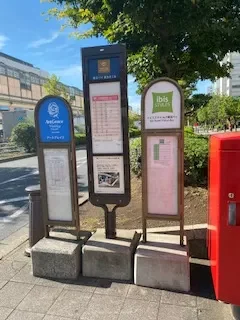 About the room you stayed in
Again, I used Rakuten Travel points via Moppy and took advantage of the Chiba Tokubetsu Campaign to stay at the hotel on a 1-night stay with 2 meals plan.
At the time of reservation, I had a superior twin room [32 square meters] on the 3rd to 11th floors, but upon check-in I was upgraded to a slightly larger room on the 12th floor.
Bath and toilet were separate, and amenities such as lotion were from DHC.
It is a new hotel, so it is very clean, and I think it is a nice feature to have separate bath and toilet.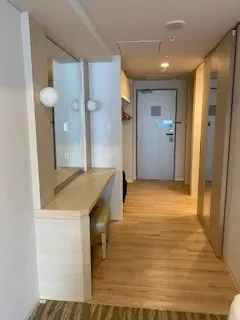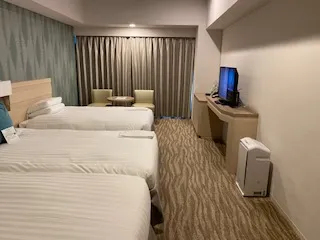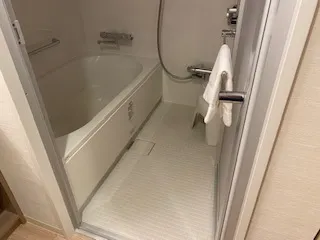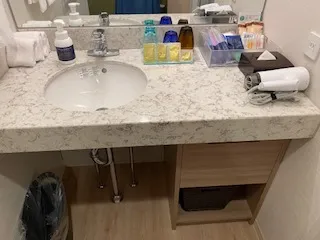 Neighborhood Information
Around Tokyo Bay Tokyu Hotel are Oedo Onsen, Trampoland, and Celebration Hotel, a Disney hotel.
We went to see the Celebration Hotel.
Celebration Hotel has a simple service style, so it is cheaper to stay there than other Disney hotels.
*However, it is located farther from the park than other Disney hotels.
Also, this hotel is eligible for the Chiba Tokubetsu Campaign, so if you want to feel the atmosphere of the parks at your hotel, this is a good choice!
The Celebration Hotel consists of two buildings, Wish and Discover.
Discover is a pink building with a theme of adventure and discovery, and has a sea-like atmosphere.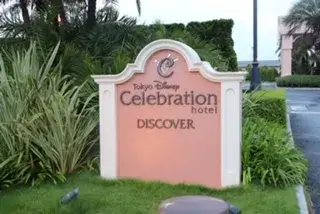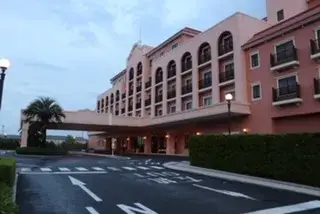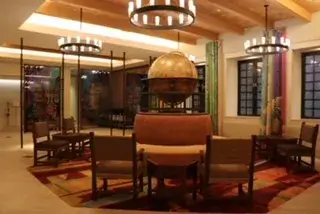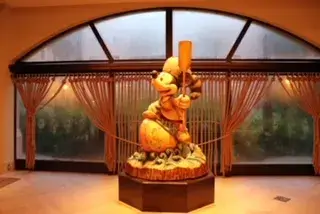 Wish was the yellow building and the theme was dreams and fantasy, so it had a Disneyland-like atmosphere.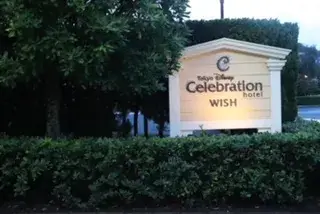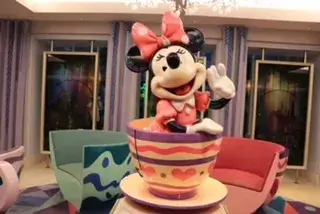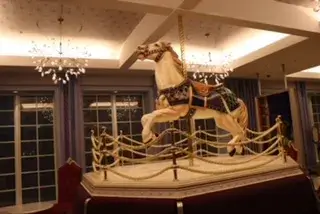 Both buildings have a Disney Fantasy store, a Snack & Sandry convenience store, and a breakfast café.
Breakfast is available for 1,700 yen for adults and 700 yen for children, and you have to buy a meal ticket.
The hotel is not open for business except for breakfast, so dinner was served outside the hotel.
セレブレーションホテル
大江戸温泉浦安万華郷
About Meals
Breakfast and dinner were served at the Coral Table restaurant on the second floor.
The lobby is on the second floor, so it was located near the front desk.
This time, since the plan included two meals, I was given a dinner and breakfast ticket at check-in.
In addition to Coral Table, there is also UMIKAZE TERRACE, which is open only during the summer season (Saturdays, Sundays, holidays from 7/17 to 9/11 and 8/12).
Business Hours 
Dinner】】17:30〜21:00
17:30 – 21:00
Food and beverages are served until 20:00.
Breakfast】
Weekends and holidays 06:30-10:00 *Last entry at 09:30
Weekdays 07:00-10:00 *Last entry at 09:30
Children over 4 years old who sleep with their parents will be charged.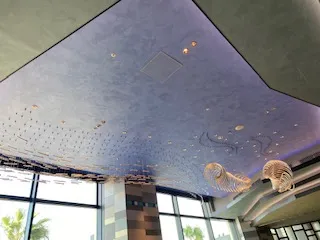 dinner
Dinner was a buffet of potato, chestnut, pumpkin & green tea fair, available only on weekends and holidays.
It was very good, with freshly fried tempura, sushi made right in front of you, roast beef, and Mont Blanc parfait made to order.
The freshly fried tempura was especially good, with a light and crispy batter.
The roast beef was also tender, stringy, and delicious, and I had a second helping.
There were many dishes using potatoes, chestnuts, and pumpkins, such as sweet potato and apple pizza with Earl Grey flavored dessert pizza, pumpkin and chicken white curry, and pasta with sweet potato, mushrooms, and bacon cream sauce.
Desserts such as green tea mousse cake and pumpkin pudding were also very delicious.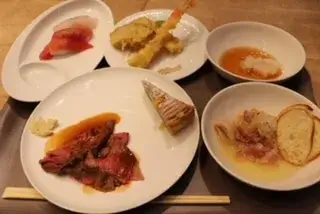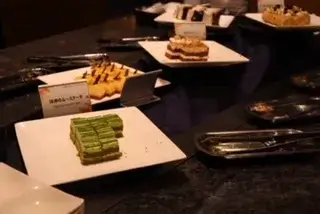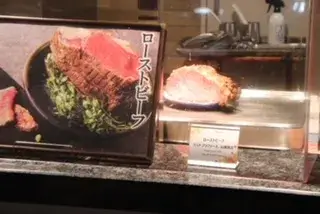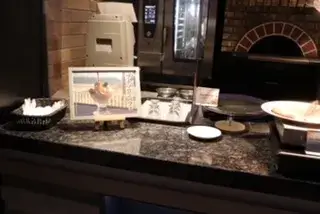 The Imo, Chestnut, Pumpkin & Green Tea Fair is available for 5,400 yen for adults, 3,200 yen for elementary school students, 1,600 yen for infants (from 4 years old), and free for children under 3 years old, even if you do not stay the night.
The event is held on Saturdays, Sundays, and holidays from September 3 (Sat) to November 6 (Sun), 2022, so if you want to try it, please make a reservation by November 6, 2010.
breakfast
We were guided to any available seat for breakfast.
The window seat seems to be a popular seat as it offers a view of the ocean.
Tokyo Bay Tokyu Hotel's breakfast was ranked No. 1 in Chiba Prefecture by Rakuten Travel's Breakfast Festival 2019.
The hotel's breakfast offers a colorful omelette made right in front of you, with a choice of plain, squid ink, or tomato flavor, and a choice of omelette, scrambled eggs, or Urayasu omelette as the cooking method.
The omelette can be plain or with bacon and cheese.
The Urayasu Omelette is an omelette with scallion and seaweed risotto.
You can also choose from three different sauces: onion demi-glace sauce, vegetable and bacon white sauce, or tomato ketchup.
With so many different combinations to choose from, you will want to try many.
As a recommended menu item, they recommend the squid ink omelet with asari and nori risotto, so I had that one.
The sauce was onion demi-glace sauce, and the asari and nori risotto had a nice flavor.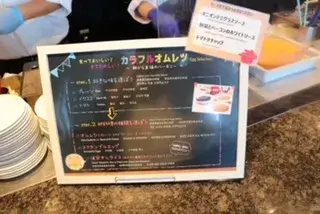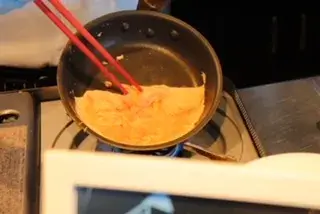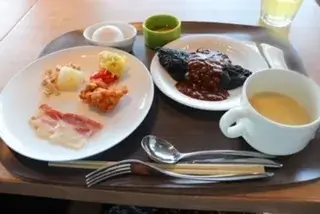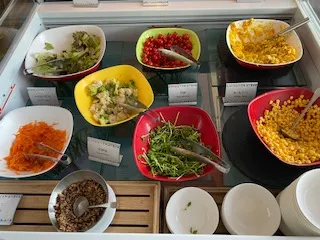 There was not that much variety for breakfast, but it seemed to have all the standard items such as bread, rice, yogurt, and corn flakes.
There was a cup of coffee available for takeout, so I took it out.
https://item.rakuten.co.jp/f122271-urayasu/ax001/?scid=af_pc_etc&sc2id=af_101_0_0
summary
In summary, the Tokyo Bay Tokyu Hotel is
New and clean hotel 10 minutes by shuttle bus from Shin-Urayasu Station
Safe for children as a "welcome baby" hotel.
Direct bus service to Disneyland and Sea for easy transportation
All rooms have ocean views, giving you a resort-like atmosphere.
Hotels eligible for the Tokubari Campaign (nationwide travel support)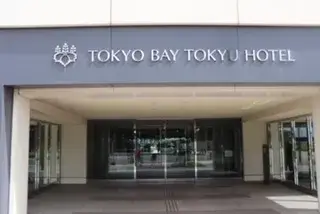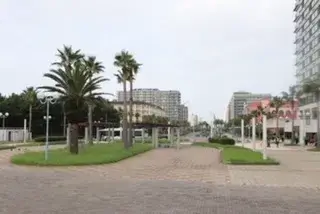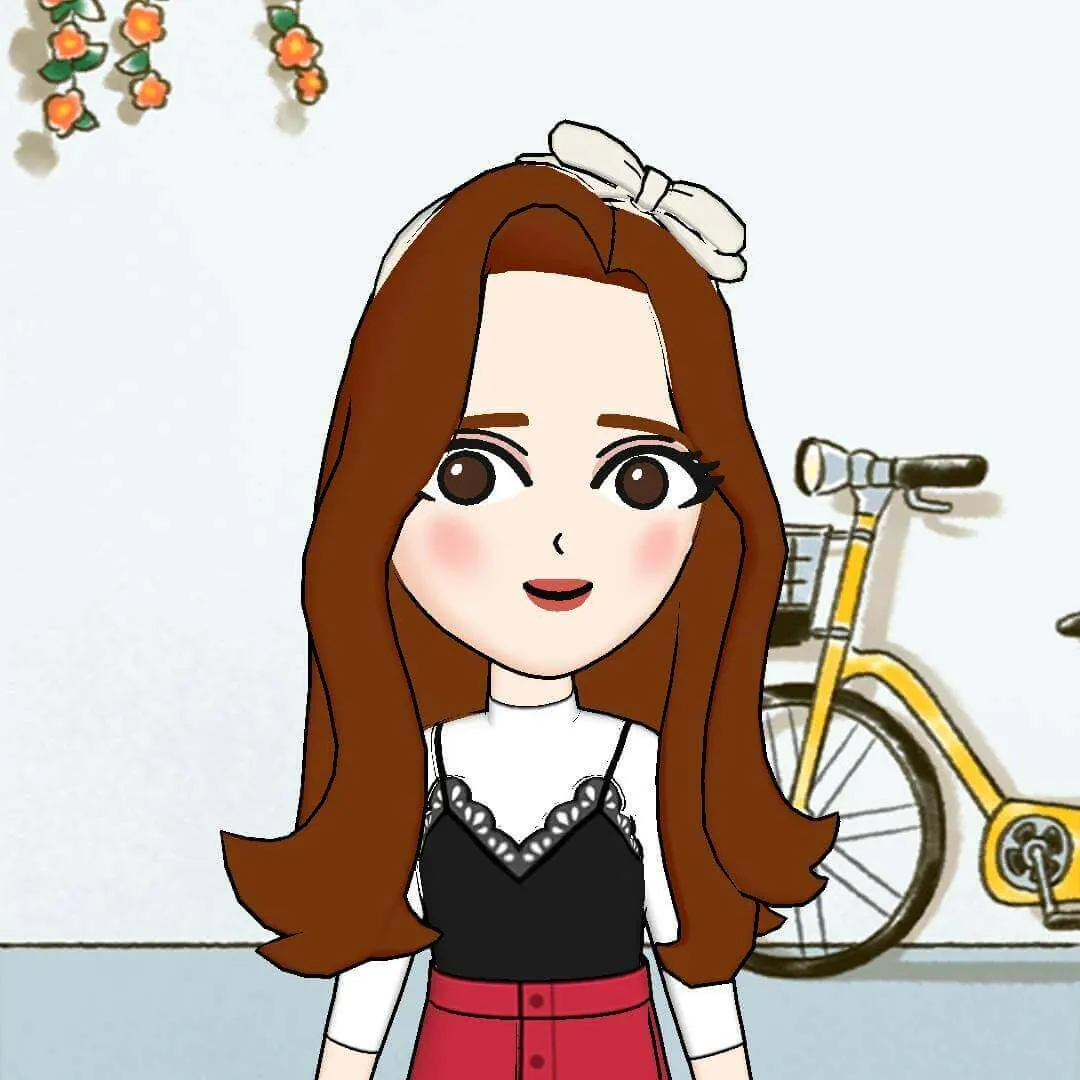 Riii
This time I introduced you to the Tokyo Bay Tokyu Hotel!
Now you can enjoy a discount by using Event Excitement Discount and National Travel Support♪
Why don't you book a room at Tokyo Bay Tokyu Hotel, where the food is delicious and child-friendly, and enjoy an overnight stay at Disney?
Click here for how to purchase tickets using Event Wakuwari (PC version) ↓ Click here
Click here for how to purchase tickets using Event Wakuwari (smartphone app version) ↓↓.