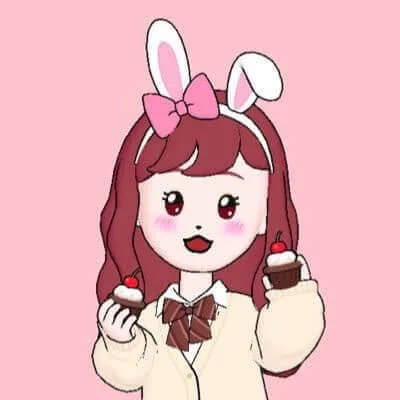 Usa
I'm Usa-chan, the "wheelchair x beauty" funny x model! In DisabilityLog, as a SNS influencer, I hope to provide lots of useful information for people with disabilities. I will also enjoy providing information about beauty, travel, sightseeing, music, photography, and other hobbies.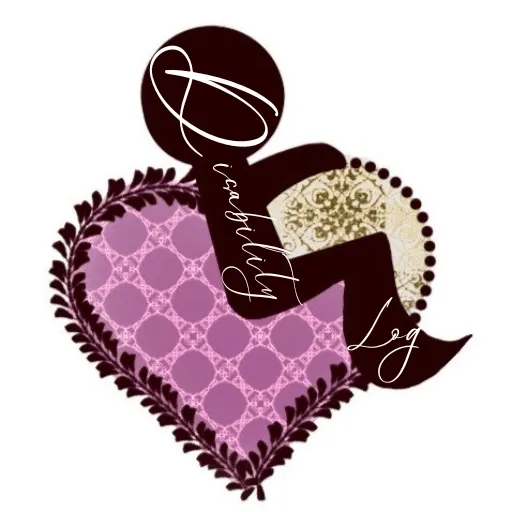 DisabilityLog
I'd love a handheld fan in the summer time!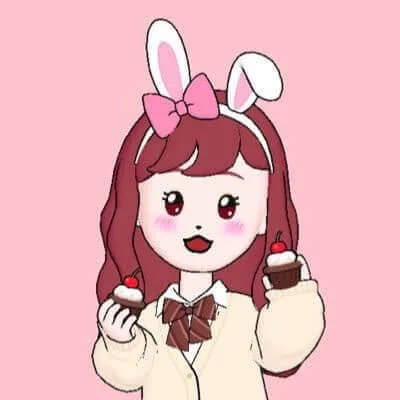 Usa
Yes, it is. It is very useful when you are waiting for your flight, and you want to have it with you when you feel hot indoors. Let me introduce you to some stylish and cute fans that you can find around town ♡.
In the middle of summer, you can't do without a hand-held fan.
Many people would like to have a fan that is very well designed, stylish and cute to carry around, and can be charged by USB!
Just having one at school or at work would be a great way to beat the heat. We will introduce such stylish and cute francfranc handheld fans.
Francfranc electric fan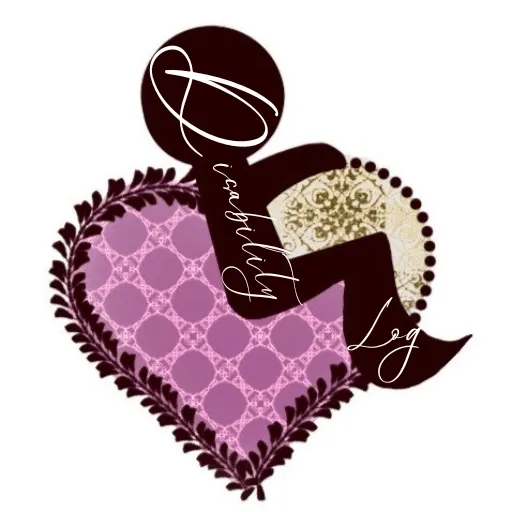 DisabilityLog
Speaking of stylish and cute fans!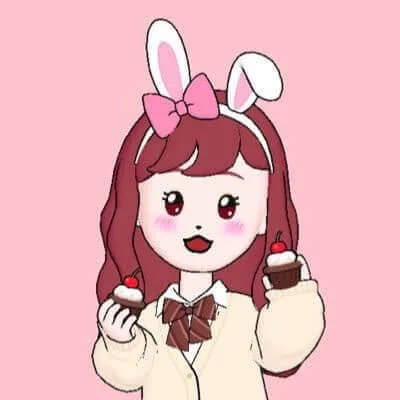 Usa
The Francfranc fan is also very cute with its aurora borealis box!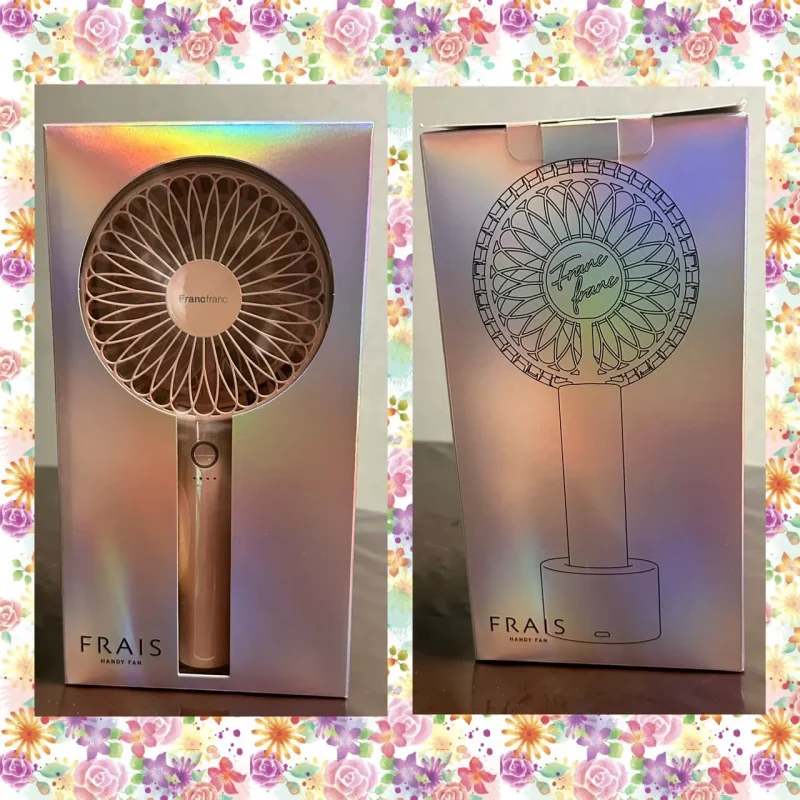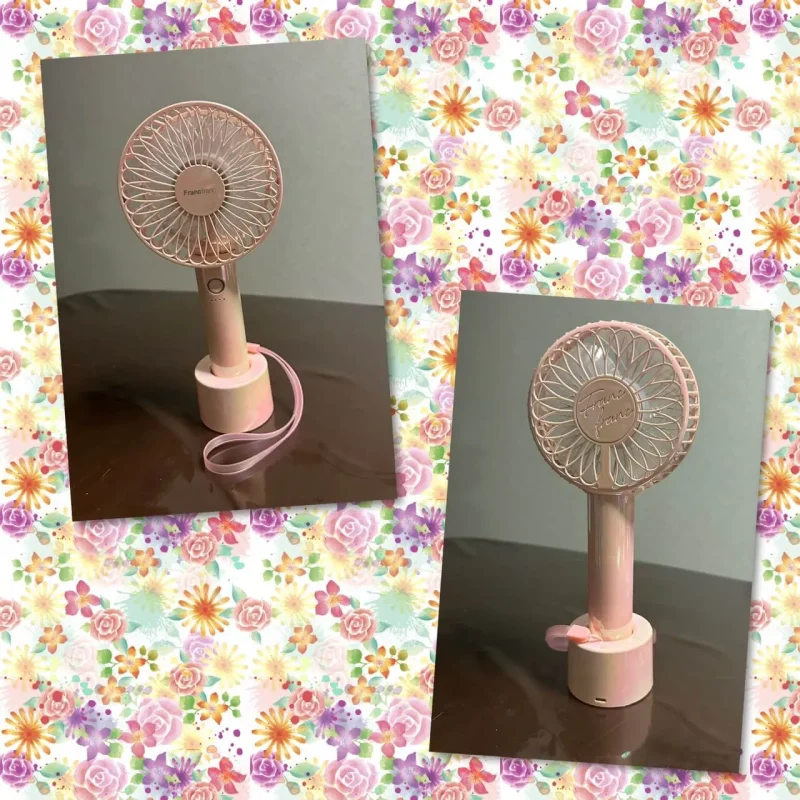 When in use
When in use, the light glows blue.
You can also see the remaining amount in 4 stages.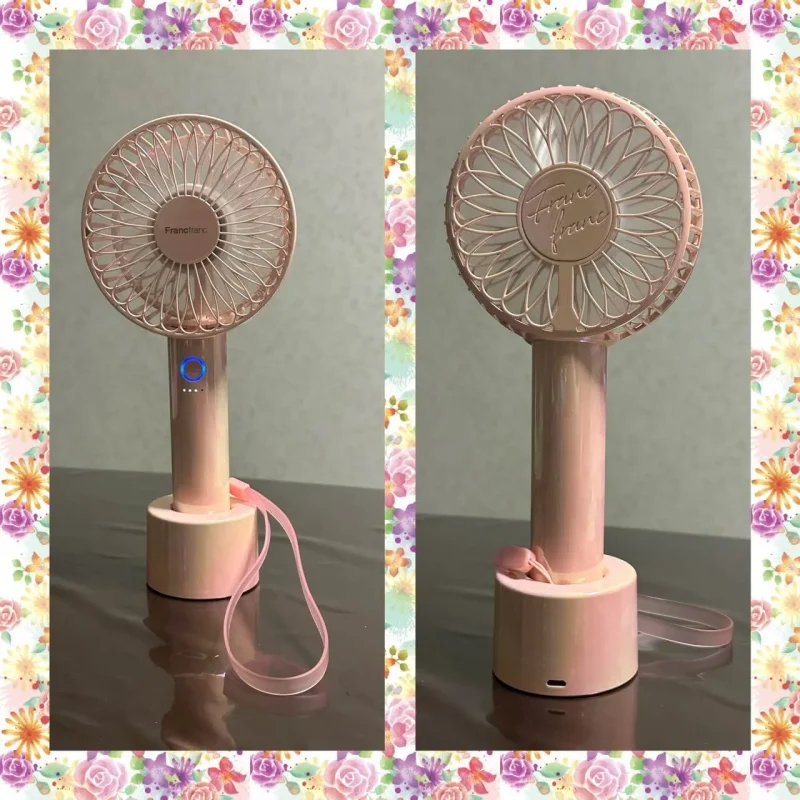 It is a 2-way type that can be used on a tabletop or as a portable type, and since it is portable, it can be used without an outlet.
It is small, but it can also produce powerful airflow, which is very impressive.
Product Features
Francfranc fans are characterized by the following features
Quiet and large air volume
5-stage adjustment of air volume + rhythmic wind
Button shape to prevent malfunction
Continuous use up to 9 hours (at minimum air volume)
Battery level indicator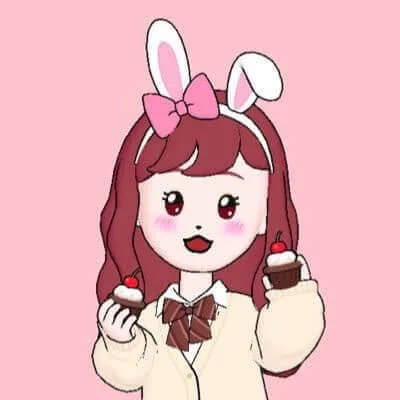 Usa
What I like about the Francfranc fan is,
It's quiet, has a large air volume, 5 levels of air volume adjustment + rhythm wind.
Furthermore, I appreciate that it is a 2-way type that can be used either as a tabletop or portable type.
What's included
Dedicated charging stand
USB cable
Strap
User's manual
The product comes with the following
Battery level indicator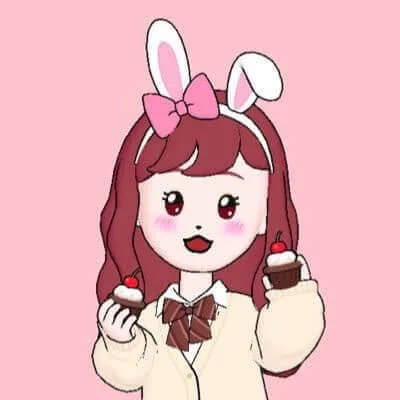 Usa
What's nice about the Francfranc fan,
It's a special charging stand that also includes a USB cable!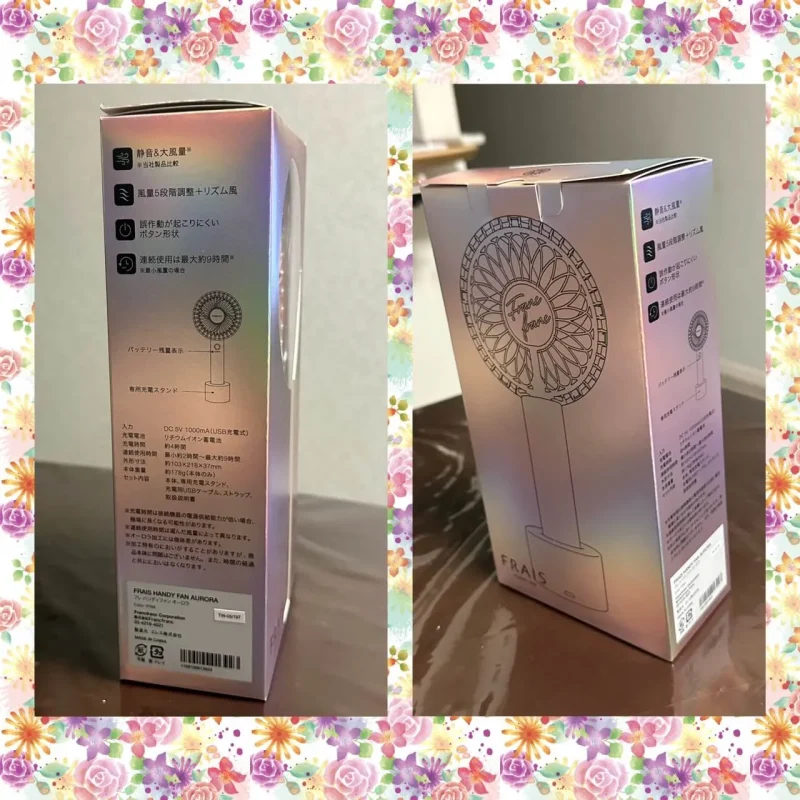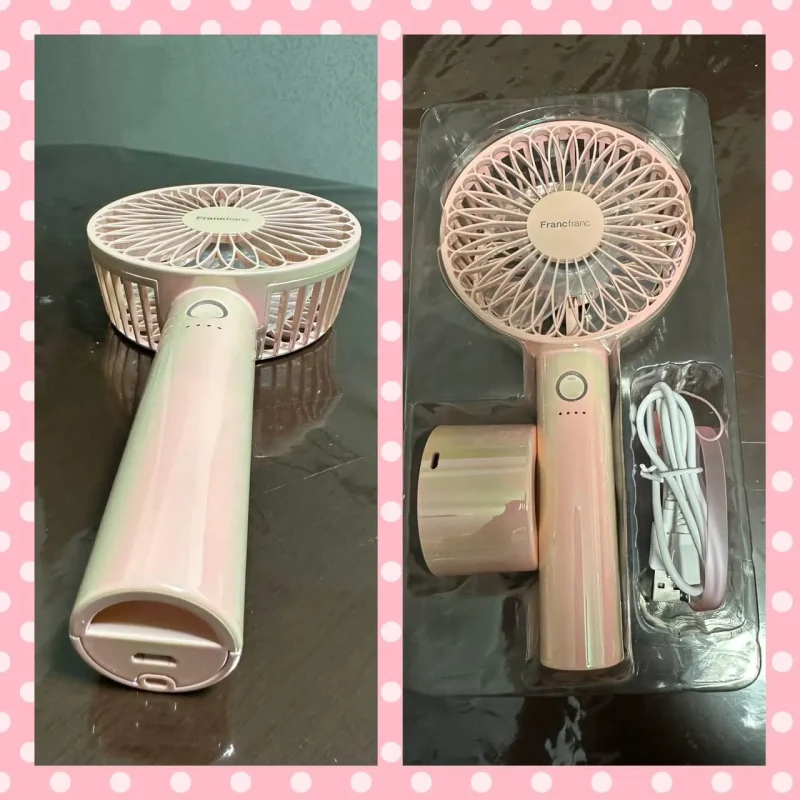 Because of the holes, you can also use the fan while placing it by simply inserting the fan that comes with it into the special stand.
Furthermore, by connecting the USB cable to a PC's USB port, you can also charge the battery and run the fan while charging!
When using the rechargeable battery, charging is completed in about 4 hours.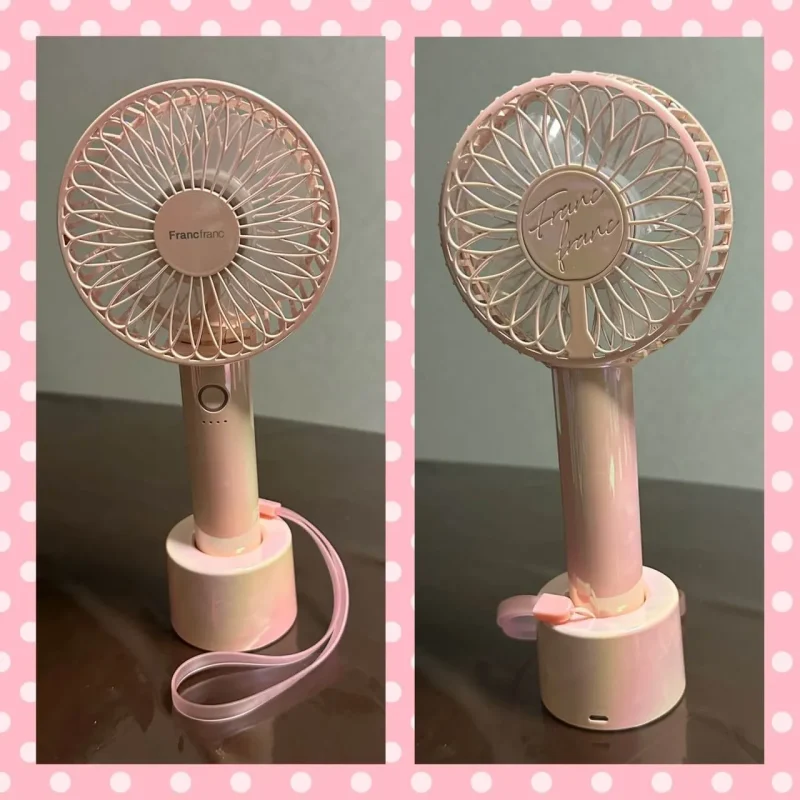 It also has a string so it won't fall off when you carry it by hand.
It also produces a strong breeze, so it is recommended for heat stroke prevention.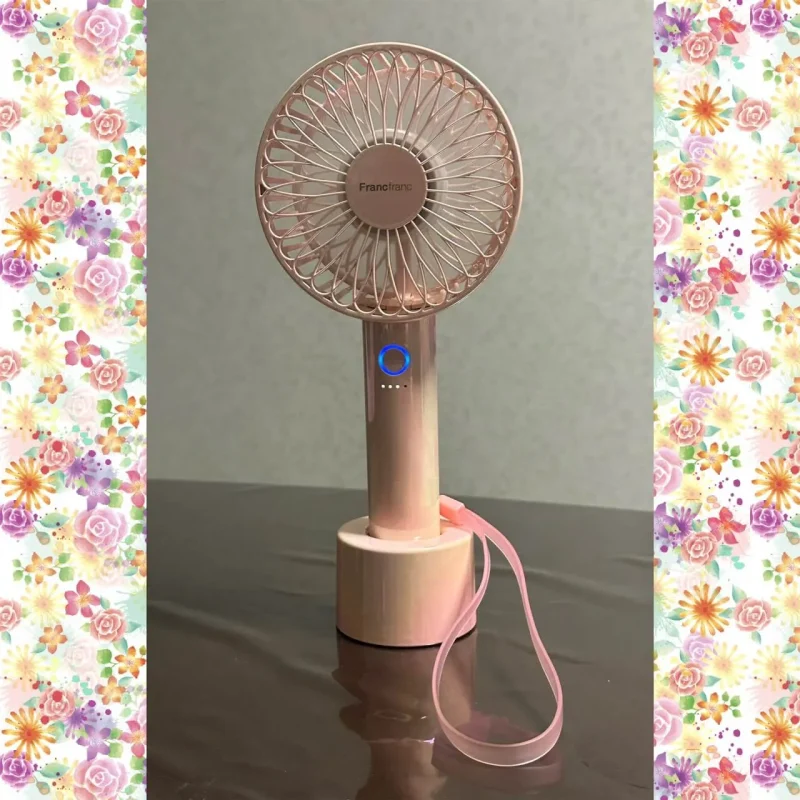 There are three batteries in this picture.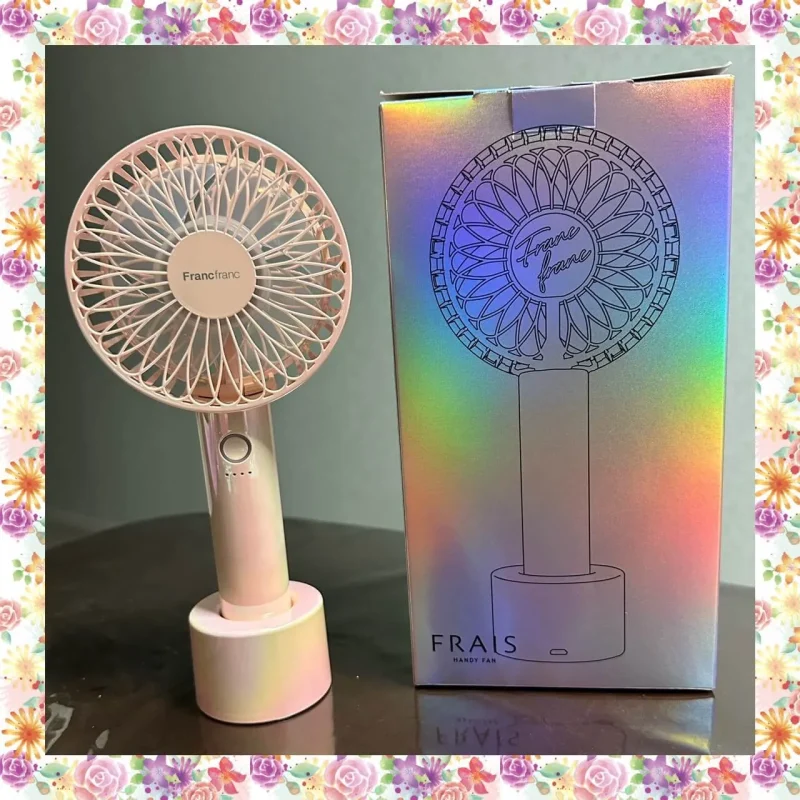 Front and back!
Color Types and Prices
Francfranc fans are priced differently depending on the type of color.
Aurora is the most expensive. It was available last year and again this year (2023), so I am sure it will be available next year and beyond.
| | |
| --- | --- |
| Color Type | Price (incl. tax) Handy Fan / Rotating Stand |
| Aurora gradation | 3,280yen / 2,280yen |
| Marble | 2,980yen / 2,080yen |
| One color | 2,480yen / 1,580yen |
Colors and Prices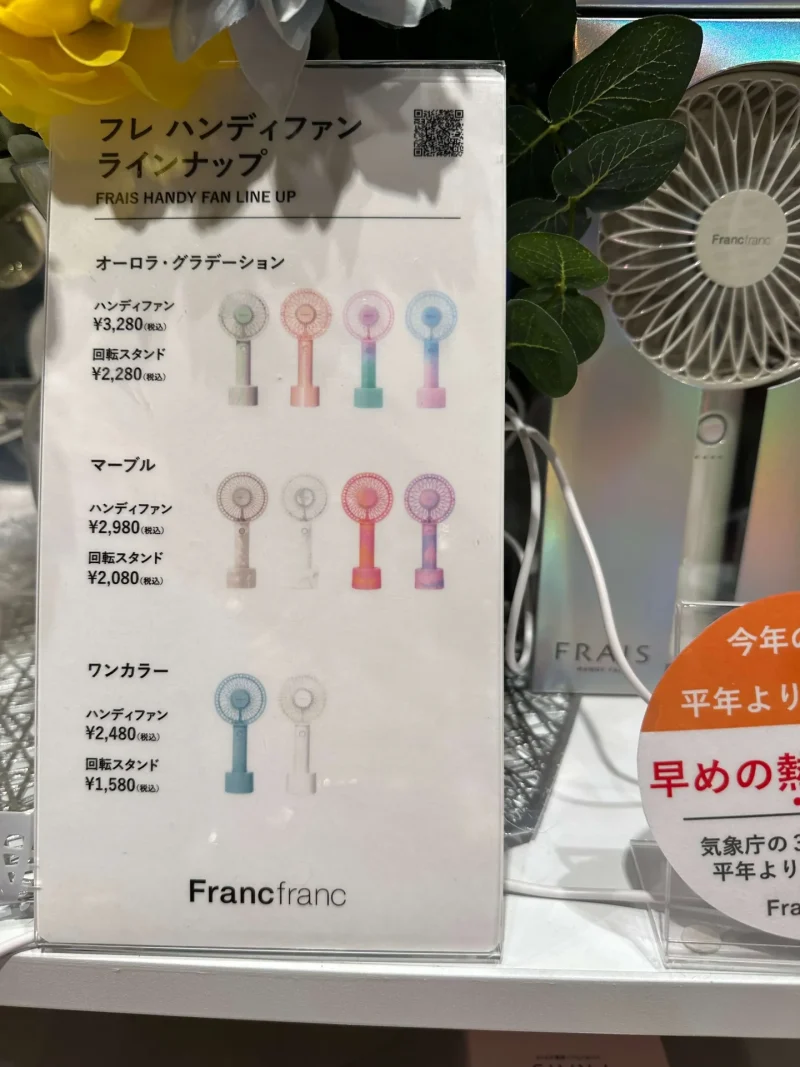 Francfranc Electric Fan Home Page
This is the homepage of the electric fan of Francfranc.
↓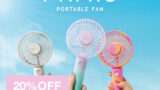 FRAIS ポータブルファン | Francfranc(フランフラン)公式通販 家具・インテリア・生活雑貨
Francfrancでしか買えないオリジナルデザインのポータブルファンに、今年も新色・新アイテムが登場!去年よりもパワーアップしたファンシリーズをご紹介します!
Perfect for early heat!
We're having a 20 percent sale on any leftovers, even this time of year.
Unfortunately, we don't have the aurora borealis color shown in the photo.
Photos inside the store
This time we took pictures of the inside of the store.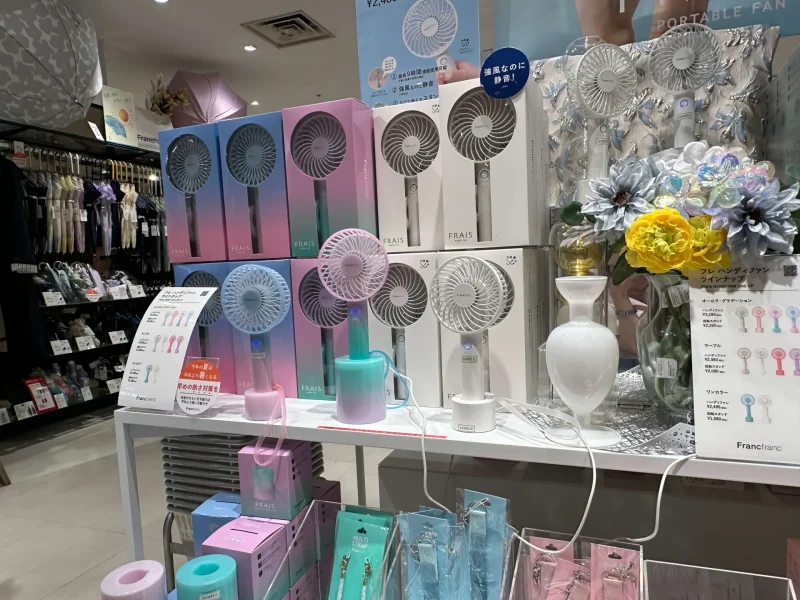 It's a nice color for midsummer.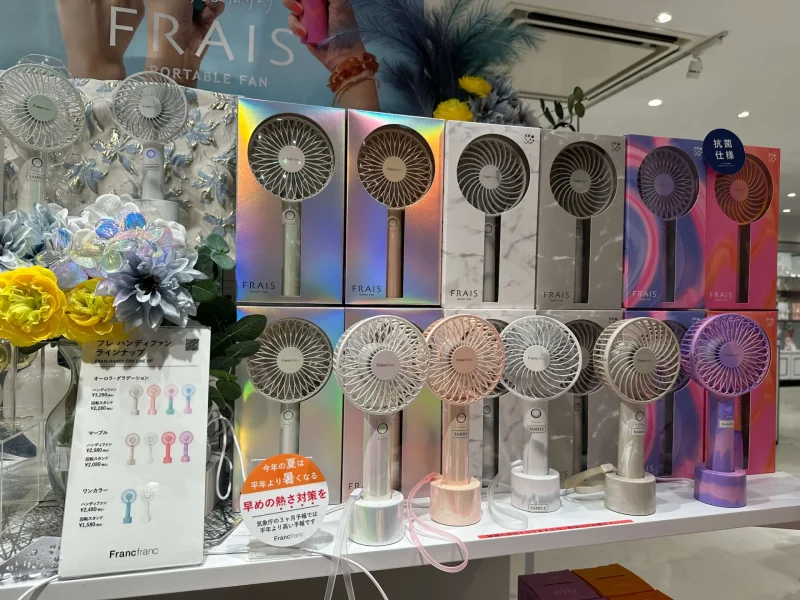 I have photographed everything that is available.
Available for purchase online
Perfect for gifts!
You can buy them online!
↓
Aurora Pink
リンク
Aurora White
リンク
would also like to have an aurora white that can match any outfit or decor.
In fact, I had purchased the pink one because the swivel wasn't sold with it.
Marble pink
リンク
Marble pink, a new color this year!
So maybe we'll see a different color next year!
Marble Beige
リンク
marbled purple
リンク
Marble type looks stylish because the colors are mixed and gradated!
Gradient Blue
リンク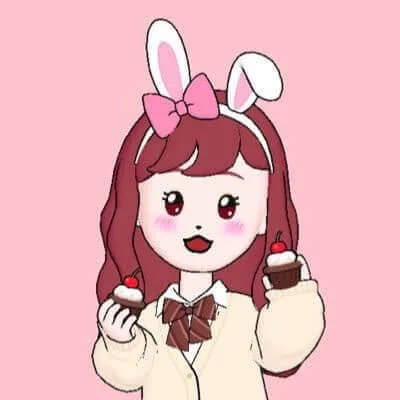 Usa
I really like the Aurora fans from Francfranc because they are stylish!
Which color fan do you like?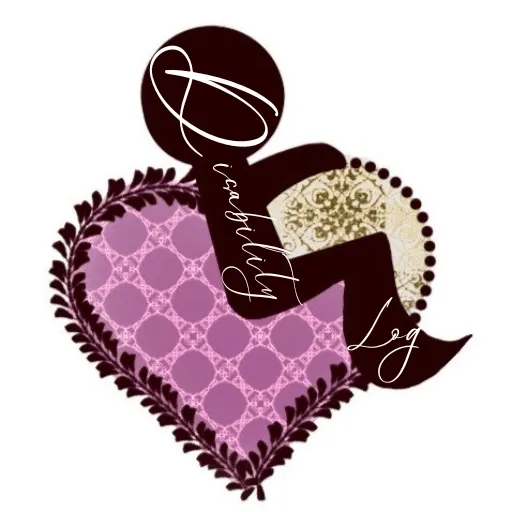 DisabilityLog
I want to have one of these stylish and cute Francfranc fans.
If you like it, please buy it!
What a great idea! Next, they'll introduce us to a Francfranc fan ornament that can also be rotated!